I was fixing up a couple of things around the patio at our house when my stepsister came over from the pool in a sexy bikini and dropped a bombshell on me that I was not ready at all for! Turns out that since our parents got married she's wanted to hook up with me! She confessed that lately it's been making her so horny, and the older we get, the more attractive she found me and she wondered if there was any chance that maybe I felt the same way! Of course I did, but I also had a confession to make her, and as embarrassed as I was, I let her know that I was still a virgin and that I felt insecure about the size of my dick. I thought this would surely kill the mood, but as it turns out, my stepsis decided to help me with my virginity and insecurity! As soon as I agreed that this would be our little secret, she popped her beautiful tits, her nipples already hard, over her bikini top and got down on her knees, unzipping my fly and releasing my cock. She actually seemed quite impressed with its size, as she took it in her hands and slid her slick tongue from my balls, all the way across my shaft, up to the tip. "Your dick is so huge! You have nothing to be ashamed about!" She told me she's seen many of these and she promised me my dick was actually bigger than average! Yay! She popped the tip back in her wet mouth and gave me a glorious blowjob. I couldn't believe I was actually getting my first blowjob from my sister! The little slut was jerking my cock and sucking my balls and it felt so good, I don't know quite how I managed not to blow my load right there on the spot. In order to get her pussy ready for my dick, she masturbated with her vibrating magic wand while letting me finger her cunt. It was wet and sticky with her juices.

HUGE MESSY CREAMPIE CAN'T STOP LEAKING OUT OF THEIR YOUNG PUSSIES: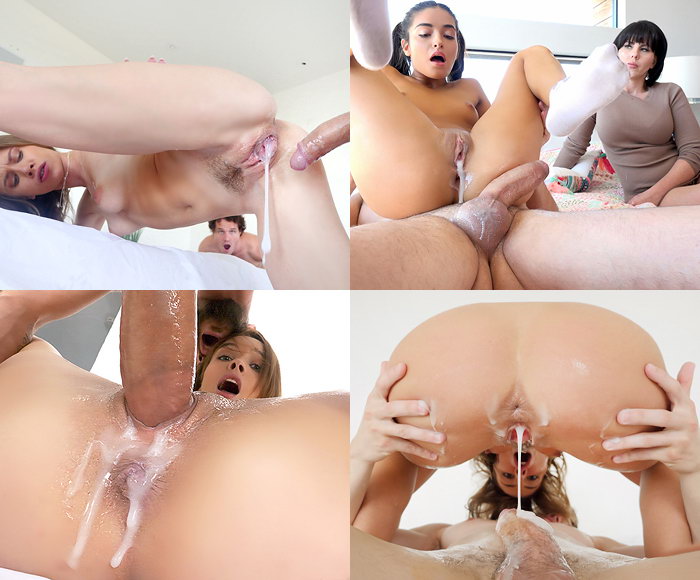 She was already gushing, creamy juices flowing from her slit as she spread her legs wide open in missionary position and popped my cherry! I pushed my cock inside her tight snatch and I was so excited, I came! That's right, I blew my load inside my sister and pulled out, watching that creampie oozing between her pussy lips and running down her thighs! We were both so turned on that we just kept fucking, using my own cum as lube for her twat. After a few minutes of going at it missionary style, I was cumming and shooting my load into her vagina again. There was more cum streaked along her inner thighs in thick, white lines. My naked sister got down on her hands and knees and I banged her doggy style from behind, pushing my own cum back inside her pussy and blowing a third load inside her! The cum dripped from her snatch and my cock, all over the place. The slutty blonde climbed on top and rode me, knowing she could extract yet another sticky creampie from me!