Two gorgeous skinny girls are meditating in here, controlling their breathing and centering their chakra. The girls have planned out a nice Zen yoga session. It was all pretty innocent until one girl actually started to get like too hot and shit so she had to remove her clothes. Her friend was eyeballing her though, so we all knew where this was going. One of the girls suggests embracing their natural state – without clothes! Naked yoga helps you get in touch with your body, your breathing, and especially your partner. Two naked girls started doing all kinds of weird yoga positions and they even got to do the most famous one. The one that all men and all lesbians absolutely love, the one where the girl gets her ass up high in the air to stretch properly. Well, these girls were all about stretching until that point. The brunette grabbed the other girl by her hips and hesitated a bit. She probably thought that she would be creepy if she touched the girl without her actually saying anything. But she is actually waving her pussy in front of her god damn face, it was obviously an invitation for the two of them to have sex. She admired her friend's pussy, asshole… She couldn't help but touch her, kiss her pussy slightly. Then she went with the flow and started biting and kissing her thighs and the sub girl actually loved it so she moved on. And this yoga session evolves into a moaning duet of orgasmic meditation! The naked lesbian grabbed her yoga partner's hips tightly and started licking her pussy with her tongue. She was totally turned on. She dove her entire face into her vagina and made sure that she got to feel out every single bit of it. The sub girl was literally property at this point, so even if she has any objections to being used in such a way, it was already too late. The girl licked her pussy harder and harder while she moaned like a little bitch and it was the hottest shit ever. Then she rolled the cute girl over and started to check out her other hole. She had never had her ass licked before. It felt so good. She let out a whimper and a moan as her tongue licked her anus and her fingers rubbed her clit madly! It was her first oral orgasm and she came like she had never cum before, with any man. Now she wanted her pussy too, she just wanted to suck her clit, lick her moist slit, eat her wet vagina, tongue fuck her hole! She spread her legs, grabbed her titts with both hands, rubbed her lips in her juices before running her tongue between her pussy lips and finding her clit. She started to lick her cunt so hard that her juices came all over her face, filling her mouth, making her crazy! What happened next was a total lesbian madness, a crazy lesbian sex, the wildest girl-girl sex ever! Two naked girls couldn't stop fucking their pussies and assholes with their tongues and fingers, moaning and cumming all the time.

THE CRAZIEST LESBIAN SEX SCENES WITH THE HOTTEST NAKED GIRLS: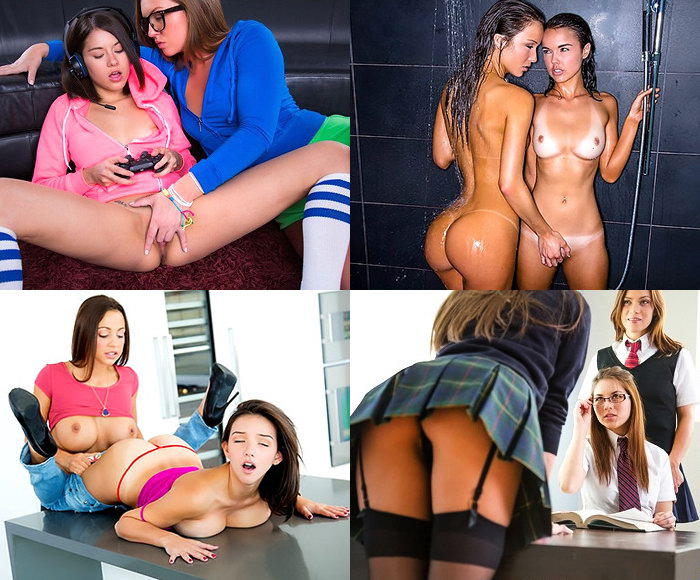 One of the girls laid down and spread her cheeks so that the blondie could eat her ass up. While she was doing it she put two fingers inside her cunt and started licking her ass and making a mess out of it while her spit mixed with the juices coming out from the pussy. Her body jerked and slammed with pleasure, she moaned with excitement. After that, the submissive blonde was on her knees again and this girl with braid dove right into her asscrack and started licking her ass and fingering her pussy really roughly. Then the naked girls started rubbing the pussies against each other. Two naked women rubbing their pussies against each other is one of the prettiest sights in the universe. Their clits were brushing, touching, erect, sensitive clits and their pussy lips were kissing together. Then the lesbians rode each other's face, cumming in each other's mouth. Don't miss this video, these two smoking hot girls will satisfy your wildest lesbian fantasies.