The thought of being with another woman never ever crossed my mind, much less with that woman being my elder stepsis! I don't know how it happened, she's just so hot and beautiful. I guess it was all innocent fun and teasing at first, but we could both feel the sexual tension building up until that day in the kitchen. We were eating watermelon, and she was feeding me a slice, it's juices dripping down my lips and chin and all over my breasts. Before I knew it, she was licking it right off them, and I could feel my nipples getting so hard under the contact of her slick pink tongue! She removed my top, kissing my bare breasts and my open mouth. I could feel her tongue inside my mouth, playing with my own, I was so fucking turned on, my pussy was dripping wet! She leaned against me as I sat on the kitchen counter and undressed her, admiring her beautiful breasts. I had never seen tits more beautiful than hers. Her skin was so beautiful. arge, succulent, 100% natural, firm tits with hard pink nipples. Her nipples were as hard and erect as my own as we continued exchanging passionate kisses. She grabbed my hair and clamped my head between her beautiful tits. Is this what all sisters do when they are alone? She bit her lip and caressed my thighs as I fondled her big tits. My lesbian step sister placed her hands over mine, I kissed her shoulders and neck, our skin was burning hot with lust and desire for each other. There is nothing better then foreplay between two girls. We made out like crazy on the kitchen counter as I felt her tongue rolling down my body, licking and kissing me all over as she slid all the way down to my denim shorts. She stripped me naked and told me to do the same to her, I couldn't wait to see her totally nude. She sat on the kitchen counter and a kissed every inch of her beautiful naked body, peeling off her lace panties and revealing her hairy bush and wet slit. My mouth watered. My body trembled. I had never seen another pussy so close before. Knowing that drove my step sister crazy. Her beautiful pink pussy lips opened like a flower in front of my face, a sexy pubic bush and I couldn't help shoving my tongue between them. She spread her legs wide open as my innocent tongue ventured between her tender pink pussy lips, stretching them out as I licked her slit and tasted her delicious juices. Sweet nectar of female pussy was gushing out in my open mouth. I rubbed her hairy cunt, stimulating her clit with my fingertips, eating her out like crazy. She told me I was doing pretty good for my first time! Now it was elder sister turn to show the young lesbian, me, how it feels when a real woman makes love to her pussy! She fondled my tits as I masturbated her, then she lied flat on her back and told me to straddle myself on top of her, sitting on her face so she could eat me out. God, her tongue wriggling inside my pussy, almost made me cum instantly. I was squirming! I finger fucked her with two fingers at the same time while eating her out, watching her cum was the biggest turn on ever! Her pussy was open like a mouth pleading for pleasure. Her entire body was moving frm orgasms. I was going mad with her pussy in my mouth, the first time I tasted a pussy made me go mad. I was kissing, licking her labia, lapping her moist slit, fucking her open vagina and flicking her clit. My beautiful naked step sister was moaning and grinding her cunt and making me tongue fuck her pussy so hard that her juices were squirting around my face. I couldn't wait for her to make me orgasm with her fingers in her slick tongue, eating me out in every possible position on the kitchen counter. Having my sexy stepsister as my first lesbian lover is the best experience ever!

MOMS AND SISTERS SHARE THEIR SEXUAL WISDOM AND EXPERIENCE WITH YOUNGER TEENS: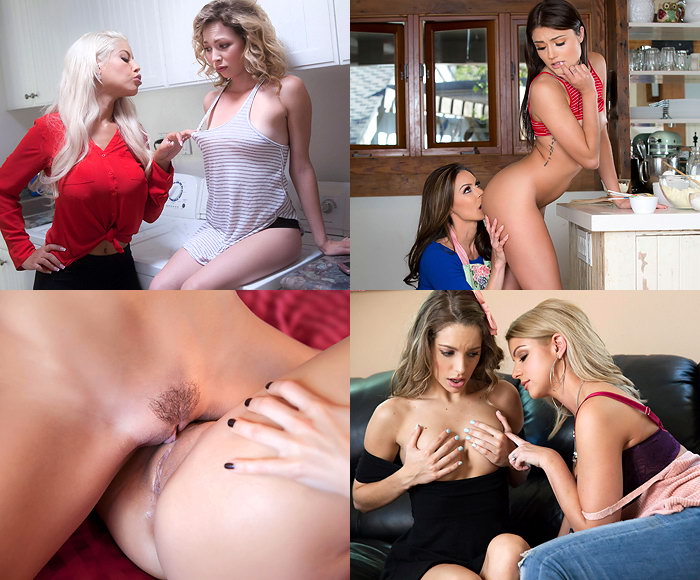 Don't miss more first lesbian experiences with moms and sisters! This lesbian porn site features hot MILFS and sexy elder sisters who share their sexual wisdom and experience with younger teens. Don't miss all these amazing scenes if you like lesbian seducing, threesomes, foursomes, ass licking, tribbing, caressing and kissing as naked girls pleasure each others' pussies!