This sexy brunette girl decides to bring her new boyfriend Seth to her dad's place for Thanksgiving, and while she catches up with him on the dinner table and tells him all about him, he is in the kitchen, getting to meet her stepmom, a gorgeous blonde MILF, while helping her out with the Thanksgiving dinner. After all, he wants to cause a good impression. While washing some dishes, the stepmom accidentally soaks his pants, so she grabs a towel and helps him dry up, rubbing it all over his crotch, noticing the massive tent he's pitching! She feels that delicious erection with her hands and drops to her knees, ready to take a closer look. The guy finds himself getting a blowjob from his girlfriend's hot stepmom in the kitchen! She just met him and she's already thanking him! The horny woman swallows his cock all the way down to the base, deep throating it, making sexy gagging sounds as she chokes on it. These mature women know how to suck a cock! She applies more pressure and starts playing with his balls. She wants his young hard dick she wants to feel it right there, between her legs. She hikes up her skirt after taking off her top, showing off her beautiful big tits and her cunt while lifting a leg over the kitchen counter. She's not wearing any underwear, so he has easy access to her pussy burger. Her pussy was hot, wet and pleasingly firm! The half naked woman groans and squirms from the amazing pleasure, pressing his head to her cunt. He is eating her out and tasting her juices. She fondles her big tits while he tongue fucks her, driving his fingers inside her wet clam. The mom is ready to cum in his mouth. Unfortunately, the oven timer goes off, meaning the turkey's done and dinner is ready to be served, interrupting them. They dress up and sit by the table, where it's Seth's girlfriend's turn to have some fun with his big hard cock under the dinner table, taking it in her soft hands and stroking it. It's so fucking hard! She wonders what has him so turned on… The hot teen excuses herself and heads to the kitchen, asking him to follow her. There he takes her over the kitchen counter, bending her over and pushing his hard cock deep inside her wet pussy and pounding her from behind as if he was stuffing a turkey! He is fucking her so hard that his balls make a loud slapping noise against her ass cheeks. SLAP, SLAP, SLAP. When her stepmom shows up, the sneaky slut hides behind the kitchen counter and continues sucking his cock while she talks to her boyfriend. After dinner is finished, he helps his stepmom clear the dishes and she jumps his cock yet again in the kitchen! This time he gets to fuck her, in the same position and spot he was fucking his girlfriend a while ago! Matter of fact, she walks in on them! She's totally turned on by this, stripping naked and joining them for a hot threesome! Let's just hope her daddy doesn't walk in the kitchen when he is fucking his wife's and daughter's! The sexy teen enjoys having hot lesbian sex with her stepmom while the girls get fucked in turns by her boyfriend!

THE HOTTEST WOMEN SHARE THEIR SEXUAL EXPERIENCE WITH YOUNG TEENS: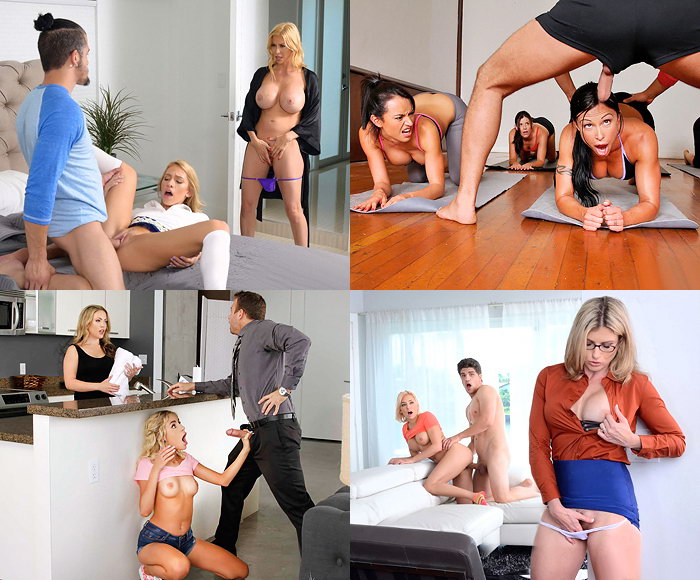 The hot naked woman massages her cunt while she gets fucked and the naked girl rides his dick in the kitchen counter. She pushes herself down onto his throbbing shaft, having one orgasm after another. The girl sucks her stepmom's big pussy lips into her mouth as her boyfriend keeps fucking her from behind. It's so hot! He grabs her hair and pushes her head into mom's cunt even harder, making her tongue fuck her vagina. It's mom's turn to get her cunt fucked! His dick continues to piston in and out of her mature pussy. Her daddy walks in the kitchen right as Seth is blowing his creamy load all over his wife's and daughter's faces! The naked girls sucking his cock and swallowing his cum while climaxing, not paying any attention to the dad and unable to stop. The girls have a nice playful cum kissing session with each other, rubbing and playing with the cum that now almost completely covers them, kissing and caressing each other while their faces are covered in cum.