My stepdaughter felt so inexperienced with sex until I fucked her hard! I was taking a shower when I noticed the bathroom door was slightly open, though I was sure I had closed it. Imagine my surprise, when I opened it up and found my stepdaughter spying on me! I couldn't get it, she's a beautiful blonde woman with a drop dead gorgeous body, why in the world what she spying on her stepdad! I mature but open-minded, so I had a heart-to-heart conversation with her. As it turns out, the teenage girl felt so inexperienced and insecure with sex that she just wanted a peek at my cock. I can certainly understand that. I may seem very confident now that I'm grown up, but I remember being very insecure, especially about sex, when I was her age. Apart from all that, she's fucking hot, wearing a sexy fishnet top that actually let me see how firm her tits were and how hard her nipples were getting as he talked, same as my cock. By the time I decided to let her have a look, I had a huge erection! One thing leading to another, I found myself leaning against the bathroom counter, with my beautiful stepdaughter down on her knees, sucking and stroking my throbbing member! "I'm sorry for spying on you stepdaddy, I just wanted a peek at your cock. Wow its so big! Would it be ok if I touched it? Its squishy!" She looked up at me, smiling while sucking mycock-head and teasing it with her tongue. Her hand played with my balls, rolling them while gently massaging and pulling on them as she lovingly bobbed her head up and down on my dick. My young step daughter was in heaven. She knew instinctively exactly how to suck and tease my cock. I could easily cum in her mouth right there. She pushed my cock head against her cheek until it bulged out, then she swept it across her tongue and pressed it into the other side of her mouth. She looked gorgeous eating my cock, deep throating it until it made her choke and gag. I told her to keep trying, there are no quitters in the family! After she managed to deep throat my big dick all the way down to my balls I rewarded her, making her take off her shorts and panties and bend over the counter as I rammed my hard cock deep inside that delicious dripping wet pussy and started fucking her from behind, banging against her juicy bubble butt until I heard someone at the door. I was ready to fill her pussy, fuck, we had to stop! That's okay, next morning I found her in my bedroom. The teen slut saw my morning wood and couldn't help but park her bubble butt to it and rub her ass against me. She pulled down her shorts, spread her ass cheeks with her hand and pushed her naked ass towards my dick. "Good morning daddy! Oops, your morning wood is in my pussy!!!" We picked up right where we left off, pounding that delicious muff from behind. I used both hands to each grab an ass cheek and pull her sexy ass towards me driving in and out of her tight pussy. My morning wood was quickly turning to morning steel. She started to caress my cock and balls with her soft hand. I was pounding her young pussy with all the energy I had. She got up and she stood over me, then my slutty step daughter slowly lowered herself onto my cock. She seen this in porn and wanted to try riding me in cowgirl position.

YOUNG GIRLS SACRIFICING THEIR VIRGIN PUSSIES FOR A SWEET TASTE OF PAPAS PECKER: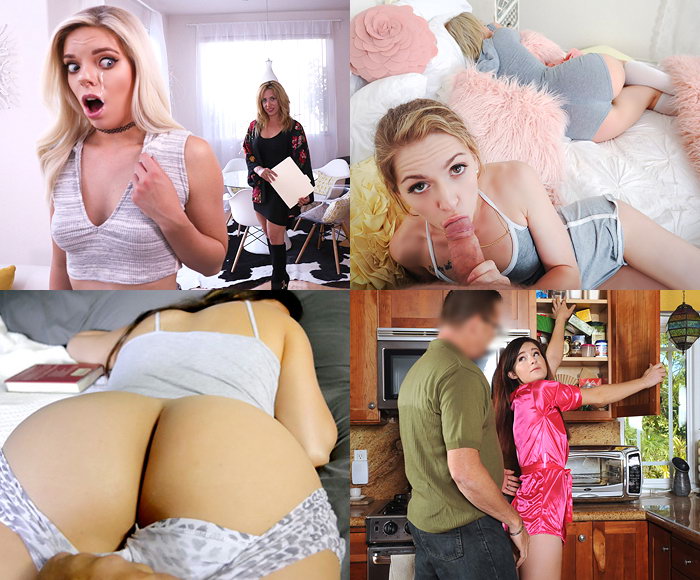 Just yesterday my stepdaughter was a shy and insecure girl, now she was a confident fuck whore, rubbing her pussy while bouncing on my dick and playing with her tits, begging her step daddy to blow his creamy load all over her! I thought I would never stop cumming in her little mouth and all over her face, and the waves of pleasure kept sweeping through my body. Never had anything felt that good before. She tried to swallow every drop!