My sexy, wild, extroverted and extremely open minded girlfriend spotted fit hottie Kimmy jogging down the street and didn't hesitate to approach her, complimenting her on her hot body, even asking if she could cup a feel of her nice tits! Without thinking twice, she grabbed her hand and brought her back to our house, throwing her on the bedroom bed and passing her hands all over her hot body while stripping her naked and pretty soon the girls were eating each other's pussies! Kimmy was grabbing on tight to the bedsheets while my girl went down on her, tongue fucking her gushing slit while I watched, hidden behind the bathroom door! I loved watching my girl eating another girl and hearing her moans. My horny girl lapped up all the juices with her hungry tongue. I felt my cock twitch slightly at the thought of that warm pussy slit. She placed a blindfold over her eyes, motioning me to come and join her as she continued devouring her wet muff! I took her place and sunk my wet tongue deep inside that delicious, dripping wet pink clam. Man, my girl's pussy tastes good, but Kimmy's tasted like a fucking slice of heaven! I concentrated on her clitoris and nibbled on it with my teeth gently making her moan loudly. When my girlfriend started fondling her body, Kimmy realize something was off, removing her blindfold and realizing her lesbian duet had, at some point, turned into a hot threesome! Kimmy sure was surprised, but in a pleasant way, the look on her face said it all, she was delighted! She got down on her hands and knees, drooling all over my hard cock and my balls while giving me head, with my girlfriend eating out her dripping wet muff and her tight asshole from behind, making her squirm and gasp with pleasure. I lie flat on my back and let both naked girls give me a shared blowjob and handjob combo, taking turns playing with my big juicy cock until they were ready to fuck. Kimmy straddled herself on top, sitting down my lap, giving me and my girlfriend lascivious looks as she grabbed my fat member and rubbed it up and down her wet slit, teasing us slowly until she was ready to go, pushing my cock deep inside her and straddling me in cowgirl position, making her hot naked body bounce up and down while I reached out, masturbating my girlfriend while she watched us fucking. What a view, my beautiful girlfriend massaging Kimmy's cunt with my hard cock pounding her hard, exchanging sloppy wet lesbian kisses. Her ass was perfect. She had the most amazing ass! A lovely, flat stomach which led all the way to nicely sized breasts. I pushed her of my lap, massaging her buttocks and her tits. "ARGHHHHHHHHHH" she screamed in pleasure. Kimmy told us that she wanted to watch us fucking too, so my girlfriend and her switch positions, riding my cock just as hard as Kimmy, with our sexy new fuck friend licking her hot naked body and caressing mine. It was my girl turn to cum now. Our sexy neighbor rubbed my girl's cunt, looking into her eyes, making sure she was enjoying this fantastic threesome as much as she was. Well, I sure was enjoying myself too, having two smoking hot sluts to fuck at the same time! My girl big tits were bouncing all over her chest to the rhythm of my hard cock sliding in and out of her hot pussy.

SEXY TEEN GIRLS IN THE BEST POV, RISKY, SNEAKY, CHEATING AND ALMOST CAUGHT SEX: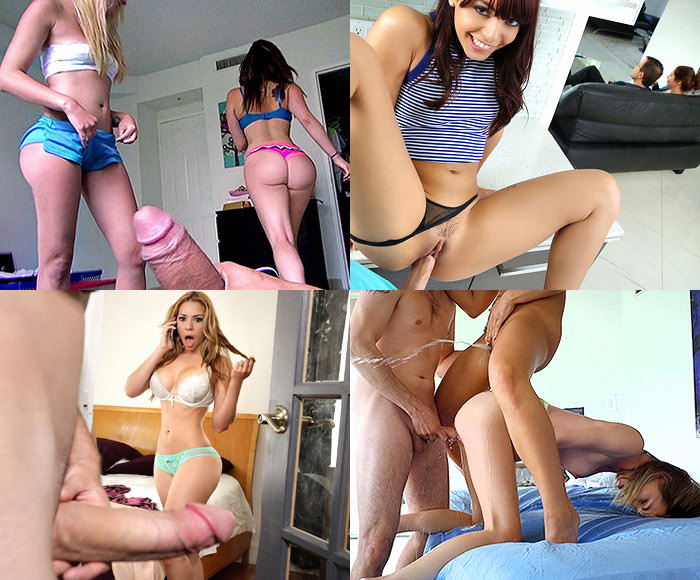 Both girls continued to kiss and lick on each other's pussy as they both came heavily. Two naked girls scrambled onto their knees in front of me with their ass in the air pointed towards me. The girls were twerking their butts "FUCK US!!!" I fucked their pussies doggie style from behind. I fucked Kimmy's pussy with my girlfriend masturbating herself. "Just cum inside her! She wants your sperm! Stuff this slut like a Christmas turkey". I ejaculated I think wad of cum deep into her pussy. "I'm Cumming!" she screamed too. My crazy girlfriend continued to lick her cunt. She came all over her face, squirting my cum out of her cunt. My girl quickly licked it up.