My stepsister is always sneaking out of the house to go partying with her friends even though she doesn't have permission from our parents, and she sneaks back into the house though the window, but it seems like today is just not her day, because she somehow managed to get stuck halfway through the windowsill! Good for her, our parents were out, but she still needed me to help her out, or else they would come back home and find her like that, can you imagine? I just couldn't stop laughing as I went outside to see which was the best way to get her unstuck, and I could see her skirt hiked up and her sexy little cotton panties. Hey, she may be my stepsister, but she's still a woman and a pretty hot babe. I placed my hands on her firm ass cheeks, wondering what it would feel like to caress that cute little butt. I decided to take advantage of the situation, lifting her skirt to see her ass better and even spank it! Of course I was annoying her, but I could also tell that she was actually kind of into it at the same time! I tugged the panties to the side and saw her beautiful pussy burger and to my surprise, my naughty little stepsister was getting pretty wet! I pulled the panties all the way down at the same time as I slid my pants and boxers down and my cock was already as hard as a rock as I slipped it between her legs and deep inside her dripping wet snatch. Her pussy was so warm and so very wet. Just like that, I was inside my very own stepsister and fucking her from behind while stuck in the windowsill! If my parents would have returned right there, we would have been in a pretty awkward situation, LOL! I spread her ass cheeks with my hands while pounding her, getting a view of her sexy ass crack and her cute little asshole, squeezing her sexy backside "You like your little stepsister's tight ass, don't you?" While I was banging her, she pushed herself back against my cock, each time felt my cock go deeper and deeper into her and finally she managed to get herself unstuck. I figured out this was the end of it, but as I got back in the house, she was on her knees and ready to suck and stroke my dick! She was so horny that she couldn't think of anything else but getting fucked on the couch. She opened her mouth and greedily sucked it, looking into my eyes as she did it. Then my sexy step sister stripped naked and let me fuck her on the couch. She laid down on her back, spread her legs and started teasing her tight cunt with her fingers. I came in between her legs and started rubbing my penis up and down her vulva. I positioned the head of my cock between her lips and pushed it between them, sliding between those lips into the hot, wet, velvety softness of her cunt. I grab her hips and start stroking in and out. She crossed her legs over my back, pushing me in for more, making me fuck her deeper. My balls began to slap against her asshole as my cock continued to fuck her hole like there was no tomorrow. Her tits were flying all around, every her muscle was tensed, she was looking straight into my eyes and clenched her teeth feeling my hard cock reaching the deepest regions of her vagina. "I've wanted this for so long. I fantasize about you in my room. I imagine you on top riding me." As soon as I said that, my hot step sister pushed me on my back and straddled my dick. "Like this? Ride you like this?"

YOUNG AND HORNY TEEN SISTERS CAUGHT FUCKING IN THE BEST AMATEUR PORN: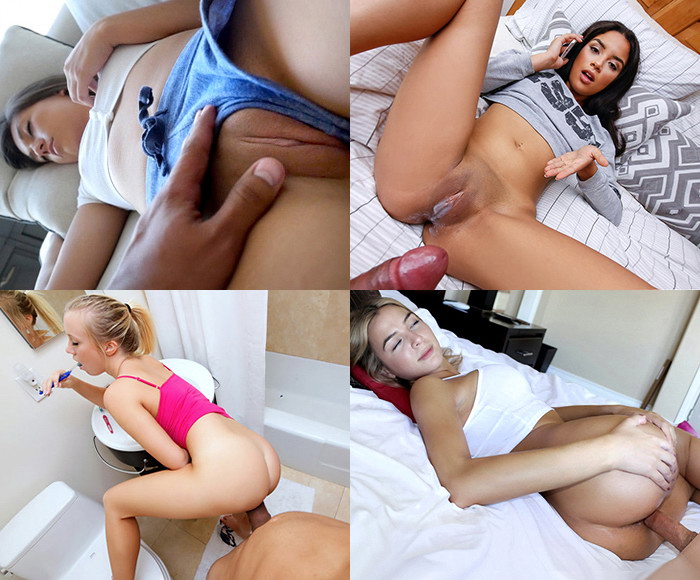 She said facing me. She started jumping up and down, tightening my dick at the top, and slamming down. Ohhh fuck! This felt so good!!! I spanked her ass hard, grabbed her tits and squeezed them, her cunt muscles clamp my cock in the throes of another orgasm. I pushed her on her back and began eat her pussy out. It tasted so good. I began to lick up and down her swollen pussy lips. She kept cumming as I took her aroused clit between my lips. We fucked hard for an hour, going from missionary to doggy style to titty fucking and she's on top. I told her I was going to come and she grabbed my buttocks and thrust me into her mouth. She swallowed every last bit. I blow my creamy load all over her pretty face and her tits just before our parents came back! Fucking hot!