Virgin
My best friend is definitely a nymphomaniac, she's always horny, watches loads of porn and masturbates nonstop, even as I'm playing video games. I can see her on the couch spread legged and rubbing her dripping wet pussy while I play. It's kind of weird sometimes, but I don't mind, I enjoyed the fact that she can be so open minded and comfortable with her sexuality. It didn't get weird when she got behind me, pulling down on my yoga pants and thong and darting her tongue inside my asshole! WTF!?! She spread my ass cheeks with both hands and began to lick my ass crack, down to my pussy lips then I felt the tip of her tongue slip inside my pussy. It felt so good! I have never done anything like this before. It felt weird at first, but at the same time, having my best friend's tongue wriggling inside my asshole felt so fucking hot and sexy! I looked around for my mom but she was in her bedroom. My crazy friend moved me to the couch, put me on my back and kept tossing my salad as I tried to finish the game as best I could. She took off my pants and thong that were already wet with my juice and continued licking me, kissing my pussy more deeply, sucking a little on my clit. I knew she could tell how turned on I was by how fucking wet I was, but I didn't care, I was enjoying all the dirty since she was doing to me and I didn't want her to stop. I was half naked, she spread my legs and finger fucked my cunt. I couldnt take it anymore so i guided her head to my pussy, she began licking me, nibbling on my tender pink pussy lips, kissing me between my legs, moving her hands all over my naked body. I was so wet and so excited i couldnt handle it anymore. I wanted to eat her out too, I wanted to know what that pussy tasted like, spreading her legs and diving into her muff, finger and tongue fucking her clam. Her pussy was beautiful! I leaned into her crotch and began licking her clit and her pussy lips as she did to me. It tasted so good and her pussy smell was delicious! I stuck my tongue into her vagina and her juices rushed into my mouth. It was warm an just dripping with hot tasty cum. Her pussy tasted fantastic! I was going mad with her pussy in my mouth, the first time I tasted a pussy made me go mad as i lick up her juices. She was grinding her pussy, making me tongue fuck her virgin pussy so deep, moaning quietly trying not to attract the attention of my mom. I was so fucking turned on eating her out that I totally forgot that my stepmom was in the house, until I heard her footsteps coming down the stairway. Fortunately she didn't see us, but almost getting caught got us both so fucking turned on, we strip totally naked and continued making out feverishly. We rubbed our pussy one against the other, tribbing like dirty little Dykes. She fingered me as she tribbed me. I moved my body as my pussy and her pussy rubbed against each other. It was the best orgasm i have ever had! I lied on my back and my naked girlfriend sat on my face, my tongue exploring every nook and cranny of her pussy. I told her to turn around so I could lick her ass and pussy doggy style. My stepmom walked in on us and caught me with my tongue deep down my best friend's asshole, awkward! I was always thinking about boys and cocks when masturbated but my friend turned me into a lesbian!
YOUNG TEEN LESBIANS CAUGHT FUCKING IN THE BEST GIRL-GIRL VIDEOS:
One of the best girl-girl scenes in months. Two young girls doing it for the first time with tribbing, mutual masturbation, face sitting. As much as I enjoy the lesbian pussy eating in a scene, this video had some awesome ass licking too. These teen lesbians were smoking hot and the possibility of getting caught was the thrill! Now we need a follow up threesome, with the stepmom joining in. The only thing better than 2 hot girls with trimmed pussies is 3 hot girls with trimmed pussies. We Live Together takes you into the lives of beautiful teen girls living together and enjoying the hottest lesbian sex with each other! Now you can have an exclusive look at the hardcore, uncensored girl on girl fucking action that goes on when these young lesbians leave behind all their inhibitions to take part of sordid lesbian sex parties and orgies! Look at these girls sucking and licking pussy and ass in the best way possible!
|
Ever since my next-door neighbor's daughter turned 18 I just can't help spying on her every time I see her swimming in the pool! She likes to swim topless and one day, since her dad was not around, I decided to skip the fence and approached her. She was eating an ice cream cone; licking it just like it was a cock, dirty little slut! She knew she was making my cock hard, I was pitching a fucking tent under my swimming trunks! I wanted to see more than just her titties and she was more than happy to give me a glimpse of her young lovely pussy. She turned over so I could also get a good look at that tight bubble shaped ass. I suck my erection was going to burst out of my pants! The teen girl spread her ass cheeks with her hands, showing me her tender little asshole, a perfectly shaped chocolate starfish. She was still licking her ice cream so I showed her something bigger, harder and thicker she could lick and suck all she wanted. The girl had never seen a cock before up close but she took it with her small hands and began stroking my throbbing cock. So sweet and tender, so cute and innocent looking… She had never sucked a guy before and she just wanted to try, taking licks from her ice cream and then sucking my sausage. I thought she would be mad, but she just smacked her lips and continued to suck. Her mouth was small but she tried her best to insert it completly. After giving me the best head ever I laid some towels by the shade and began fucking her dripping wet pussy with my hard cock. I couldn't wait to put the head of my cock into her tight wet slit. It felt incredible! She spread her pink meaty pussy lips with her fingers so I could penetrate her virgin pussy. I started to thrust in and out faster and deeper. She was moning like crazy when I just ramed all 10 and a half inches of cock deep in her. After fucking her in missionary I lied flat on my back and small naked girl straddled herself on top and slid herself down on my big cock. Then she turned over, riding me with her amazing ass facing me and making her tight teen body bounce up and down my rod until I was ready to blow my load all over her! This small tit petite sweetie loveed to put her mouth around my big dick and get her tight pussy fucked!
|
Yes, that beautiful blond girl sucking my hard cock while I snap selfies of her is, indeed, my stepsister. You see, we have a very special relationship, and when she needed some dick sucking selfies to sell in her class, she asked me to help her out providing the aforementioned dick, LOL! I was more than glad to snap the selfies as she sucked on my throbbing erection. After we were done with the pictures, she asked if I wanted her to finish! My slutty step sister continued, stroking my hard cock and sucking on my balls, deep throating my sausage and slobbering all over my member, making loud sucking noises. I was about to cum, she knew it, she looked up and gave me a smile and she just started doing it faster than ever, until I blew my load in her mouth. She wrapped her lips around my cumming cock and sucked sperm like a vacuum cleaner into herself. The crazy slut swallowed every single drop of my hot cum after playing with it. She ate all the sperm and then continued to suck on my now softening cock. What a naughty slut, I love her! I thought that was pretty much it, but next morning she came into my bedroom, the selfies were a hit and she wanted more of my dick for her private consumption! She smiled and got into bed with me, rubbing her juicy bubble butt against my hard cock over the sheets, teasing me and turning me on. She told me it would be our little secret as she stripped naked, turning sideways and showing me her beautiful bubble shaped butt as I spread her legs and rammed my throbbing morning wood deep inside her clean-shaven pussy, spreading her tender pink pussy lips in the process. I didn't even have to fuck her, she pushed her bubble butt against my cock all by herself. I couldn't believe I was actually fucking my very own stepsister! Yeah, I lost count of how many times she sucked my cock, but this was the first time she was actually letting me fuck her. I spread her legs in missionary position and fucked her hard, hearing her moan and grunt with pleasure, pulling her tank top up, exposing her beautiful tits, her nipples fully erect as I played with them. I fucked her in missionary and once again she pushed her pelvis against my crotch, begging me to fuck her harder, faster and deeper. I couldn't wait to blow my load, wondering if my dirty little stepsister would let me come inside her dripping wet pussy the same way she let me come inside her sexy little mouth when she sucked my cock! She screamed in an orgasm and her pussy clenched tight around me. My sexy step sister was moaning really loud and she was about to cum too, when she told me to cum inside her vagina. I bagan to cum, after the first shot of cum that came out of my cock and hit deep inside her body, her hands and legs grabbed me and pulled me so deep inside her she pined my cock deep inside her as load after load shot into her I, felt like I, would never stop cumming!!! Her vagina squeezed my hot cock as I pumped my cum load deep inside her. She arched her back and screamed like mad because it felt soo good. After I pulled my cock out of her she grabbed me and started sucking on my cock really hard snapping selfies with her phone.
AMATEUR PORN WITH THE HOTTEST TEEN SISTERS CAUGHT FUCKING WITH THEIR STEP BROTHERS:
If they are family after all, what wrong can there be in these horny guys spying on, seducing and banging their stepsisters? Right here at SisLovesMe, these naughty young girls are free to show their love to their horny step brothers by masturbating together with them, sucking their morning woods under the blanket, allowing their step brithers to fuck their virgin pussies for the first time and swallowing their creamy cum or letting them cum inside! The guys don't miss an opportunity to spy on their sexy step sisters while the naked girls take a shower in the bathroom, sneak in their bedroom at night while the girls sleep and fuck them in sleep and cum on their faces. They will do anything to keep from Mommy and Daddy from finding out.
|
He is the guy with a huge cock and the cum fiesta all the girls talk about in school and when this sexy teen babe heard about him, she came knocking on his door to see if he could give her a private party, more than glad to! This girl looked hot and spunky and she went straight to the point, she wanted her cum fiesta, that's the type of attitude I like in a girl! When he asked if she knew the secret password, she pulled her top up and flashed him her titties, right on! After showing her naked tits at the door, access was granted, they were ready to get this party started. Once inside she got rid of her top, took his throbbing member in her hands and began sucking and stroking it like a naughty girl, making sexy sounds as she gave him a handjob and blowjob combo. The teen slut made sure to give his balls a good licking too, the other girls must have told her how much he enjoyed that. She stripped naked and straddled herself on his lap, impaling her dripping wet tight pussy on his massive erection. Just like every other girl before her she must have feared it would be too big for her, but pretty soon she was fully impaled on his meat sword and making her naked body bounce up and down his rod. That's the cutest perfect little round ass ever… By the look and expression on her face I can tell she had never taken such a big hard cock up her tight cunt before and probably never ever would again. After riding his huge cock in cowgirl position she flipped over, making her juicy bubble butt bounce up and down his lap. He flipped her over again after a while and then he put her down on her hands and knees so he could fuck her doggie style from behind and make her his little bitch. He has a very nice cock and knows how to use it! Naked girl went to the couch and lied on her back, spreading her long legs so he could fuck her in missionary position. As he fucked her she grabbed her tits and squeezed them hard, pressing them together as she held her legs wide open as he continued pounding her dripping wet cunt until he was ready to give her that much-deserved cum fiesta, spraying hot cum all over her face, open mouth and tits! She got her tight pussy stretched out and her pretty face jizzed on. This girl went to her friends with a story to tell.
TEEN PORN WITH THE HOTTEST YOUNG GIRLS SLUTS EVER:
Beautiful face, 19 years old, gorgeous natural tits, magnificent pussy lips, hot g-string tan, beautiful ass-up doggy POV. RK, do not ever let this girl go. Sign the contract now… I want more… more… more. This girl is fantastic! Whats does every teen want the most but is too afraid to ask for? A huge cock and cum fiesta! These young teen girls will show us how much they adore huge cocks, sacrificing their virgin pussies for a sweet taste of a huge cock. Sucking big cocks, getting their little pussies fucked hard, swallowing loads and getting creampied! The kings of young porn give you the hottest, sexiest and horniest young teens ever, getting their little pussies destroyed by the biggest cocks in the world!
|
This beautiful girl never imagined that she would find herself in this situation, getting stripped naked by her brother's hot blonde girlfriend while making out with her, pulling her top over her head, uncovering her beautiful breasts with fully erect nipples and passing her hands all over her hot naked body as her tongue explores the inside of her wet, hot mouth. She has never had lesbian sex before, she still can't believe she's having her first lesbian experience with her brother's girlfriend! However, it doesn't feel weird or awkward at all, quite the contrary, it feels so natural and spontaneous, which is how they got to this point in the first place. Her brother's girlfriend rolls her body up and drips her warm saliva all over the slit of her tender pussy and the crack of her ass and she can feel it oozing down her pussy and her asshole, sending tingles up and down her spine. The blonde licks her muff as she caresses her thighs and feels her curious tongue venturing into her tight asshole. She never pictured her stepbrother's girlfriend fucking her asshole with her tongue, much less her enjoying the experience so much, so shamelessly. But that's how the cookie crumbles, LOL! She's going mad with her tongue fondling her sensitive asshole, it's the first time when someone licks her ass and licks up her pussy juices. She is in the acrobatic pose pushing her sexy ass into her face, simply amazing! Her tongue licks her pussy slit and her virgin anus so good. The blonde spreads her legs and sinks her tongue between her pussy lips, eating her out on the couch, the very same couch where she made love with her boyfriend, her brother, so many times before. She knows because she has spied on them many times before, always ending up masturbating herself. The blonde makes her cum several times with her tongue, then the naked girls embrace, pressing their hot naked bodies together as they kiss and she can taste her own pussy on her brother's girlfriend's mouth. They spread their legs and rub their pussies together, tribbing each other, bumping their clits, as if they were fucking. You asked for tribbing. I listened! Afterwards, the blonde spreads her legs wide open, inviting her boyfriend's sister to eat her out, fucking her dripping wet snatch with her tongue and making her cum over and over like a slut. The young lesbian gets a big crystal clear dildo and makes her squat on it and ride it, making her tits bounce up and down as she gets fucked by the big toy, hoping her brother doesn't return before they finish! Better turn the volume down a little. These girls will ride it into a glorious orgasm!!!
|
I was on a road trip with my girlfriend and her sister, who'd been texting with her boyfriend on her smart phone the whole trip. When I looked through the rearview mirror I caught her with her legs spread wide open and rubbing her pussy over the pink cotton fabric of her panties, what a slut! I looked again and she had her hand under her panties, shamelessly playing with her dripping wet snatch. She could actually see me looking at her through the rearview mirror, which only seemed to arouse her further. I decided to pull over at a gas station and I saw my girlfriend's sister sneaking into the restroom. I followed her and sneaked into the stall adjacent to hers. As is usual in this kind of places, there was a glory hole connecting both stalls and through it I could see my girlfriend's sister shamelessly masturbating while sitting on the toilet. She looked so fucking hot and sexy! She always looked gorgeous, sexy legs, flat stomach, cute little butt and a beautiful face, I always wanted to see her pussy and my cock deep inside in addition. I popped my throbbing member from under my jeans and pushed it through the glory hole!!! As soon as she saw my huge cock throbbing through the whole she latched on to it, licking my shaft, sucking and stroking my member like a dirty slut. After a while she realized it was me behind the glory hole, not like that would stop her! She got back on her knees and kept giving me head and I bent her over and spread her ass cheeks open slowly, moved my head closer till I could smell her pussy. I didn't think twice, just ate out her dripping wet snatch and her little asshole, it tasted so much better than her sister's! She was getting close to cumming when I licked her clit and her anus so I rammed my hard cock between her legs and began to fuck her tight slurping cunt with my huge cock. My cock was too big for her little pussy but when I stopped the dirty little bitch pushed her ass against my cock, begging me for more! When my whole cock entered completely, it was amazing. Her juices were running down her thighs, dripping from my balls, It felt so good. I kept banging her from behind and eating out her pussy and ass, before sitting on the toilet and straddling her on top, making the tiny naked girl bounce up and down my shaft. I fucked her in cowgirl position first and then I flipped her over and kept making her bounce on my huge 10 inch cock, checking out her juicy bubble butt. Pretty soon I was blowing my load all over her face and her open mouth and watching her swallow each and every drop of my sticky cum. Good thing when her sister walked in she didn't see us while we were banging! Although it would be great to fuck both sisters!
TEEN PORN WITH THE HOTTEST YOUNG GIRLS SLUTS EVER:
Incredibly hot! This is why I am addicted to Porn! Young teen girls will do whatever they can to get a huge cock in their hands, mouth and pussy. These teen sluts will go above and beyond what it takes to show us how much they adore huge cocks, sacrificing their virgin pussies for a sweet taste of a big pecker. Fucking, sucking, swallowing loads and getting creampied! The kings of teen porn give you the hottest, sexiest and horniest teens ever, sneaking around behind their parents and their boyfriends and almost getting caught, getting their little pussies destroyed by the biggest cocks in the world!
|
I usually don't give a fuck about what my younger stepsister does, but my dad left on a business trip and he asked me to keep an eye on her, and I want to be on his good side, so when I saw her just about to go out for a jog wearing almost nothing, I knew I had to put my foot down! She was wearing the skimpiest shorts and top and didn't seem to notice what the problem was, dirty little bitch! I told her that I could practically see her pussy since she wasn't even wearing any panties underneath! I was a bit shocked when she let me check her these tight ass booty shorts and her pussy bulge and I felt she was quite warm between her legs. I think my step sister was getting turned on by the way I kept looking at her body, and I was actually getting a huge boner! I pulled her close to me, tugging on her shorts, exposing her shaved clam and her juicy little bubble butt! She started getting wet and let me take off her shorts and bend her over the couch! I couldn't believe it! Her ass was absolutely amazing, two round ass cheeks and tidy pink pussy lips between them. My hand found her slit open, and wet, I slid a finger inside and rubbed her swollen clitty. I could no longer hold back my erection and stuck my cock into her very tight virgin pussy. It took a few thrusts to get in, but I did. It felt incredible! I rammed my throbbing erection deep inside her wet pussy, fucking her doggie style from behind. I couldn't believe I was fucking my younger step sister, and I don't think this is what my dad meant when he told me to keep an eye on her, LOL! When I stopped fucking her, the little girl pushed her juicy bubble butt back against my cock, begging for more. She straddled herself on top, smiled at me, spreading her pink pussy lips with two fingers. Her sweet lips parted as I pushed my cock inside. She rode me, then she got between my legs and sucked on my hard cock, straddling herself back on top and riding me in reverse cowgirl. After fucking her in missionary position I was ready to pull out of her dripping wet cunt and blow my creamy load all over her pussy and there was some cum dripping out of her slit.
|
Don't miss this video if you like skinny naked girls, their small titties and tight pussies. This hot blonde young girl is still a virgin but she's ready to lose her virginity with the guy whom she met on a resort a few days ago and fell in love with him. It's his last day there and she decides to let him pop her cherry. She knows he's the right guy and her tight pussy is yearning for his big hard cock so they move to the shore and find a nice quiet spot where she can give away her virginity. They are all alone swimming in crystal water and she is taking of her swimsuit , rubbing her bald pussy and her small tits as they swim. She asks if he wants to touch her under water. Then she asks him if he wants to have sex with her! She looks great. She has a continuous golden tan over her firm slender body. It's hard to hide your hardon with a towel when such a sexy young girl is close. After skinny dipping, splashing and diving in the waves, in a secluded corner of the beach where no one can see them she spreads her long legs and lets him lick her young virgin pussy, nibbling on the inside of her thighs and sending shivers up and down her spine, making her pussy tingle like it has never tingled before. Her pussy looks gorgeous, I bet it taste as good as it looks. After eating her out she makes him lie flat on his back so she can suck and stroke his big hard cock. She can't believe it's finally happening, and she's getting to eat cock and pretty soon he will be getting her cherry popped. The anticipation fills her as the tiny girl straddled herself on top of his cock, squatting over it as he gently introduces his member inside her. She's so fucking tight at first, as she feels his throbbing cock sinking inside her inch by inch. Yes, it hurts a bit, but it also feels so fucking hot and she feels an intense shot of pain as his dick officially pops her cherry and she is no longer a virgin! Yay! After fucking her on the beach he blows his load all over her beautiful face and her open mouth. Now that she's no longer a virgin, she wants more dick!
|
This guy is absolutely sick and tired of having his slutty stepsister spending the money from his bank account without his permission, but when the dirty little bitch uses the money from the business account he has with his best friend, he decides she needs to get punished to learn a lesson, and since the account belongs to his best friend and him, the punishment will be bestowed by both of them! They force her to take off all her clothes while she's struggling to get free. The guys strip her naked on her bed and he holds her by the neck and slaps her dirty face while his friend rubs and slaps her dripping wet snatch. Her step brother knows she likes rough n dirty sex coz she always watches extreme porn. They cover her mouth with their hands, slapping her tits and the rest of her body as he stuffs her cock hungry mouth with his big fat cock while she's down on all fours and getting fucked from behind by his friend. The dirty little blonde teen slut begins to scream when they spit roast her, stuffing her by both ends and pumping her good. She grimaces with pain and pleasure, gasping, moaning and arching her back. While he is fucking his stepsister he can tell that she's enjoying this punishment but he hopes that anyway the lesson will get through her thick head that it's not okay to spend other people's money. Worst case, at least they can keep double teaming her every time she does it! The guys switch positions and put her flat on her back and with her legs spread wide open. His best friend fucks her dripping wet snatch in missionary position while he fucks her mouth with his throbbing erection. The stepbrother gets on his back and straddles his stepsister on top, impaling her dripping wet pussy on his hard cock while she sucks on his best friend's meat pole, her naked body bouncing up and down his hard shaft. At some point he feared he would feel guilty about double penetrating his own stepsister with his best friend, but quite contrary, it actually feels great and his stepsister may very well be the hottest fuck slut he's ever banged before. They switch places again so she can ride his best friend's cock while giving him head, stroking his member and licking his balls before they put her on her back again and keep spit roasting her pussy and mouth. They fuck this slut hardcore for one hour until they are ready to cum, blowing their loads all over her face and mouth! Lesson learned!
GIRLS SCREAM GETTING THEIR LITTLE PUSSIES FUCKED IN EXTREME HARDCORE PORN:
WARNING EXTREME TEEN PORN! When teens behave badly, they need to be disciplined, punished and corrected, and the right place for such harsh sexual punishment takes place right here at Punish Teens! Don't miss
these vids if you like extreme, hardcore, rough, borderline abusive sex. Watch these teen girls get fucked in the ass, pussy, tits, and mouth. They experience their first huge monster cock in ways they never imagined. Their pussies are wet and tight too because they never did it before. Virgins get deflowered in the most extreme style, shy innocent young naked girls get manhandled, tied up, their pussies get stretched out and destroyed by huge cocks, their assholes get punished, see them abused, face-fucked, brutally slapped, fish hooked, analized till their fresh pussies are fully used!
|
My sexy little stepsister is such a dirty slut, she'll do anything to get her hands on my credit card and she knows how to get it! One day, I noticed that she left the bathroom door open during her shower. I decided that I "needed" to use the bathroom too. I walked in quietly and stood spying on my step sister as she slowly pulled down her panties, revealing the prettiest ass I had ever seen. I could see her sexy ass and her little pussy. I couldn't help looking and she knew I was looking. Then she saw that I was spying and acted like nothing happened and she didn't care I saw her naked, wasn't embarassed at all. On the contrary, when I saw her beautiful naked body I got an instant erection! My step sister always loved walking around the house in her panties and I always dreamed about seeing where her sexy legs connected to her body. In fact, she wanted to go party with her friends and she was strapped for cash, so as she asked if she could burrow my credit card, she would do something for me into the shower. I teased her a bit, offering her the card and taking it away as she tried to grab it. She knew she was going to have to work to get it… work my dick! She got out of the shower and pulled apart her pussy lips, and let me touch her wet slit and juicy bubble butt. I thought I was going to cum in my pants. She got down on her knees on the bathroom floor, grabbed my cock and put it in her mouth and sucked it like crazy. I let her give me head, sucking my dick all the way down to the base, stroking my cock and licking my balls. That dirty little cock sucker gave me such a hard on! We went to the living room so she could keep sucking my cock comfortably and her soft, silky hair fell over my belly as she blow me. My naked step sister climbed on top of me took my hard cock and guided it between her moist pussy lips and lowered herself so that I went just in to her. The sight of her trimmed pussy with a "landing strip" was such a turn on. She rode me, bouncing up and down my shaft. I loved watching her pushed her naked body up and down my meaty pole wearing absolutely nothing but a sexy pair of fuck me heels. Yeah, she let me fuck her for my credit card, but that didn't mean the dirty little bitch didn't enjoy it, she loved getting her pussy banged hard. I made her lie flat on her back and spread her legs so I could fuck her tight cunt in missionary position. I rubbed her clit while I'm fucking her and I enjoyed the sexy expression on her face as she begged me to give her my hard cock, and my creamy cum and finally… my credit card, lol! I pounded her snatch in several different positions and made her suck my hard cock and big balls some more. Once I got my fill I was ready to cum, blowing my creamy load all over my slutty stepsister's dirty face and open mouth, watching her swallow my cum as I lend her my cred card!
THE SEXIEST AND HOTTEST YOUNG SISTERS GOT CAUGHT FUCKED:
If they are family after all, what wrong can there be in these horny guys spying on, seducing and banging their step sisters? When these guys see their half naked sisters walking around in just the panties, displaying their sexy legs and their sexy bubble butts, indecent thoughts come. SisLovesMe is full of smoking hot girls with big tits, juicy butts and dripping wet pussies that are simply irresistible to their perverted stepbrothers. That's okay! These guys sneak in sisters' room at night and fuck them while they sleep, convince them to pose fully naked for them, watch porn and masturbate together, cum inside after pounding their tight pussies and even lose virginity with them!
|
This sexy brunette babe loves hanging out with older guys and they are always goofing around. She's so tiny; it's so easy lifting her up and tossing her around. However, tonight they're touchier and grabbier than usual, and when one of the guys grabs her jammie shorts and pulls them off, leaving her naked from the waist down, she kinda plays along with it, she likes what's going on and wants to see if their playful games will finally turn into heated sex! One guy spreads her legs and begins kissing her young bald pussy. He slides his tongue between her soft pussy lips and tongue fucks her vagina, sucking on her sensitive clit and licking her dripping wet clit. She has never let any boy eat her pussy before but the way this guy licks her is sending her over the edge. When he finally unzips his shorts, this petite girl can't believe her eyes! She has never seen such a big penis and she's shocked at the size of it. She's just 18 years old, she's almost virgin. Her friend has the biggest cock she's ever seen on a guy in porn movies! Good thing they are finally off the friendship zone! She plays with his erection, watching how it springs up and down as she begins licking, sucking and stroking it. She wants to swallow it whole like a sausage, but it's so fucking big! All her girlfriends will be so jealous of her. He strips her naked, spreads her legs and rubs his big cock over her big, moist pussy lips. Then he puts the tip of his cock in front of her pussy and pushes it forward deep inside her hard. He begins pounding her tight muff and she can't believe how deep inside her it goes, stretching out parts of her pussy she had no idea could even be stretched out or were so tight, lol! Tiny naked girl straddles herself atop his huge cock and impales her juicy clam on it, riding her older lover and making her juicy bubble ass bounce up and down his lap. It seems that he's about to break this girl with his cock. He cradles her in his arms and fucks her while standing; this petite girl is a feather weight so he can put her into his favorite and nastiest positions, like the full sex nelson! He fucks her down on all fours and in a full sex nelson standing variation before blowing his load in her little mouth! Definitely, she will be the envy of every girl at class because she has sex with an older man with a big cock.
|
Have you ever had hot young girls sleeping over at your house and had the urge to sneak in on them and check out their pussies with your dick while they sleep? If this happens to be your fantasy you'll never find a more suitable video than this. Our parents were out of the town and my sister decided to host slumber party with her slutty friends! Her friends are so fucking hot, and the way the girls looked at me as they walked through the door and locked themselves up in my sister's bedroom! I can only imagine all the sorts of dirty, sexy, kinky shit these young sluts were doing! I put my ear against the door and I could hear them laughing, screaming, probably dancing to the loud music in the background. Unfortunately, I couldn't see anything through the keyhole. Soon it all got quiet, the girls were probably sleeping, and I decided to sneak in! They were all sleeping on my sister's bed, wearing cute pajamas. I grabbed their camera and began filming the sleeping girls. I became a little more brave to sneak a peek between their ass cheeks. Before long I began to fondling their pussies while still being careful to not wake them. Then I got really bold and I woke one of her friends up, putting my cock on her face! I couldn't wait any longer to sink my erect dick deep into one of the beautiful pussies that awaits me. When the sister's friend saw my raging erection, she was more than happy to take care of it! She opened her mouth and took my cock, holding my scrotum, fuck! This teen slut sucked and stroked it, drooling all over my member while her friends slept, keeping it quiet so we wouldn't wake the girls up. This was a dream cum true, finally! My cock was drenched in her warm spit as she licked and sucked my balls, getting down on all fours and releasing the crotch area of her pajamas so I could fuck her dripping wet 18 year old pussy as she got down on all fours and showed me her sexy bubble butt! She wanted me to fuck her hard right next to her naked, sleeping friend. I fucked her sweet twat doggy style while her friend and my sister slept next to her, fucking hot! She flipped over and spread her legs so I could fuck her in missionary position, her pajama's top opened up and showing her nice tits and puffy nipples. The naughty young girl played with her tits and rubbed her clit as I hammered her and we both came! Her pussy was so tight and hot and moist, she took my cock into her mouth and I started pumping my cum into her mouth. When I finished cumming, she opened her mouth and her mouth was empty. She had swollowed all my cum and fell asleep! I went back to my room, but I was still horny and hard as a rock! I decided to go back in and woke up her other friend this time! She was also glad to see me pay her a nighttime visit, sucking my hard cock and spreading her legs so I could pound her dripping wet pussy in missionary position. My dick was wet in sperm, I had no problem sliding it right in her tight little pussy. The only issue was that I couldn't ram her too hard, or else she would scream and wake up the other girls! I really enjoyed fucking her young pussy, making sure I didn't wake up my sister in the process. Too bad she didn't bring along a third friend to fuck her too! Meanwhile, a very intense feeling was growing in my balls and I thought they were going to explode. I just couldn't stop fucking this girl's pussy faster and faster and she screamed and woke the girs up, fuck! My sister saw me fucking her friends, and all the girls knelt down in front of me, trying to catch all the jets of my cum, squirting out of me. The best slumber party ever!
YOUNG NAKED GIRLS IN A THREESOME, FOURSOME AND MORE-SOME SEX:
I've always had a thing for sleeping naked girls. And most of you I know have fantasies about making love with a naked girl while she sleeps. All these young naked girls just want to get fucked hard! Let's find the virgin and find the tightest pussy! Which one will you bang 1st? BFFS is the place to check out, view and enjoy the hottest young teens in the best threesome, foursome and more-some sex orgies ever! Naked soccer girls, track team girls, sleepovers, naked ballerinas, naked sorority girls, naked yoga students! They all are there! These sexy girls love sucking huge cocks together, playing with their wet pussies, experimenting with lesbian sex and getting fucked hard together.
|
School was over and I was the only girl in my class that was still a virgin! I was afraid summer would be over before I got a chance to get my cherry popped, but I met a hot guy during a weekend getaway and I had the most intense deflowering experience! My parents were out of town and trusted me to be home by myself. Well all my friends that had done it before said lick and suck a guy's dick and he will like it so I thought ok here goes. I had seen several penises before when sneaking peeks at my brother, and once when the boy next door and I were experimenting, but I had never seen an erect cock and so close to my face. I got down on my knees, I was so excited and turned on! I put my hand around it and it was hot, I slowy slid my tongue up and down his dick and took the head in to my mouth. His eyes rolled back in his head so I guessed this was right. His cock tasted wonderful, it was delicious, so big and hard, and the heat of him in my mouth was a big turn on for me. I was fully naked, I sucked his dick for awhile then he got up and laid me back on the bed. Just as I was getting on my back and was about to spread my legs so he could fuck me, I noticed a worried look on his face as he looked through his jean pockets, he forgot to bring a rubber! He noticed my expression but he said he would pull out before he came. Well, I was turned on and ready to get my cherry pop and I wasn't about to let a rubber get in the way, I urged him to fuck me anyway and just cum outside me! He put it between my pussy lips and I felt his penis touched my clit. Then as he started to push I felt his penis spreading my lips. His dick was so big, I could feel it stretching my tight pussy lips as he began to penetrate me, pushing through my hymen and deep inside me, finally, I was no longer a virgin! He started fucking me slow and gentle, picking up speed as my ex-virgin pussy got used to his cock! He continued pumping in and out of me. I was turned on by the idea of my little pussy being fully penetrated for the first time. After fucking me in missionary, I sat on top of him, and lowered my pussy onto his dick, riding him like those girls in porn! This was my first time, but since I love watching porn and spent many Friday nights masturbating to smut while my friends were getting laid, I had some vicarious experience! He placed me sideways and penetrated me again, pumping me with his delicious cock meat while I rubbed my dripping wet muff, his dick just felt so good inside me! He put me down on my hands and knees and fucked me doggy style from behind while pulling my hair back, switching me to missionary and then letting me ride on top before putting me sideways again. He was fucking me faster and harder and I could tell he was about to cum and as I was about to tell him to take it out, that's when I felt it! A thick stream of his hot cum flooding my insides, he exploded inside me! When he came inside me I could feel his cock getting soft and slowly slipping out of me. He must have shot a pint of his cum into me and it began to leak out between my pussy lips. I had had never seen cum before and I was afraid to get pregnant. I guess this was my first time getting fucked… and creampied too!
SMALL AND YOUNG GIRLS GET THEIR VIRGIN PUSSIES DESTROYED BY HUGE COCKS FOR THE FIRST TIME:
Don't you wanna see the full video? My short verdict of this scene is that it's a supremely hot scene and one of the hottest young girl I've ever watched. Only at ExxxtraSmall the smallest, youngest and sexiest girls enjoy sucking huge cocks for the first time, getting their virgin pussies fucked and filled with cum! Slim, petite, tiny and tight teen girls love huge cocks and they love getting their little pussies destroyed and creampied in hardcore sex scenes. Their mouths, pussies and assholes will get stretched out of proportion and their bodies will get drenched in cum! Take a young sexy girl, match her up with a huge cock, and let the fun commence.
|
This sexy blonde and her best friend saw BDSM porn for the first time on the Internet and asked their friend to play with them, but he took it too seriously! Turned out their friend was a closet sick sadistic fuck who took overbearing control right away as soon as it was given to him. The girls tried talking back, but he firmly grabbed them by the hair, ripped their panties off and when they told him he did it too hard he ordered them to shut up while tying them up. The girls were a bit shocked, a bit scared and also quite turned on! They didn't expect him to get so much into the role! Soon he had naked girls both tied up and gagged, removing the blonde's gag just so he could ram his hard cock down her throat and fuck her mouth! He took turns brutally fucking the girls both up their mouths, making them gag and choke on his hard cock, thick ropes of saliva dripping down the sides of their lips and chins and drenching his hard sausage and balls. The man didn't pay any attention to their pleas and slapped their cute faces with his cock. After making them suck his dick he made them lick and suck his big balls too, then he put both naked girls down on their knees on the bed and started fucking their dripping wet pussies from behind. He grabbed the young teen's hips and really started to fuck her. The friend watched in shock as the blonde got her mouth muffled with his hand while he pounded her pussy as hard, fast and deep as he could! He fucked the shit out of her while her friend was forced to watch. When he was done with one girl, he removed his cock from her violated pussy and moved on to her friend and just kept switching from one pussy to the next. The girls groaned in helpless despair as he pounded their little pussies harder and faster, so they could get a dose of what hardcore extrime sex was all about. After such a harsh and brutal fuck, he determined that his submissive naked girls had behaved nicely, so he untied them, letting the friend lick the blonde's pussy while he pounded her wet muff from behind doggy style. He took one of the girls and put her on her back, spreading her legs and fucking her in missionary position, with his hands around her neck , dominating her as he fucked her, making her feel like a submissive filthy little fuck pig, she loved it! Her friend sat on her face and made her eat her dripping wet twat while the guy kept fucking her and then she straddled herself atop the guy's hard cock, letting her friend suck that big dick first so it would be well lubed up with her saliva while she rode it. His balls were slapping against her chin as his cock drilled into her friend's pussy harder and harder. Both young girls could hardly wait for their lover and master to finally blow his load all over their faces!
THE MOST EXTREME HARDCORE SEX WITH YOUNG TEEN GIRLS:
WARNING EXTREME TEEN PORN! When teens behave badly, they need to be disciplined, punished and corrected, and the right place for such harsh sexual punishment takes place right here at Punish Teens! Here you will find the most extreme, hardcore, borderline abusive porn scenes as these barely 18 year old young naked girls experience their first huge monster cock in ways they never imagined. Virgins get deflowered in the most extreme style! Sit back and watch exclusive HD 1080p scenes featuring cute and innocent teens getting their mouths, pussies and assholes punished! See them abused, face-fucked, brutally slapped, fish hooked, analized till their fresh pussies are fully used! Don't miss this site if you love extreme teen porn.
|
My stepsister has a crush on me ever since we met for the first time after our parents got together. I think the idea of getting banged by her very own stepbrother turns her on, but I usually just ignore her and pretend she's just playing games with me or pushing my buttons. Problem is, it's getting pretty hard to ignore her, since she's getting more and more provocative with each encounter we have, and since we live under the same roof with our parents, you can imagine the sexual tension at this point; you can cut it with a knife! My step sister always has a little grin on her face that says, "I have dirty thoughts and I know you do too". We're sitting on the living room couch and the flirting begins again. It feels like a game of who will make the first move. And finally she gets up and her skirt is hiked up and I can see her naked juicy bubble ass!!! She's not wearing any panties!!! I just can't resist, grabbing her meaty ass cheeks! My step sister's ass is absolutely amazing, two big round buttocks and a little pussy between them. I can stare at her naked ass and I certainly take the opportunity. She's so turned on and I just want to see how far she can go. She spreads her legs and starts rubbing her dripping wet muff in front of me, telling me she can't resist this any longer, and honestly, neither can I! Then she leans over and unzips my jeans, pulling out my throbbing cock and taking it to her wet mouth, sucking it hard like a dirty little slut. This teen slut gives great head! We go to her bedroom and she strips naked and gets in her bed, masturbating herself for me and showing me how wet her pussy is. She keeps sucking my hard cock and stroking it slow and gentle. I don't think my dick has ever been so fucking hard, man! There is no turning back, my sexy naked step sister gets down on her hands and knees, spreads her hot, tight, fleshy ass cheeks and I instantly move so that my prick touch the hot wetness of her slit. I ram my hard cock deep inside her wet cunt, grabbing her tight bubble butt as I fuck her doggy style from behind. I can't believe it, I'm sliding in and out of my naked little sister and I know I'm about to cum at any moment. She straddles herself atop my lap and impales her snatch on my dick, riding it, then leaning back and spreading her legs so I can keep plowing her pussy in missionary position. We've both been waiting so long for this moment! I grab her titties while I'm fucking her and she gets back on top, this time in reverse cowgirl, so I can check out her juicy butt bouncing up and down my hard rod until my dirty little slut stepsister is ready to swallow my creamy cum as I blow my load!
THE SEXIEST AND HOTTEST YOUNG SISTERS GOT CAUGHT FUCKED: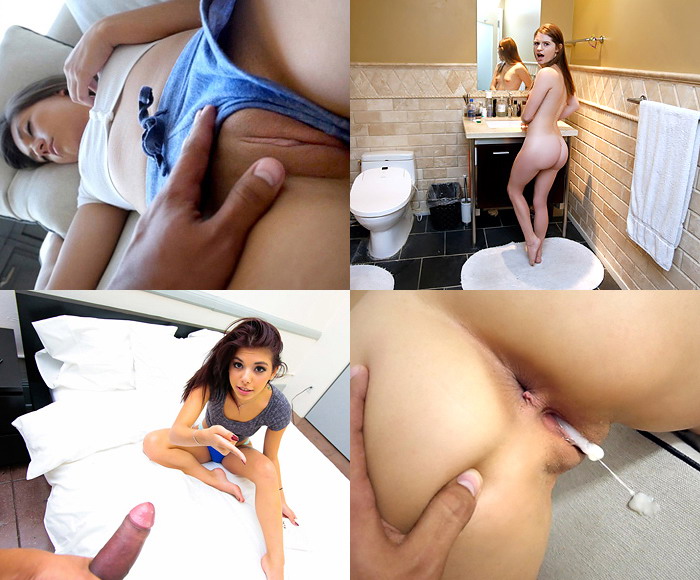 These horny brothers and sexy sisters have a dirty little family secret they want you to know all about! That's right; SisLovesMe is all about horny brothers seducing and fucking their hot sisters! These guys spy on their naked sisters in the bathroom and then fuck them hard; brothers and sister masturbate together and have sex for the first time; the guys sneak in the sister's room and stuff their tight pussies with their big throbbing cocks while the girls sleep and cum inside their virgin pussies; the girls get caught masturbating and now let their brother fuck their wet pussies and gaping assholes and blow their loads all over their faces! As long as their moms and dads don't find out, everything is okay!
|
Cute schoolgirl Baby and her classmate are ready to fool around after school, but girl's slutty stepmom, is home, what a bummer… or not!?! The blonde cougar wears a loose blouse that shows the sensual cleavage shaped by her big breasts and though Baby's not amused that she's here, her classmate, Jordi, sure is! The young boy can't keep his eyes off mom's big boobs! He runs up the stairs to catch up with Baby, and finds her waiting for him in her bedroom in her white panties and the top of her schoolgirl uniform still on, fucking sexy! She is a school nympho! The naughty, half naked schoolgirl grabs him and throws him on her bed, pulls down his slacks and takes his cock in her hand. She starts to play with it, and after just a few seconds, it is in her little mouth! This is his first blowjob and the boy is a little nervous. But his horny classmate is definitely ready to rid him of his virginity. She's kissing the head of his cock, skiding her tongue up and down, stroking and sucking his big dick, she loves the fact that Jordi is so well hung! The young girl pulls down her panties and reveals the prettiest pussy to him. It's the first time when this boy sees a girl naked and a pussy! Such a cute nice girl, with a lovely pussy and a cute little ass! She comes closer to him and straddles herself atop his lap, impaling her tight pussy on his big dick and riding him on her bed. While he fucks her, he's thinking about her stepmom's big tits! He takes off her blouse and sweater, leaving her bra and tie on as he fucks her twat in missionary position. Love seeing amateur teens having sex. Suddenly, the boy looks up and sees Baby's hot stepmom by the door, dressed in sexy lingerie and spread legged while masturbating herself! He excuses himself mid-fuck and leaves the girl hanging, heading straight to her stepmom's room, where she is waiting for him and his big dick! The naked girl follows him and they join the MILF in her bed for a hot threesome fuck! The young girl watches how her schoolmate fucks her hot stepmom doggy style, her big fat ass and then the girls both take turns sucking his big dick and licking his huge balls. The threesome moves to the next level with the naked teen girl riding his cock and the naked woman riding his face until the boy is ready to blow his load all over their dirty faces and her stepmom's big tits!
|
CHECK OUT RECENT VIDEOS ON THE MAIN PAGE !!!