Starting off with a blowjob in the middle of the living room, Van was enjoying a sweet cock pleasing session with his girl. As he was just about to cum their roommate Abigail came downstairs to remind him once more that he needs to clean up the mess and to do some cleaning. Meanwhile, they got a visitor Jaden who is kind of on the other side of the sexual experiences. Abigail loves to chit-chat with him since they are good friends and they are very open with each other. As they were chatting the brunette came into the room and started to be a part of the conversation when he asked her if she ever heard of the Abinator. The sexy chubby girl went to the closet and placed a strapon on her crotch! Jaden was eager to give it a go so he started sucking on the plastic phallus which made the brunette eager to go next. She assumed the position doggy style as her roommate entered her wet pussy and started fucking her! At this time, Van came to see what was going on. Jaden didn't want to let him into the room. He closed the door right behind him and straight up went to the bed where the girls were ready to have a go with him in a threesome. He got his cock sucked by Van's girlfriend and she was getting banged from the back by the Abinator. They had a superb threesome with each party having a good time while doing it. Jaden was the first one to finish so he decided to do so on the brunette's face. Once that happened, Van came into the room and threw Jaden out.

THE HOTTEST, SEXIEST AND HORNIEST GIRLS: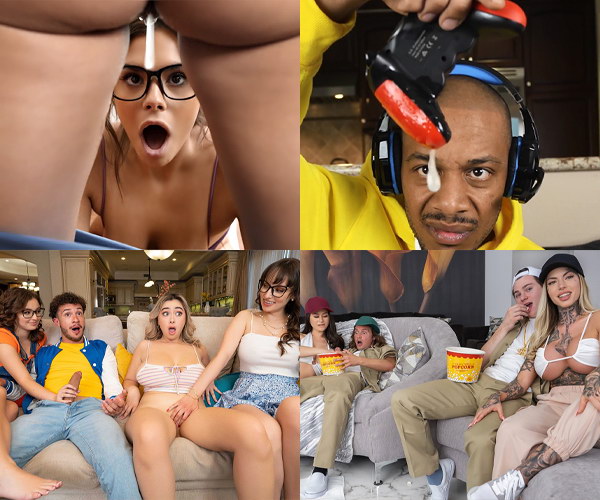 He saw the busty and curvy girls naked and already wet from sex so he just pulled his pants down and started fucking. He entered the thick girl from the back and she couldn't believe how big he was inside her body. He drilled her so hard that she almost came. The view of her huge ass was amazing! He had never fucked so fat girl and it turned him on! Thicc girls are the best – curves, jiggle, softness, bounce and wiggle. His girl was right there beside him waiting on her turn to get fucked. The naked girls sucked on his cock simultaneously and then his girl straddled his dick riding him in reverse cowgirl style. She rode that dick to a pulp before she changed the position and then, it was the thick one's turn once again. That huge ass of hers was so damn tempting that she had to fuck him cowgirl style. She then got placed on her back so her roommate's boyfriend could go inside of her even deeper. Both naked girls took turns riding his cock and his face! Theur big asses and big tits were just for him! Finally, when Van had nothing in the tank, he started shooting his load all over that nicely shaved pussy and those amazing boobs. And he even left some for his girl to chuggle down like a good girl.