The sibling rivalry between my petite stepsister and me has always been a major part of our relationship. She did everything to make me look like a fool, and this November was no exception from the rule. Guys do the No Nut challenge, refraining from watching porn and wanking off for a month, and my stepsister was oddly interested in the story behind it. The moment she began stripping, I knew she was up for something wild and kinky. In a couple of moments, her small boobs were fully naked in front of me, kneaded by the blondie's small hands. It looked like she was on a mission to blow my challenge, and a blowjob seemed like a great idea to ruin my plan. She was on the kitchen floor, working my shaft with her puffy lips, making bubbles out of the spit. Although petite, she was able to perform a deepthroat on me. I could feel I was gonna cum, so I pulled away and stopped the horny session. I was determined to stick with the No Nut thing, but she kept teasing me every day. The next thing I knew, my skinny stepsister was in my room, wearing nothing under her summer dress. I was in for a solo show, watching my stepsister masturbate right in front of me! Working her clit with her fingers was a sight to see, and I couldn't help but touch the velvety twat.

SEXY SISTERS CAN'T CONTROL THEIR TEENAGE SEX DRIVE: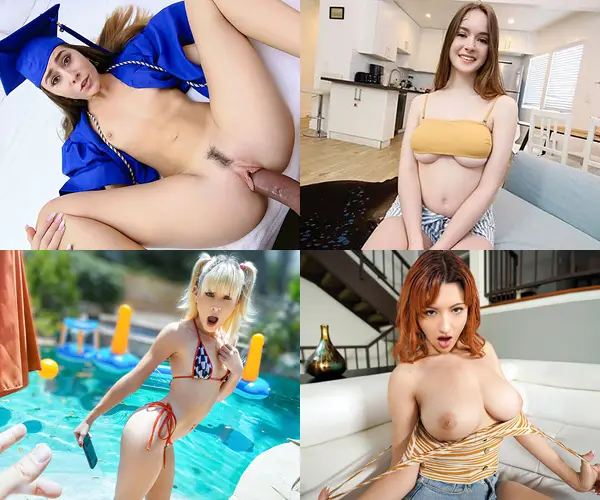 Her legs were all the way behind her neck while I stroked her meaty pussy and her cute asshole. She wanted me to fuck her and cum in her! I gave up, I whipped my stiff dick out and inserted it inside, fucking her missionary style. The slutty teen gave me a naughty look and caressed her clit, hoping to make me cum, but I kept going, filling her cunt with my man meat. I was still winning, which made her angry as fuck. She stormed out of the room, now even more focused on the pervy goal. Soon enough, my stepsister became weird again, walking around the house in pink pumps and tiny pink panties. She was relaxing on a sofa, trying to seduce me again. I was up for round three, willing to give her the last shot to mess up my challenge. This time, she showed me that she loved anal too, fingering her asshole while dipping two fingers inside her tight snatch. She grabbed my fully erect cock right away and spat all over it, lubricating it for another pounding session. I guessed she chose missionary again because she could boast her incredible flexibility and watch me straight into the eyes. Since she failed to milk my dick again, she pulled the big guns out, taking me for a ride. I watched my naked stepsis impale on my pecker with such a force that I barely contained myself. Wild as a tigress, she rode me, using the tight pussy lips to milk me. I wanted to pull out, but my sis seemed to tighten her vagina around me, not wanting to let me go, making me cum in her! Finally, I failed my No Nut November task, but the feeling of emptying my balls inside my stepsister's cunt was worth it!