A couple of months ago, I bought myself a set of VR glasses and pretty soon I was watching VR porn all day long! Of course, my girlfriend didn't feel too good about it, feeling I was choosing VR porn over her. To show her my commitment, I booked us a fancy resort to spend the weekend together. While unpacking, she found the VR glasses in my luggage. I told her I didn't mean to bring them and that I must have accidentally packed them. I thought she was going to be really pissed, but instead, my beautiful girlfriend decided to use the VR glasses as a way to enhance our sex life! Since I was doing my best to improve it, she decided to give me a treat, sucking my dick while I watched my favorite VR porn! I kicked back and chilled, watching a hot scene while I felt my girlfriend's wet lips and silky tongue working my hard cock! She sucked and stroked it, moaning softly, deep throating it all the way down to the base, drooling all over it, spreading her saliva with her hands on my dick and balls. Of course I couldn't see anything with my VR glasses on, but in that moment, the cleaning lady came in without knocking and found my girl sucking my cock! She was a hot brunette and my girl had already been talking to her, she actually told her to come around this time to clean and to not knock on the door! She motioned for her to get closer and join her! She took her place and devoured my erection! The girls took turns sucking and stroking my cock until I realized something was off, I removed the VR glasses and saw what was going on! Two girls were working on my cock, my girl sucked my balls when the other girl licked up and down my prick with her tongue, caressing the head of my dick and sucking it. I had never felt anything like that before in my life and just the thought of a threesome with two girls caused my body to shiver, I thought I would cum right in their faces! They were kissing with my pre cum leaking out of their mouths. I just didn't want this to end, neither did my cock. The hot cleaning lady stripped naked, pulled her panties down and shoved her cunt into my gf's face! Suddenly, my girl had this overwhelming desire to lick her wet slit from top to bottom. My girlfriend began to suck her cunt, eating her out, licking her pussy juices off! I had never seen her with another girl until now and I had never thought that my girlfriend would want me to try threesome with another girl. She began to finger fuck her cunt fast and suck her G-spot making her cum hard in her mouth! I was laying there wacthing my wild girlfriend lapping up the juices that were flooding out of the girl's vagina. My girl and the cleaning lady got down on their hands and knees, making out while I admired their beautiful bubble shaped butts. "Stick your cock in my cunt! I want you to fuck me first!" My girl spread her buttocks and I rammed my cock deep into her pussy with one hard thrust. "Please, fuck me too, please!" the other girl was begging me to fuck her. My girl was totally naked and the brunette had sexy black nylon stockings and her bra still on. I took turns fucking their dripping wet cunts from behind. While I banged them, they fingered and rubbed their pussies and assholes, so fucking hot! The naked girls got into a 69, with the brunette on top, and I fucked her hard while my girl sucked on my cock and balls, tasting the cleaning lady's pussy on the tip of my dick. The cleaning lady straddled herself on top and rode my dick while my girlfriend watched us and rubbed her pussy. Her legs burned from the way that crazy slut rode me, sliding her pussy up and down the length of my rod, moving her hips in a circular motion, rotating her hips back and forth, sliding side to side, back and forth, slow and then faster…

HOT NAKED GIRLS ARE FIGHTING FOR THE BIGGEST COCKS: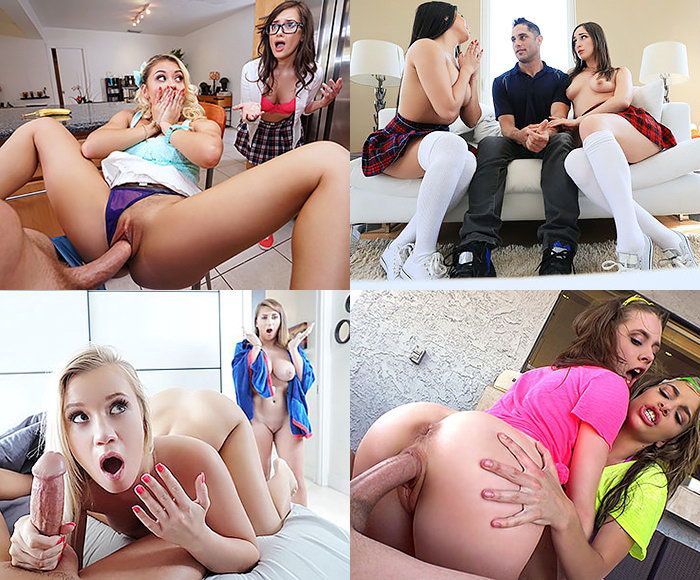 She writhed and ground down on me like she was in the throes of a seizure. I laid there mesmerized. I put these two hot naked girls back to back and spread legged, fucking their pussies in tandem and watching them having hot lesbian sex together. "Pump our cunts full of sperm!!!" I suddenly realized I was going to cum. It felt like I was going to release a gallon of cum deep into their cunts! I had never came like that before. I blasted my huge load into my girlfriend, making my hard cock push out of her cunt, and I was still cumming. The other girl pushed her slit onto my cock too, obviously wanting me to cum all the way in her. I did. The girls were moaning and cumming, as my hard cock was blowing shot after shot of warm cum into them. My crazy girlfriend pulled my cock out of her cunt and started sucking it and eating my cum out of her cunt! I was watching the naked girls swap it. My girlfriend told me that if I stopped using VR porn, she would let us have more threesomes with the cleaning lady, done deal!