Yes, that beautiful blond girl sucking my hard cock while I snap selfies of her is, indeed, my stepsister. You see, we have a very special relationship, and when she needed some dick sucking selfies to sell in her class, she asked me to help her out providing the aforementioned dick, LOL! I was more than glad to snap the selfies as she sucked on my throbbing erection. After we were done with the pictures, she asked if I wanted her to finish! My slutty step sister continued, stroking my hard cock and sucking on my balls, deep throating my sausage and slobbering all over my member, making loud sucking noises. I was about to cum, she knew it, she looked up and gave me a smile and she just started doing it faster than ever, until I blew my load in her mouth. She wrapped her lips around my cumming cock and sucked sperm like a vacuum cleaner into herself. The crazy slut swallowed every single drop of my hot cum after playing with it. She ate all the sperm and then continued to suck on my now softening cock. What a naughty slut, I love her! I thought that was pretty much it, but next morning she came into my bedroom, the selfies were a hit and she wanted more of my dick for her private consumption! She smiled and got into bed with me, rubbing her juicy bubble butt against my hard cock over the sheets, teasing me and turning me on. She told me it would be our little secret as she stripped naked, turning sideways and showing me her beautiful bubble shaped butt as I spread her legs and rammed my throbbing morning wood deep inside her clean-shaven pussy, spreading her tender pink pussy lips in the process. I didn't even have to fuck her, she pushed her bubble butt against my cock all by herself. I couldn't believe I was actually fucking my very own stepsister! Yeah, I lost count of how many times she sucked my cock, but this was the first time she was actually letting me fuck her. I spread her legs in missionary position and fucked her hard, hearing her moan and grunt with pleasure, pulling her tank top up, exposing her beautiful tits, her nipples fully erect as I played with them. I fucked her in missionary and once again she pushed her pelvis against my crotch, begging me to fuck her harder, faster and deeper. I couldn't wait to blow my load, wondering if my dirty little stepsister would let me come inside her dripping wet pussy the same way she let me come inside her sexy little mouth when she sucked my cock! She screamed in an orgasm and her pussy clenched tight around me. My sexy step sister was moaning really loud and she was about to cum too, when she told me to cum inside her vagina. I bagan to cum, after the first shot of cum that came out of my cock and hit deep inside her body, her hands and legs grabbed me and pulled me so deep inside her she pined my cock deep inside her as load after load shot into her I, felt like I, would never stop cumming!!! Her vagina squeezed my hot cock as I pumped my cum load deep inside her. She arched her back and screamed like mad because it felt soo good. After I pulled my cock out of her she grabbed me and started sucking on my cock really hard snapping selfies with her phone.

AMATEUR PORN WITH THE HOTTEST TEEN SISTERS CAUGHT FUCKING WITH THEIR STEP BROTHERS: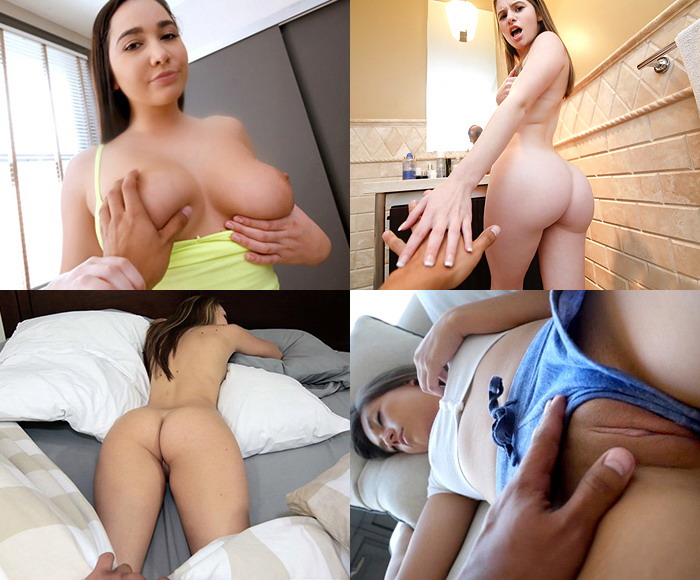 If they are family after all, what wrong can there be in these horny guys spying on, seducing and banging their stepsisters? Right here at SisLovesMe, these naughty young girls are free to show their love to their horny step brothers by masturbating together with them, sucking their morning woods under the blanket, allowing their step brithers to fuck their virgin pussies for the first time and swallowing their creamy cum or letting them cum inside! The guys don't miss an opportunity to spy on their sexy step sisters while the naked girls take a shower in the bathroom, sneak in their bedroom at night while the girls sleep and fuck them in sleep and cum on their faces. They will do anything to keep from Mommy and Daddy from finding out.