If you could reach inside this video, the first thing that you would do is stick your finger up this ditsy blonde's slit and feel the warmth and stickiness as she pulsates on your hand. It all starts with her running around by the pool, looking all innocent and dirty. She loves to tease you with her young succulent boobs and her juicy booty. Sexy teen babe adores that she is naked and free, behaving like a super horny teen would. She drops inside the pool and jiggles her plump breasts a bit. No wonder a long cock dude with saggy balls shows up naked, with his dick half chubbed. She made the wow face, but she released moist inside of her wet slit immediately. Cut scene and here we have the busty naked girl rubbing vigorously on her clit. That clam looks nice and clean from the pool and in the next scene, we have the dude eating her out. Man, that pussy must be salty as fuck right there… Anywho, it doesn't take long before she is POV penetrated by the hunk, who goes in balls deep and starts picking up the speed. He's feeling her insides and the friction her vagina is creating on his cock and it feels damn amazing! That view of her juicy tits is enough to make any man squirt inside her, filling her up with hot sperm! The sexy babe is dripping with cum and really needs another creampie.

THE SMALLEST PUSSIES FILLED WITH CUM: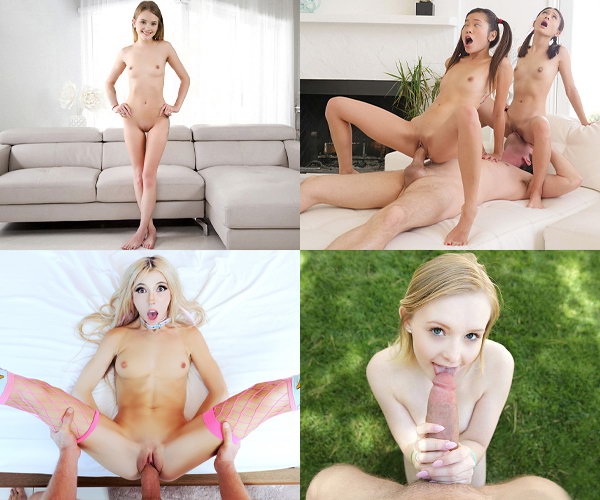 She's drooling and itching to grab his cum dripped cock and put it in her mouth. She wants to feel her own juices in her mouth as she pleasures him and tastes his cum. She loves the way a man is gradually melting in her mouth and it's making her burst inside with desire! After a few sucks, she wants him back again, penetrating her cum filled cunt so that she feels him hitting the end of her pleasure canal. The busty blonde assumes the cowgirl position and rides him like a wild diva! Her soft titties are bouncing all around. The way that dick is poking her inside is enough to make her cum all over his penis, gripping him with her pussy muscles. But not yet, let's see what else he's got. That doggy style has been on her mind for a while now. Since she now knows that he is thick in girth and that she is a tiny one, man that cock would fit right in her good. She slides down his dick, bends over, and props her big bubble ass up so that the target is in the dick's vicinity. Ready, aim, fuck! He enters her with fury and desire to end his ache then and there. He can feel his dick getting filled with blood, creating pressure that he can't stand anymore. He fucks her faster and stronger until he feels the warm release, as cum starts oozing down the teen's moist cunt.