I had a good fortune of stumbling upon this dazzling blonde babe who seemed to be in an argument with her boyfriend. They were yelling at each other before the dude sat in the car and drove away, leaving her speechless at the side of the road. He even tossed her stuff out of the car and that's when I had to approach her and ask whether she was ok. She asked me if she could use my phone and that's how we ended up back at my place. We started chatting a bit when I figured out she was feeling playful and that she might be able to thank me for help in a rather interesting way. I've simply placed my hand on one of her thighs yet, just moments later, she was ripping her dress open in front of me, baring a pair of beautiful, perky tits with pierced nipples. It seemed that she was as turned on as I've been. Hottie bent over in front of me and moved her dress to the side, revealing her tight, little holes covered by a pair of sexy, black panties. I didn't need another hint so I started rubbing her soft pussy and fingering her while listening to the erotic moans of pleasure. We were already past the point of no return so this dashing babe stripped naked and went down on her knees, pulling my already rock hard boner out. Not wasting a second, she took it with her luscious lips and went on to slobber all over it like a pro. I was already amazed at her incredible skills when she surprised me yet again by swallowing my whole length and deepthroating the whole shaft. I couldn't help but grab the back of her head and fuck her throat vigorously. Sexy naked blonde moaned, watching me with her facial expression full of desire. His soft warm lips did feel so good on my cock, and the idea of having sex with a girl I just met was a huge turn on. There she was face down wit her perfect ass up in the air and her hands reaching back and spreading her ass cheeks wide for me.

SEXY GIRLS DOING INCREDIBLE THINGS ON CAMERA: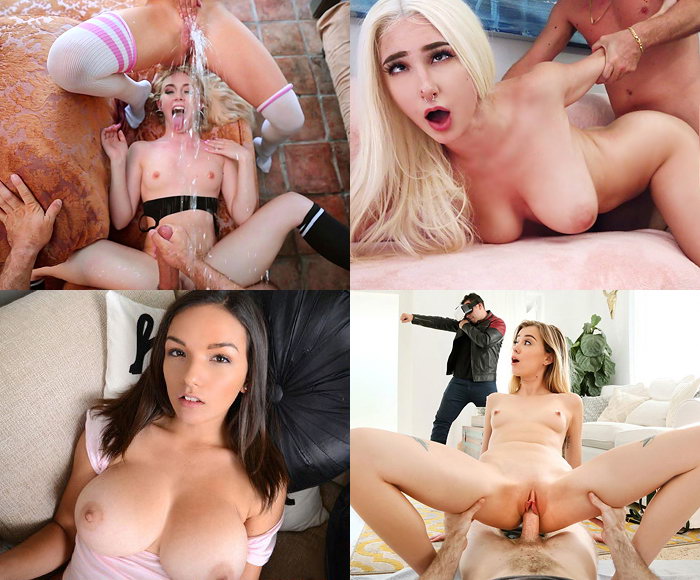 I placed the tip of my cock at the entrance to her pulsating snatch. She was dripping wet so I immediately slid all the way in and started ramming her balls deep. I could see her white cream coating my dick as I drove it deep into her gorgeous body. This inked cutie started impaling herself in rhythm, pushing her firm ass back at me and making me go even deeper inside of her. Her cunt squished with each stroke. Any time I'd slow down, she'd take control over and pick up the pace, moving back and forth even faster than before. After a long and vigorous doggy style pounding, we started switching things up. Naked sexy girl mounted me in and started riding me like a lusty, little cowgirl. My rigid dick was pistoning in and out of her little pussy as she was bouncing on me like a doll. From that point forward, babe kept spinning around on my cock, forcing herself deeper and harder, making me rail her in all kinds of different positions and from various different angles. I'm pretty sure she came multiple times yet she was showing no signs of slowing down until I finally reached my edge and plastered her with a massive load.