This dude had to stay in a Hostel for a few days for work. What he didn't know was that life had something in store for him. Passing by some door he saw two sexy teen girls dancing in their underwear. The girls saw him too and pulled him into the room. It was clear that those two young sluts were looking for a cock! And he was the perfect candidate for them. He was older, still as hot as hell, and he had a massive cock. The girls told him to sit down in a chair and gave him a double lapdance, shoving their tits and asses in his face. One of them was a blonde with amazing tits and the other is also busty, but her body and face looked even better, and she was a brunette. So, he took this opportunity that God gave him. Pretty soon, the girls were only in their panties, and they literally touched each other's nipples just to please that guy. And that's where the real, perverted action started. Pretty soon, the dude was left without his pants, and two hot naked girls were slobbering all over his cock! They were sucking on his shaft, his tip, and of course, his balls. The babes smeared their spit all over that cock, and they quickly changed turns on it while they were licking it. The sight of thw girls giving him a wet double blowjob was too much. They kissed each other across the swollen knob, trapping the cockhead between their mouths and drooling even more spit onto its shining length. Not letting him cum on their faces too fast, the girls pulled down their soaked panties and let him lick their pussies. The first one was brunette. He placed his hands on her ass, holding her ass cheeks open as he buried his face between right there and slid his tongue as far inside her asshole and her cunt as he could. So, pretty soon, the sex action for them started as well. It looks like the Blondie here was the ball chick because all she did was sucked on his balls and her friend's nipples while the dude plowed the brunette repeatedly. And that's understandable, considering the fact that she was beautiful as hell. Finally the dude and the brunette turned their attention to the blonde babe. They both began licking her beautiful pink pussy. The feeling of two tongues was amazing, each moving up and down her wet slit. One tongue moved to lick deep inside of her pussy, splitting her lips, while the other continued flicking at her clit.

THE HOTTEST EUROPEAN GIRLS IN REALITY HARDCORE SEX: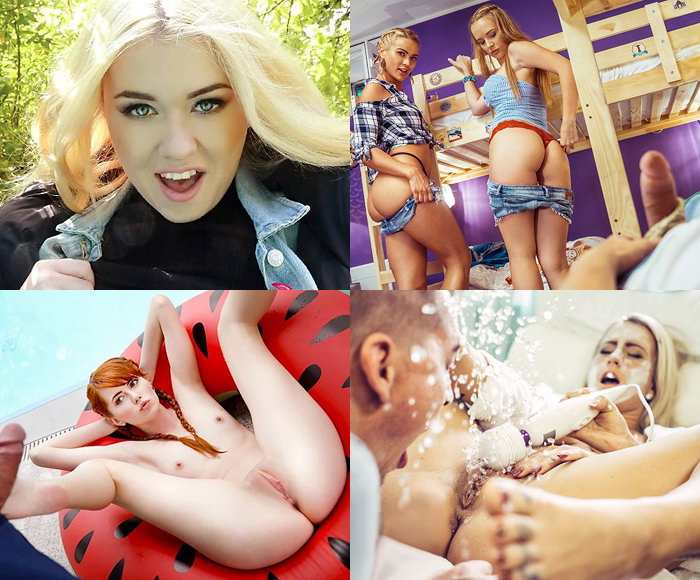 Naked blonde kept sucking on his cock while her friend lowered her pussy onto his face. He grabbed her big tits with both hands and let het grind her wet cunt all over his face. Her pussy squirted and sprayed juices into his mouth. Then she jumped onto his cock making it slide right into her soaking snatch. I can say this babe has an amazing ass to go with her big melons! Watching her big bubble ass bouncing up and down on his cock, as she wiggles on him and grinds her hips in a circle on his pole. Imagine plowing one girl while the other is caressing, sucking, and licking your balls too! Or fucking a chick while the other sits on your face. And you get the chance to drown in that vagina! Luckily, the Blondie got her chance to shine too, so she bounced on that cock as well. And while she did that, her friend was touching her boobs and rubbing her nipples. So, these naked girls just had a ton of fun fucking like real sluts and switching up every single moment. And this dude enjoyed this experience as well, since his cock got to enter two fresh pussies, and he did whatever he wanted with them. After pounding both pussies and satisfying them both, he gave the girls a double facial! So, the moral of the story is for you to fuck two chicks if you get the chance. You can bang them, and you can enjoy their bodies and their juices. So, just relax and try to have a threesome with beauties, even out of your league. Fake Hub is an excellent porn site for fans of European reality porn and hardcore sex with unique themes ranging from fake cops having sex with girls who want to get out of a speeding ticket, taxi drivers having sex in the back seat with girls to a dude with money who offers European girls modeling contracts in exchange for a blowjob and sex.