The skinny young man is happy to have a new stepmom as he is so into her. This voluptuous ebony MILF is everything he ever dreamed about, so when he hears her moaning in the middle of the night as his father bangs her, he feels so jealous. While he knows that it's wrong to think about going inside of her black cunt, he can't help it. Whenever she is around, he starts acting weird and has a hard time controlling emotions. As she gets back home from work, black MILF decides to relax a bit as she gets naked to take a bath. Llittle does she know that her stepson is watching her from the doorway and jerking off. He is spying on her, using her panties to jerk off. That is what makes her mad, but once she saw his giant schlong, she was surprised. She couldn't believe that such a skinny young man has a massive dick. Like hypnotized, she started stroking it wildly in the bathroom before taking it in her mouth. Her blowjob skills are amazing as she continues doing it while his boner is getting harder than ever before. What she wants is to teach him a lesson. She is the boss around here, and he will have to fuck the way she likes it. When she demands to ride him cowgirl style, he makes it happen, as her giant ass and her giant tits are bouncing. Her husband is downstairs taking a nap as they are doing it, but getting caught is what makes everything even more exciting. He will do anything to stay inside her tight meat hole and is trying his hardest not to cum. That is not easy, but he can't disappoint her now that she finally gave him a chance.

LILHUMPERS BECOME MEN WHEN THEY FUCK WOMEN BOTH OLDER AND TALLER: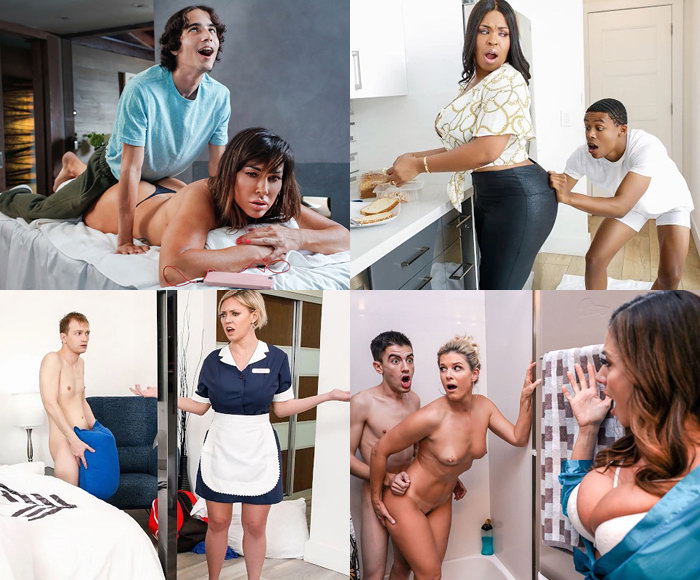 As they are both in a tub, her husband goes to check what is happening, so the little dude needs to go underwater and hold his breath until the coast is clear. Luckily, his father wasn't too suspicious, and as he left the scene, he started banging his fat ass mom balls deep, standing doggy style. He grabbed her waist with both hands and pushed forward, and was buried to the balls with a single thrust. He pounded, thrust, ground his hips against her big ass. This was the best day of his live as he was having sex with a MILF, doing something so dirty but also more exciting than everything he ever did. He would do everything to her while she realized how much she needs a young dick to feel alive again. As black naked woman was riding him cowgirl style on the bathroom floor, she felt like a porn queen. That massive dick inside of her snatch was giving her a pleasure she never taught was possible, and this young man kept going even when she had her third and fourth orgasm. After he impaled her missionary, he finally released his load, covering her massive tits. His father walked into the bathroom and saw him cumming all over his wife!