Young and adorable cuties were feeling naughty and playful, these girls just couldn't help teasing and seducing their nerdy classmate. The little whores started talking about him, wondering whether he's ever been with another girl or even seen someone's tits. While the girls chatted, they started playing with each other and gently stripping. The blonde had a perfect, slim body and a pair of big, natural tits that fit her frame incredibly hot. The brunette, on the other hand, was even skinnier with small, perky tits and tiny, pink nipples. Having remained topless, the girls approached him, still teasing and fooling around. The blonde took the initiative and started kissing the nerd while making him grab her tits with his hand. Shy and timid, he surrendered to their games completely and so they pulled his pants down. Just moments later, he had two stunning teenies kneeling in front of him as he sat on the couch, making out with each other and caressing his cock, eager to make him rock hard. Their strategy worked and so the blonde took his shaft in her mouth, hungry for it. She was slobbering all over it like a pro, making his dick all slippery before letting her friend take over. The brunette tasted his shaft but she was more interested in his balls so she kissed, licked, and swallowed them while the other chick gently tugged on his boner. Such steamy and passionate foreplay couldn't last for much longer because they have all gotten incredibly turned on and horny for each other so they had to go further. Skinnier cutie was the first one to take him inside her already dripping wet pussy. Young naked girl bent over on the couch and get entered from behind. It turned out that nerd wasn't all that nerdy at all as he started vigorously ravaging her soft cunt doggy style, ramming her balls deep and making her scream in pleasure.

BEAUTIFUL 18 YEAR OLD NAKED GIRLS LOVE SEX: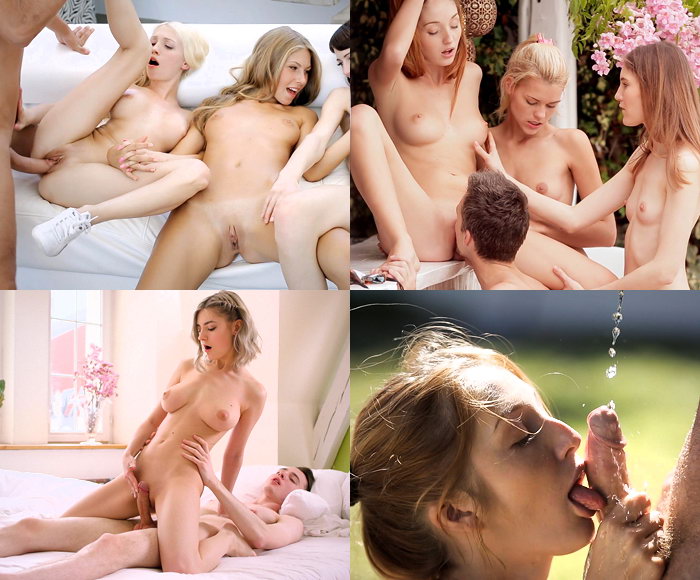 Her blonde friend enjoyed watching her perky tits bounce back and forth as she was being hammered in full force before she finally came and the girls decided to switch. The blonde had a more sensual and passionate approach. She also bent over for him, doggy style, but she was the one controlling the tempo most of the time, gently impaling herself all the way on his throbbing shaft. Her friend was there to watch, kiss him, and suck his dick every time he'd pull out so that she could taste pussy juices all over his boner. From there on out, the teens just kept going harder and wilder with each other, experimenting in all kinds of different positions. Naked girls took turns riding him in cowgirl and reverse cowgirl positions, where the one watching would always rub herself to the view and lick or caress the other girl, enhancing the pleasure. Chicks ended up cumming multiple times, shaking and screaming on his boner until he reached his limits and plastered them with his thick load.