Yesterday my sister invited to go jogging with her in the morning. As we were hiking up the hill she started to lift her skirt up for some reason. This was ridiculous but the sight of her ass made my penis swell. She made her ass swaying side to side in a very enticing manner. Anyway, we end up getting to the house and that's when my stepsister said that our parents were coming back home in a couple of hours and we had plenty of time to have some fun. Smiling at me she leaned in and wanted a kiss but I denied her at first. But when my slutty sister pulled her tits from her dress, letting them bounce free in front of me while she tweaked her left nipple, then right, I decided to go with the flow. She kept fondling her tits in front of me. I reached up and touched her tit. I rubbed her nipple with my finger and watched it harden. I kissed her and the two of us made out in the living room of the house. If we were fast, our parents are never going to suspect a thing. I took off my pants and told her to go down on her knees and that's what she did. We had more than a few hours to go so I decided to let her take her sweet time with sucking on my cock and she really enjoyed it. She started sucking on my cock, playing with my balls, slapping her tits with my cock, knowing how much guys love that. She rubbed her nipples with the head of my manhood, drooling all over. My slutty sister bobbed her head up and down and didn't take too long before I came in her mouth! There is no better feeling than cumming in a mouth. Finally my cock stopped pumping out the milky jizz, but my sister kept sucking, her tongue licking every last drop of cum off my softening dick. She swallowed every last drop!!! Later, my thicc sister was working out, making her butt even bigger. Her ass looked ridiculous in the leggings, thick and tight from her workouts. In fact I wanted to apologize for cumming way too soon earlier and wanted to please her too.

YOUNG 18 YEAR OLD SISTERS CAN'T CONTROL THEIR TEENAGE SEX DRIVE: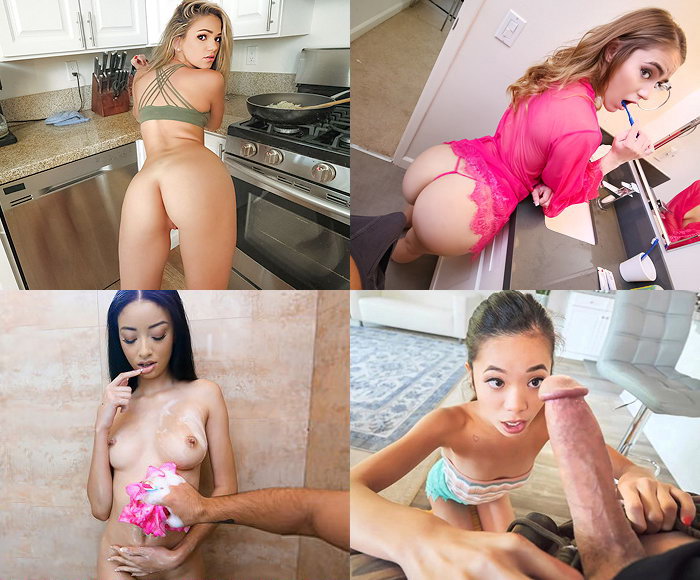 My sexy sister pulled down her leggings revealing her perfect bare ass for me. I laid down and my naked sister positioned her amazing big bubble ass onto my cock. Her tight little pussy slit touched my cock and she lowered herself onto it. I loved the view of her big ass that this position allowed. She would throw that ass back at me with wicked abandon. Her pussy juices were flowing in abundance which lubricated our fucking and provided squishy, wet noises. It's not every day that you get to fuck your stepsister so I took my sweet time with her and fucked her both from the back and then from the front as well. Her tits swayed back and forth and her nerdy glasses were such a nice addition to her slutty but smarty look. I loved it and I decided to keep things up for as long as possible until I just couldn't take it any longer and that's when I came in her! She had her own orgasm, her cunt was squeezing and milking the entire length of my cock. I came deep into her vagina this time. A couple days later, my super thicc sister wanted to go dancing with me. Instead, we staied in and she danced all over my girthy prick!