This cutie right here decides to carry her civic duty out and vote in the election. Of course, things just have to go wrong, and when she spots a hot dude in the election booth, she gets her titties out and starts playing around with them. This guy right here is of course not able to hold back, so he gets hard on the spot. This woman notices it and gets on her knees in front of him. First, she pulls his jeans down and finds his cock slapping her face soon enough. When presented with such an opportunity, the hot babe simply can not help herself and starts slurping on that delicious, vascular cock. It enters her mouth, and she squeezes on it tightly with her lips. Then, she starts bobbing that head back and forth, making sure to take the meaty pole as deep inside of her as possible. Babe gags a little bit, drools all over that big, meaty shaft, but she isn't quiet enough. This couple finds themselves getting discovered after starting to fuck real hard in doggy style. She slides her white panties down to her knees and hiked her skirt so that he can get better access to her pussy. He admires her plump bubble-shaped ass, grabs her waist with both hands on either side and pushes his hips forward quickly causing the head of his cock to enter her dripping wet hole. The woman moans as she's getting penetrated, the booth starts shaking, so the dude in charge just has to check the situation out. He notices that the woman and the man behind the first booth are fucking, so he leaves the spot, furious. It seems that they do not care about voting republican or democrat, but rather, it seems that they only care about having sex as much as possible. Now, these two are true anarchists, without a doubt. This dude plunges his cock deep down inside of the woman's pussy in the missionary position and makes her moan while also squeezing on this girl's breasts and making them jiggle all over the place as he loves them quite a bit.

HOT BABES CAUGHT FUCKING IN SNEAKY, RISKY AND CHEATING SCENES: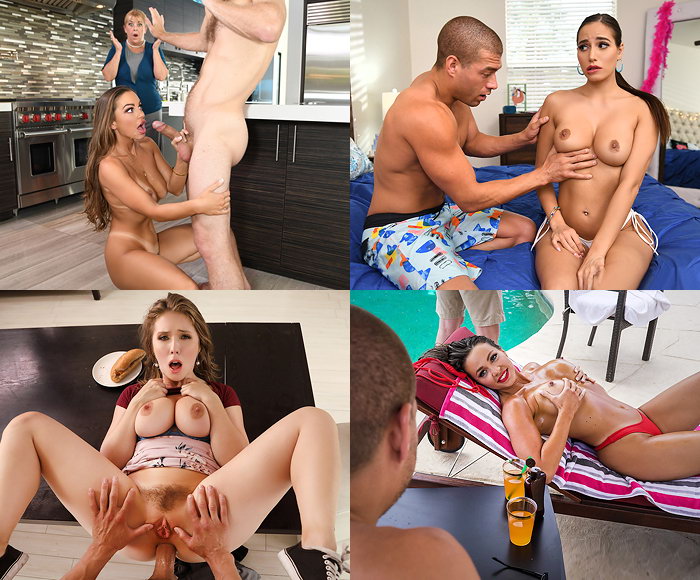 His cock is plunged deeper and deeper inside of this woman's hole, but soon enough he decides to switch it up a little bit. So, he starts fucking this girl's face and sucking her titties while his cock gets caressed by this gal's lips. This chick does not move an inch as her throat gets fucked harder and harder by her lover, which is quite impressive, seeing as this white dude has quite the impressive dong. The woman is then bent over, so her man starts drilling her pussy doggy style, all while having this girl rub up on her cute pink clit. After getting drilled in such a position, naked babe gets on top and starts riding this dude's big cock real hard. She arches her back and grounds against him. She is riding him hard, bouncing energetically, slamming her cunt down on his entire length over and over. Squeezing her ass with both hands, admiring her curves he keeps to pound her balls deep. The view of her shapely ass with its tan lines is amazing. Hot naked babe squeezes her right nipple and moans while it stretches her insides nicely. She rubs up on her clit and moans. His hips move faster, his cock sliding inside her cunt, the head of his cock stroking her inside, the pace faster, his balls tingling, pulling up, wanting to shoot inside of her.