When this mature couple was looking for a maid, they wanted a few things in her skillset. They wanted her to be good at cleaning, obviously, but there was something else as well. They wanted her to be really good in bed. While the young maid doesn't know why looks are co important for a cleaner, it's soon really obvious to her what's going on when she sees the uniform that she'll be wearing. It's a skimpy ass skirt with some other lingerie items and she obviously has to reconsider putting that last requirement under the job posting as a "joke". She did some cleaning, but she knew that the biggest test of her abilities was yet to come when they all joined her in the bedroom and took off most of her clothes. They started kissing her pussy together, both lickign her slit and her clit, the teen girl had never had the experience like this. The couple started kneading her tits, pulled her sexy black lingerie down and started squeezing her tits with their hands, then sucking on her nipples together. Girl couldn't resist this as it just felt so damn good and she was instantly ready for some action in the first threesome of her life. The woman hiked her dress up to her waist and shoved the girl's face into her crotch, making her eat her cunt out. She obediently started to lick her pussy, much to the woman's clear delight. Her husband put his cock into the girl's hand and she started to jerk it. The woman grabbed her hair and pushed her head towards her husband's cock, watching the sexy young girl swallowing it like a good girl. The man lied down and that's when the maid and his wife brought his cock between their lips, kissing one another and the head of his cock between their lips and tongues. She realised that being dominated sexually turned her on, a lot! While his wife was riding his face the girl mounted him and started riding his cock.

CUTE TEENS TURN INTO CUM SLUTS: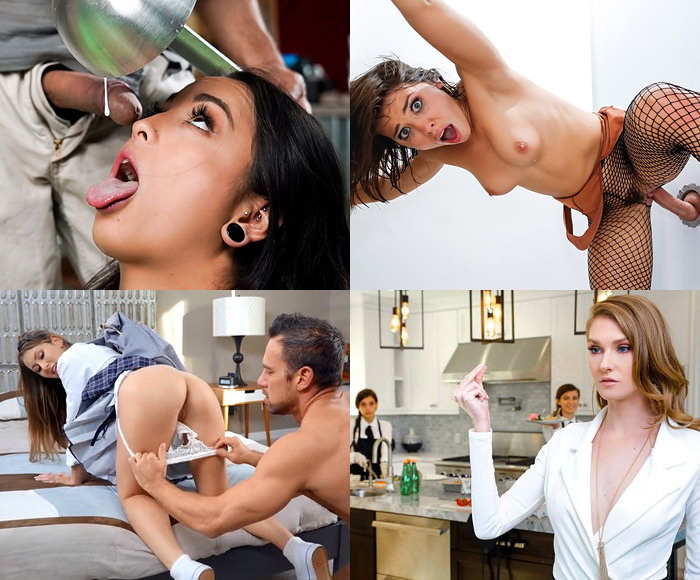 The wife was watching her. The woman had a collar and leash around the maid's neck so she could pull her in close for a kiss whenever she wanted to. Household maid turned into a submissive cock slut. Young naked girl got on her knees and waited for her master to mount her. He rammed himself into my quivering cunt with no hesitation and kept fucking her hard and deep, slamming balls deep into her beautiful body. Her tight pussy was being stretched to its max. She's got an amazing pair of tits as for her 18 years. Her big tits were swaying from the force of the man's energetic pummeling. FUUUUCCKK Yes!! Naked babe bounced up and down so hard on top of him. While her amazing breast did the same. At that point in time, whenever one of the two family members was horny, they just had to search for the maid and fuck her brains out in case it's the husband, or get licked and fingered by her if it's the wife. They moved through the motions and the positions and then they decided to let her stay while the two of them fucked. The wife spread her legs while she was lying on her back and that's when the husband shoved his huge cock up her pussy and started fucking her hard. The maid just kneeled on the side of the bed and watched them do it and eventually stroked the wife's tits and clitoris as well. The husband and maid even exchanged a make-out session while he was fucking his wife and it seems that she even enjoyed that part. Her teen pussy dripped and leaked cum for the next week.