What a fucking world, my man. I can't even believe the type of shit that's happening. One day I come home from work, ready to chill out for a while when suddenly, I hear a knock on my door. I open up, and what do you know, there's a skinny, but hot chick there. I ask her what the fuck does she want, and she tells me how she's a free-spirited girl. You know, just traveling around the country, finding and meeting new people, having adventures and stuff. Well, I'm going to give her experience of a lifetime. I tell her to come inside, and I immediately whip out this small pink vibrator. And holy fuck was it perfect for her. The girl had the cutest little cunt, and it was so pink and juicy that it was driving me nuts. I watched her please herself for a while, and then I decided to make it even funnier. I let her walk around the house, and she was struggling. Like, for real. The pleasure was so intense that she was shaking, just barely managing to stand on her two skinny legs. And it was even more hilarious when she tried to run after me. That's when I decided that it was enough and that she should suck my cock to let me in on the fun as well. For a girl with a small mouth, she gave me a stellar blowjob. And she has that throat capacity too since she took my whole cock in there. And trust me, my cock isn't small. Like, at all. Cute girl handled it like a champ, so it was only natural that I had to plow her other holes too. I mean, she deserved it! When I grabbed her slim legs and put my dick in there, it was mind-blowing. Imagine the combination of the tightest and the wettest pussy in the world, slowly squeezing around your dick like it's trying to swallow it? Well, that's what it was like fucking her. And the best thing was – she wasn't even afraid to experiment!

THE MOST CRAZIEST ORGASMS EVER CAUGHT ON CAMERA: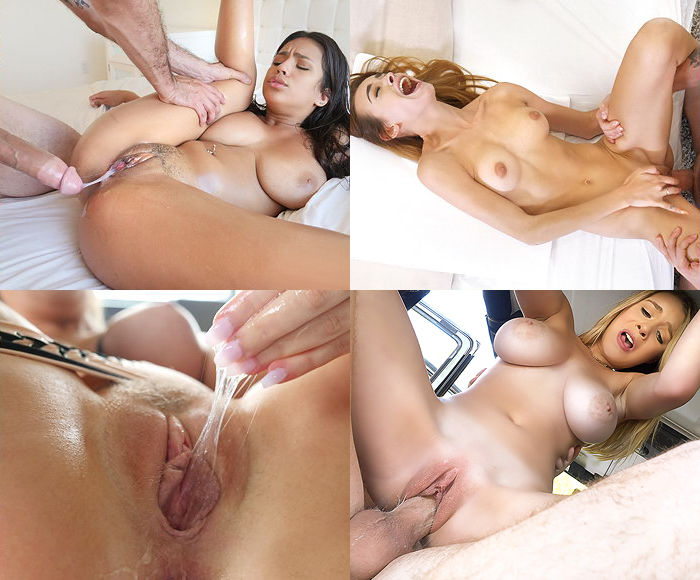 Cute teen girl somehow combined that small little vibrator and my dick so well that she was almost going insane from the pleasure. Well, I've had enough of that, so I decided to show her who's the real boss in this house! And I did that by fucking her doggy style while holding her small ass with my giant fists, just feeling her incredibly fragile body while my dick was destroying her perfect little cunt. She clutched at the couch as her slim body shock with orgasm after orgasm, her body squirming. When her legs finally stoped trembling the young naked girl got on top of me and impaled her cunt onto my cock. Over and over she slammed herself down so hard. Her beautiful body kept shaking with the spasms of orgasms building upon orgasms. I alternated between aggressive, thrusting type licks to soft, sensuous ones. It was, and always will be, the most satisfying sensation in my life. Her trembling pussy lips pulsing and dripping against my cock. Naked girl started moaning and screaming in orgasm. My balls slapped against her wet pussy lips as I plunged all the way into her wet cunt. It brought her the most powerful orgasm imaginable. It was the most intense shit ever, and wherever she is, I hope she's still fucking like a literal goddess.