This super cute Vlogger is no stranger to trendy viral challenges, and today she's taking on the onion challenge. Will the onions have her tears streaming? It wasn't easy to make her cry with a whole bunch of onions so the show host decided that there is only one thing that can make this girl cry – a good cock. And let me tell you something, he did it quite nicely, fucked the shit outta this slut! She was starting from the blowjob that was actually pretty amazing. She did not only lick it and suck it, but she entirely swallowed it and then slobbered on it afterward. What girl does that unless she's a real pro at sucking dicks? Greedily, she sucked him down, rapidly bobbing her head up and down, hands gripping his balls as he groaned and lifted his hips in time with her mouth. "This is what you want?" she slapped his face with her hand! This bitch is insane! Now, this is the moment where we really see this girl shine and showcase her true talents. In most of these videos, you just see a girl riding a dick and looking totally disinterested, but with this girl… Well, let me tell you, she's just nuts for a good dick. She was jumping on that shit like it was the most excellent trampoline in the entire universe. Now the hot naked girl was slamming her big juicy ass hard against him as he pounded his cock hard inside of her. And even that wasn't enough to satisfy her. That slut kept slapping his face with her hands. "Fuck me harder! Harder! I SAID HARDER!!!" the dude rammed his cock into her cunt as hard as he could. "My cunt yess… lick my cunt" She wanted him to fuck her cunt with his tongue. He started tongue fucking her pussy and she began squirting out her juice right in his face. He kept vibrating her swollen clit with his tongue and the crazy bitch squirted more all over his face! She was wet, her whole body was shaking, her cunt squirted uncontrollably. He was ordered to wipe her wet snatch clean with his tongue before some good fucking. It was not enough for her, she pushed him down and sat on his face with her big ass in a 69.

CUTE TEENS TURN INTO CUM SLUTS: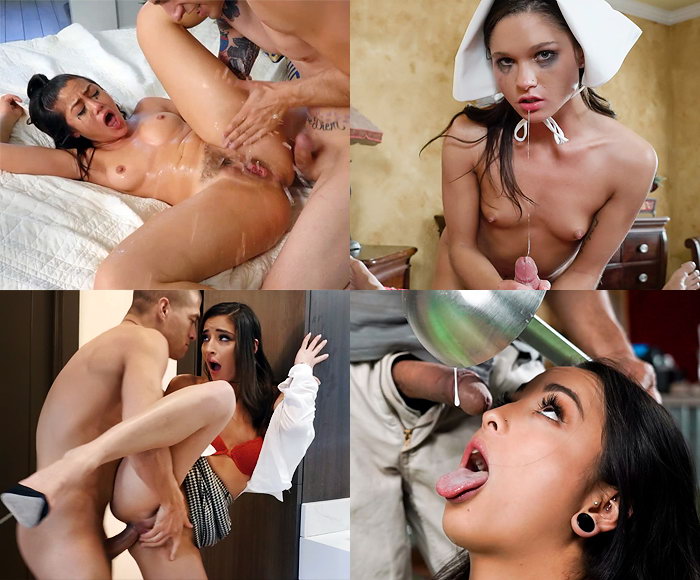 This hot teen girl wanted suck that dick again and taste the scent of her own pussy. When she was done with that, she was ready to make it even more hardcore. While she was riding the guy again, she let him spank her with his full strength, meaning that she wanted him to make her ass redder than the flag of China, literally. And from then on, it's a full-on mess — some more riding, and then surprisingly, some more pussy licking. Well, it looks like this was exactly what she needed because she kept squirting all over the bed. That's also when their chemistry was so thick that you could literally touch it, so they continued with their sex activities even harder. From full-on pounding in a general riding pose and then the missionary. And then back to her guy getting her off with his fingers, and her squirting again… Let's just say that the whole thing was a real fucking mess. But in the best possible way. It was almost like this crazy slut couldn't get enough, quite literally. She was in in heaven, she was screaming and constantly having orgasm after orgasm. She cried out, slapped across his face and dug her nails into his back making him to fuck her harder.