Ladies and gentlemen, welcome to Reckless In Miami. Exotic young Latina is a cop in Miami who usually ends up with harsh cases. Of course, it's not always perfect beaches and glamorous neon nightlife. From South Broward to North Dade, it's a damn mission to deal with asshole drivers and corrupt politicians, crime and drugs. During one night, one of the suspects tried to escape the scene of the disrupted raid. The suspect was a Latin male and it was not difficult for him to seduce the sexy cop. You can see the police officer getting fucked by him right in the backyard! They were caught and decided to hide in the house. Horny Latina was moaning before he even started undressing her, losing her mind in desire, enjoying his tongue licking her hard nipples while his hands were squeezing her perfect, perky tits. Hungry for his fat cock, she quickly removed his pants and started slobbering all over it. His massive size was too big for her tiny mouth but she kept trying and started taking more of it in with every stroke. The sexy police officer was giving him the sloppiest blowjob ever, letting him fuck her head rough and shove his throbbing boner deep down her throat. Even though she choked on his huge meat, she would keep going, loving all the spit and precum mixing in her mouth and dripping all over, making his shaft and balls all wet and slippery and her cute face all messy and fuckable. After having enough of his dick in her mouth the horny Latina cop wanted to feel it deep down her wet pussy so, unable to resist any longer, she removed her pants and bent over, presenting him with her round ass to be pounded. He grabbed this hot naked cop by her hips and shoved his whole size in, slowly at first but quickly picking up the pace. In no time he was pounding her tight cunt doggy style, impaling her balls deep on his dick. Her amazing big buttocks were clenching as she thrust her pelvis backwards and forwards, sliding his fat cock in and out of her gripping pussy. Naughty Latina kept moaning in pleasure as she felt him completely stretching her insides and hitting her snatch as deep as possible. Wanting to feel him pound her in every angle possible, she changed positions. Naked babe straddled him in cowgirl position and let him take the initiative. He held her bubbly butt tight and started pumping her from below, drilling her vigorously and listening how her soft moans are slowly turning into erotic screams of pleasure.

GIRLS CAUGHT FUCKING IN SNEAKY, RISKY AND CHEATING SCENES: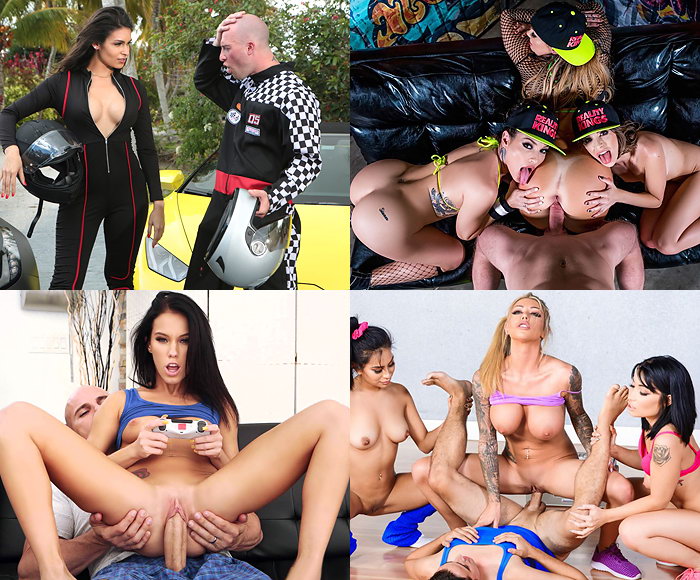 Young Latina was insatiable. She enjoyed feeling this fat shaft hammering her soaking wet pussy but kept asking for more. Her begging for rough fucking and dirty talks only made her man drill her even harder. Naked girl turned into reverse cowgirl and started impaling herself in rhythm, going down every time he'd shove his dick inside of her, trying to feel him even deeper and harder. She came multiple times and ended up being soaking wet with all the sweat, and her pussy was pulsating with pleasure but she kept going, rubbing her clit to enhance the pleasure even more and enjoying every position her man had for her. Eventually, he reached his limits and rewarded her shooting a huge load all over her tight, Latina body. The cop jerked him off rapidly with her soft hand. His cum sprayed wildly. Jets of cum squirted all over her pretty face. She looks so sexy with cum dripping off of her chin onto her tits and her face smeared with cum. How many random guys will cum all over her face tonight? What other crazy things will happen tonight? Download the full video! Then she has to deal with two naughty girls who get into a petty fight, tearing each other's clothes off and revealing their perky tits. Miami girls are hustlers, divas, man-eaters. Boss-ass bitches that snatch your soul, dick, wallet, and STILL have you calling back for more. They're a force of fuckin' nature that you simply don't find anywhere else. So, if you happen to find yourself in Miami with the situation spiraling out of control… Be reckless, sapingo.