When you see these two stepsisters, you'll know exactly why their friend wants them so much. They're both very gorgeous and they have amazing bodies to show off. Nobody would be able to resist these young sexy girls. Their grandpa knows very well that all these horny guys would do anything to get into their panties. We're all adults here. But that doesn't stop him from making sure all things are above board. Except for what goes on under the table… Like two horny girls with their wandering hands, teasing each other's wet pussies. The sisters enjoy each other like that for a bit and then taste their fingers. The grandpa sitting with them is clueless as to what's going on, but they just say that the dinner was amazing and go to the bedroom. The little sluts sneak off to the bedroom and let their guest in through an open window, beginning some sneaky threesome fun. He jumps in through the window and immediately spreads his legs and the busty brunette takes out his cock to start sucking on it straight away. There will be no dilly dallying with her, and she does the sucking so well that the Asian stepsister watches in awe and tries to remember some tips and tricks. It's obvious that her older sister has had many cocks in her mouth in her life and that she knows what she is doing and you can also tell that by looking at the expression on the dude's face as he is just enjoying himself every second of the way while he's on cloud nine at this point. And things are just getting started as they aren't even fully undressed yet. Soon enough though, they start taking off all their clothes and they know exactly what they want to do. The older sister hikes up her dress and pushes her ass up in the air for him. Dude sticks it inside her cunt and the younger sister is right there with her waiting for her turn.

GIRLS CAUGHT FUCKING IN SNEAKY, RISKY AND CHEATING SCENES: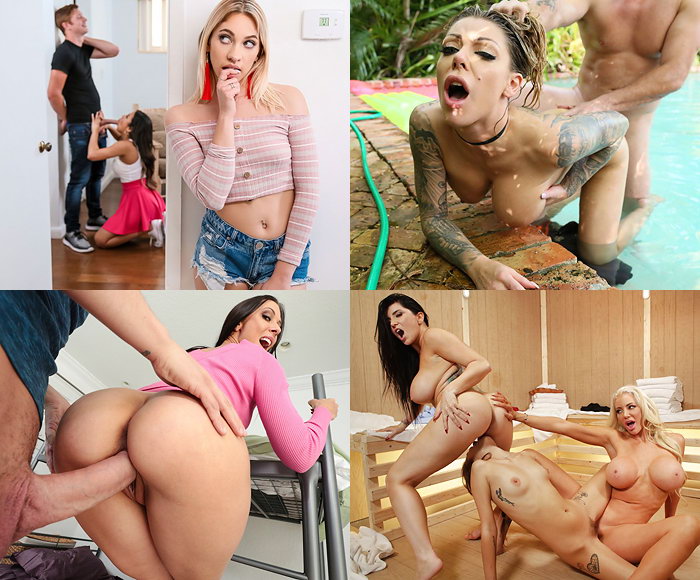 While she's waiting, her stepsis licks her pussy, making it wetter and wetter because she knows that he will fuck her as well. The girls change places, the younger sister is ready to get her pussy fucked by her sister's friend. He presses forward and she pushes backwards, the momentary resistance is overcome and his cock slides deep into her wet hole with one thrust. The little Asian girl moans, loving the feeling of his hard cock stretching her vagina and his heavy balls slapping against her clit, his pelvis against her pussy lips, harder, and harder. He lies down on his back while the young Asian babe rides him and the older sister sits on his face. Having two young naked girls on him at once is the fulfilment of his fantasy! The two sisters take turns, one riding his shaft, the other his face, covering him with their pussy juices. He is literally in heaven right now and there's nothing that can stop him from feeling amazing at the moment. He fucks the girls in so many different positions and this is literally the best threesome that he has ever been a part of. He can't stop cumming all over their faces even when the door opens and their old fart enters the room.