This hot MILF runs a tight household, partly because she has extremely high standards… She took the role of the very strict stepparent, as she always worries about where this young lady is going and who is she hanging with. That is especially the case with boys, and today, she found out that her stepdaughter is seeing someone new. She makes a point to meet and interview every man her stepdaughter decides to spend time with. These men need to be responsible, neat, kind and more importantly… able to fuck like a sex machine! As this young man knocks on the door, mature babe comes to see him, already looking pissed off. He seems decent, though, and she decides to give him a chance after all. The thing is, she wants to know everything about him, including the size of his dick! He passed the test, as when the MILF asked him to pull down his pants, he did it in an instant! Imagine, you arrive for the first time at your parents-in-law's house and that's what happens to you! That's a huge plus in her book, not only because he is not shy, but because the size of his thing is impressive. Her stepdaughter is on the move now, sucking his cock and going balls deep, making her stepmom proud. She is barely legal young slut, and this way, she'll soon become a full-time whore like she is. The girls might not be biologically connected, but their passion for sex is the same. They both like it rough, and this boy is willing to spend all of his energy proving his worth. Having a threesome with a teen and a MILF, almost mom and daughter, looks like a dream, but as this guy could tell, it's also a responsibility. You have two massive sluts, so you need to use your energy wisely. There is not too much room for rest, as the women both demand only hard pussy drilling. As he is banging young teen, mature undresses and spreads her legs so that her stepdaughter can dive inside of her pussy. They are all connected now and are enjoying every second of the action. The woman now knows not only that this guy is great at sex, but also that her stepdaughter knows more about it than she could imagine. Still, she could teach her so much, so she is the one riding the dick now.

THE HOTTEST MILFS WILL TEACH YOU HOW HARDCORE FUCKIN IS DONE: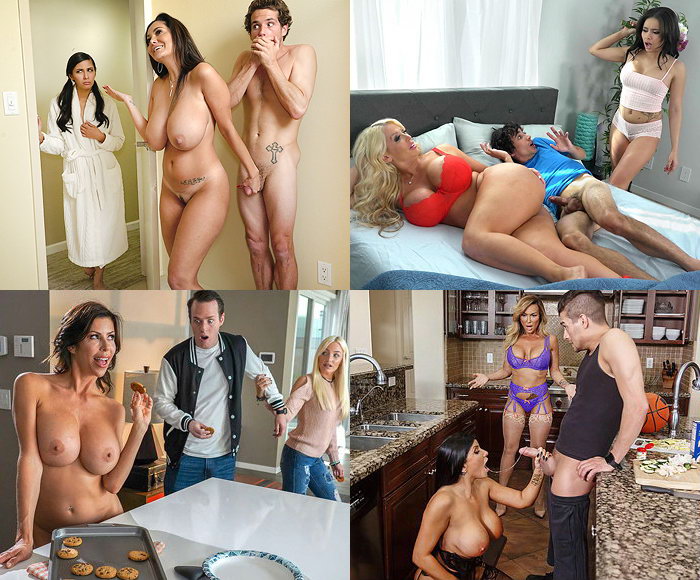 Absolutely love the energy this mom brings to a scene, other girls should take notice! She is just simply amazing! So much energy! "Fuck me harder! Fuck! Love that hard cock in my pussy! So fucking hard!" As she is impaled cowgirl style, teen blonde enjoys the view and even plays with her fat ass and his balls. The girls are switching the positions all the time, thinking that this is probably the best sex session they ever had. These ladies were always very open, but this threesome will only make their connection better. When a teen and her stepmom can share a dick and be comfortable in front of each other, you know that they are close. The hot naked woman still suck his cock like crazy as she grinds her cunt against stepdaughter's pussy. Lesbian tribbing together with cock sucking, what an amazing scene! The naked girls then suck this lucky man's dick together! He begins sliding the cock between their mouths and the girls continue to kiss each other, around his cock. That's why the ending has to be perfect, but there is enough cum for both of them. Everything he had in his balls now is on their lips and cheeks, as they smile, celebrating this experience.