She was always a tennis fanatic. Since her early days, she was glued to the screen watching the action from Wimbledon or French Open, dreaming she'll become a star one day. For a couple of last weeks, she is having a new coach and feels like this is the step-up that will help her build a successful career. But what she also noticed is that she likes him. He is a handsome guy, and she could see that sometimes he is staring in her massive boobs and looking underneath her skirt. This evening after they've done the practice, she felt it was the right time to do something about it. The lovely brunette never had a problem with confidence, so she asked her coach to continue their session in her apartment. He couldn't say no, and he knew exactly what she wanted him to do! The first thing he did was to suck her juggs, but soon enough, she dropped her panties, and he was already fucking her pussy using his fingers while licking her butthole. Her hands grasp the back of his head and pull him between her ass cheeks. He starts to lick away at her pussy juices, which now cover his entire mouth and face. That was just the warm-up which soon ended. He doesn't do things gently, so once his dick enters her snatch, he starts to brutally pound her doggy style, while playing with her melons. He knew that little slut loved to feel his balls slap her clit as she writhed ecstatically bucking against his hard thrusts. That was the right move, as she likes it that way. You can see that on her face, as she asks him to be even more brutal. His hand is on her neck now making her helpless, just the way she likes it. Her pink pussy lips are wrapped around his cock like a glove and pull away from her pussy not wanting to let him go. Oh my god, what a sight, watching her get fucked hard! Then he grabs her head and starts face fucking her. She can sure suck a cock and takes a face fuck like a champ. A simple blowjob won't do for her, as she also impresses him with her deepthroating skills.

SMALLEST, HOTTEST AND YOUNGEST GIRLS GET THEIR PUSSIES STRETCHED OUT BY HUGE COCKS: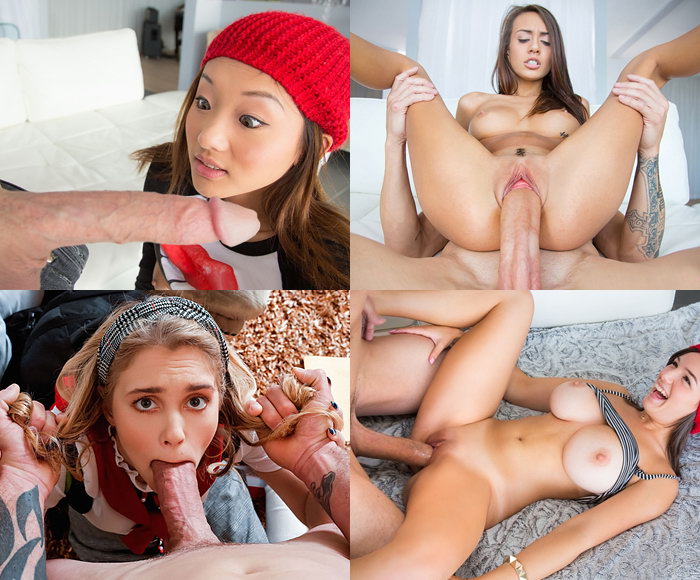 Almost out of breath, naked tennis player climbs on him and starts to ride him cowgirl style. Playfully, he uses a racquet to spank her amazing ass, that is bouncing like wild. It's even better once she is in a cowgirl position as he is trying his hardest to fit his whole dick balls deep in her meat hole. Since she is a tiny girl, that is not an easy task, but the brunette is encouraging him to continue and test her limits. He ignores her screams as he keeps destroying her cunt, pounding his cock in and out of her pussy rapidly. She begs, moans, and urges him to fuck her harder and deeper with ferocious and ecstatic yells as she feels herself grow higher and higher towards her ultimate reward of orgasm. Other guys, she was with always underestimated her, so this vixen is happy that she finally found someone who'll treat her like a real whore. Crazy slut feels the level of pleasure she never experienced before, and when he lifts her while pounding her even deeper, she feels like this is the best fucking session she ever had. As a tennis fanatic, she also knows that this is an excellent exercise, which will help her keep in shape, so she is trying her best to use every bit of her strength. As he shoots his cum on her pretty face, she knows she did well. From now on, after every training, fucking should be on their menu.