As soon as I arrived home, I had my baby waiting for me, spreading those legs and showing off that gorgeous underwear of hers. However, she did get a new toy as well, and boy oh boy, this thing was actually pretty fun to use. She handed me the remote and placed the other end of the toy inside of her clean shaven pussy. I squeezed the button and started forcing her into some weird kind of feeling that not even I could understand properly. I mean, it looked as if she was having a thousand orgasms every single second, and honestly, every man wants to see something like that happen to his girl. Then, my gal tried to climb the stairs, but while she was walking, I hit the switch, and she lost that little bit of control she had over her leg muscles. So, she started shaking wildly, and she felt down on the ground until the contractions stop being way too much for her to handle. Once we got to the bedroom, she couldn't wait any longer she grabbed my cock and started sucking on it. Of course, I could not leave that pussy to chill for way too long, so I kept playing around with that thing and making her shake in another orgasm. I hit the switch once more and made that tight hole of hers twitch. Her pussy juices were leaking out of her in generous streams, trickling down her sweet, pink little ass hole and pooling on the bed sheet. Now it was time for me to fuck her pussy. So, I placed her on the bed, spead her ass cheeks and penetrated her with one forceful thrust! I started drilling her from the back, going balls deep into her cunt, faster and faster. Her tits bouncing as I furiously pounded her pussy. My sexy babe grit her teeth, groaned, clenched the drenched bed-sheet with her fists. Then, after placing her in the missionary position, I decided to start drilling that tight hole as hard as I possibly could. Of course, she could barely handle this kind of treatment, as my cock could do much more for her than that vibrator toy could. She felt every inch of me inside her and couldn't hold on any longer my pulsating cock threw her over the edge. She trembled uncontrollably, her body spasming repeatedly from the intense orgasm.

GIRLS CONVULSE AND SQUIRT FROM AMAZING ORGASMS: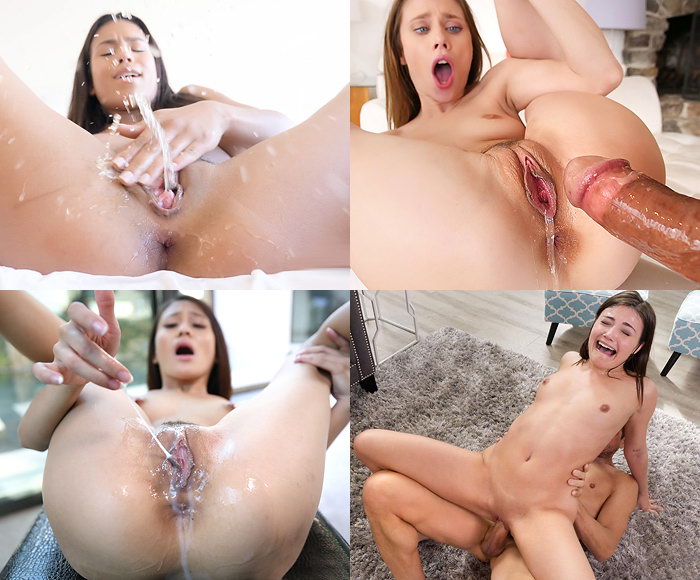 After some reverse cowgirl drilling, her now throbbing vagina started shooting out so squirt that I couldn't handle it, nor could she. She couldn't believe this was happening, unable to contain herself she had one squirting orgasm after another. She collapsed exhausted holding her pussy and feeling her heart beats pounding. She laid on top of me, and I let her rest for a while. However, I started drilling that wet cunt once more, and after some thrusting the came all over the place once more, as expected. Each thrust deep into her cunt, up against the swollen clit, causing the orgasms to increase one after another. I could feel her pussy pulsing from orgasms. She couldn't stop squirting and flooded the bed as I spanked her again and she gushed. However, even after cumming for me this much, my girlfriend wanted me to keep fucking her. This time she was moving her own hips, and there was no way that she could stop until she reached yet another squirting orgasm. The action started getting pretty intense for her. She squirted covering me with her juices. Her pussy clamped down on my cock as she rode me not wanting to stop. After a while, I felt some contractions, her body began shaking, and when she regained control, I shove my cock in her mouth and gave her the cum she had begged for all morning.