This lad right here ended up getting a flat tire, but this cute girl mechanic was here to help him out. Little did she know that she would end up getting treated like a slut on the hood of the car by the dude that she helped out. She would get that wonderful throat of hers fucked real hard while she's down on her knees, and that's just the start of it all. She'd stroke that big fat boner with one of her hands while making sure the entire shaft fits inside of her throat. The crazy slut bobs her head back and forth and enjoys the sensation of a warm meaty pole rubbing against her throat and her mouth. She really loves this dick…so much that she can't help but stroke the thing with both of her hands. Her man grabs her head and starts fucking her throat nice and hard, making her choke on the thing. Furthermore, her throat swells up from all the strokes that she's taking. After a while, this dude pulls her booty shorts down, sees a bit fat ass, and shoves his hard cock into her lovely little pussy with one deep thrust from behind. Just the feeling of his hard cock throbbing deep in her vagina pushes her over. He strokes that cunt from the back, and the girl rubs her cunt and moans. "OH FUCK! Fuck me hard! Oh this is sooo fucking goood! Mmmmmmmm!" She groans loudly as his hands grip tightly to her slim waist as his dick pounds her hard in doggie style. He decides to pull her shirt off as well, revealing those gorgeous breasts. They bounce up and down as she takes those deep strokes. She moans louder and louder as the dong penetrates her tight little hole. He slams into her hard, holding his cock deep in her cunt, then slams again, over and over again. She groans as his hands use her tits to pull her back hard on to his rod. However, this was not enough for her… He pulls on her hair and makes her moan while he is spanking that big fat booty of hers. Then, he spreads her legs and licks up on her pussy.

CUTE TEENS TURN INTO CUM SLUTS: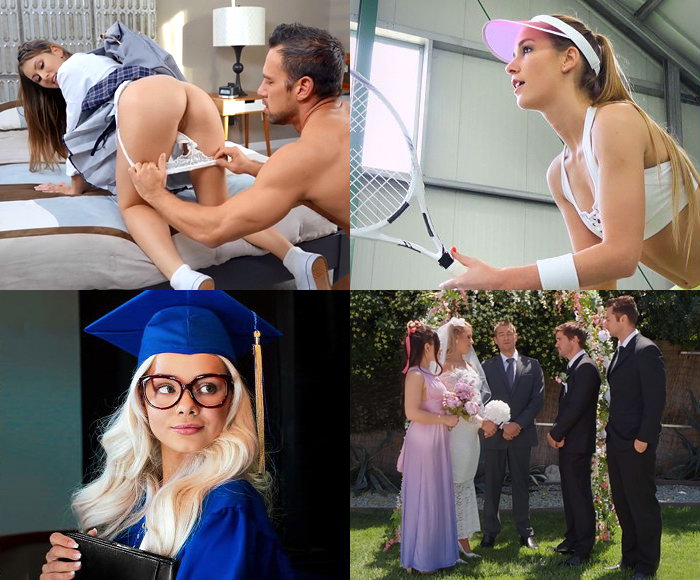 Girl grabs his hair and presses his face harder against her cunt, making him go deeper with his tongue. Naked girl gets on top, grabs his cock, places it at the entrance of her cunt, slams down on it hard and and starts riding dick in the cowgirl position while her man slaps her ass hard as fuck. Her tits are up in his face, and he enjoys this a lot. He helps her get into a squatting position, and he starts pounding her tight little pussy really hard. The girl then decides that she's supposed to be the one that's moving the hips so she rides that big fat dick as fast as she can. Her boobs bounce all over the god damn place while she's getting her pussy pounded. She no longer has enough breath to scream, just little cries and squeals of carnal delight. Their groins are slapping together so loudly, so wetly, so vigorously that the wet sounds of their colliding bodies fills the garage. She pulls his cock out of her cunt and starts sucking it like mad. Cum slut slobbers all over that shaft, and then she gets on top once more. The man drills that pussy of hers like this, too. She rubs on her clit while she's getting fucked and moves those hips on her own, too. She sees those balls slapping against her clit while she takes those big strokes. He is like a fuck-machine. He can go all night without needing a break.