Three fit women were having a yoga session at the local gym, however, one got a little bit too relaxed. In the middle of a relaxing stretching, she started getting into it too much and started slowly stripping completely naked. The instructor was stunned but liked what he saw and did nothing to stop her. Maybe this group sessions should transition to a one-on-one? It wasn't long before other ladies picked their stuff up and left the gym, leaving the naked girl and the instructor all alone. Eventually, though, it was time for them to leave too, so the instructor brought her her clothes saying that the workout was over. Already naked and pretty horny, she was ready for anything to prolong the situation. Under the excuse of her trying to work on a "downward dog" pose, the naked girl bent over for him, presenting him with her beautiful pussy and her tight ass. Eager to help, he went behind her and she started grinding herself off of him, instantly making his cock hard through his shorts. Before he knew it, he was already removing the rest of his clothes and pressing his rock hard shaft to her tight holes. Seeing how ready for him she was, he simply forced himself in her wet pussy and went all the way in. Just a few moments later he was pounding her doggy style, going balls deep while holding her hands and pulling them back to impale her even deeper and rougher. Her soft moans quickly turned into screams of pleasure as she felt him stretching her insides completely with his fat meat. Losing her mind from all the pleasure, she wanted to feel him in her mouth and have a taste of his cock covered in her pussy juice. Naked girl turned towards him and dropped down on her knees, taking his whole shaft deep in her mouth. His thick boner could barely fit in her tiny mouth at first but she wouldn't give up and kept taking in more and more with every passing second, eventually slobbering all over it, enjoying the taste and the sensation it made when it went deep down, reaching the back of her throat.

HOT TEENAGE GIRLS CAUGHT FUCKING IN SNEAKY, RISKY AND CHEATING SCENES: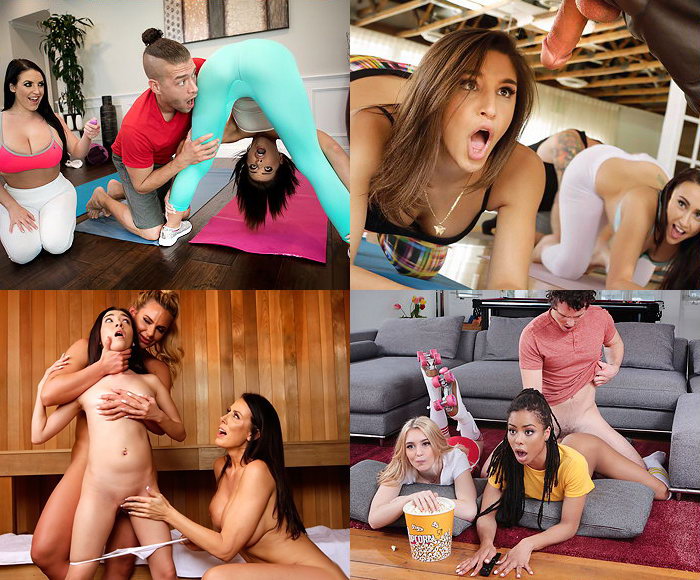 Still insatiably hungry for a rough pounding, naked blondie lied down again and had him enter her from the side. Her erotic screams continued again as she was doing her best to feel his boner from every angle all the while rubbing her clit, enhancing the pleasure, enjoying his hands squeezing her perky tits and pinching her hard nipples. From there on out, they kept picking up the pace and going harder and faster as time went on. They continued switching and fucking in multiple yoga positions. First, the sexy naked girl mounted him like a horny cowgirl and jumped up and down on his schlong, impaling herself harder with every stroke. Then she turned around and enjoyed him drilling her pulsating cunt before they ended up on the floor again. The hot blonde wrapped her arms around him and gripped him tightly against her convulsing body as he continued to pound into her as hard as he could, his heavy balls were slapping against her ass. She arched up and down faster and faster. The girl cried out in euphoric cries of ecstasy. His huge sperm laden scrotum constantly slapping her tight round buttocks as the blonde continued to grind her clit against him. She came multiple times until he reached his limit and sprayed her full of thick jizz. The fountain of hot sperm erupted from his throbbing cock all over her face and her body.