I was on my way to deliver food for my customer when I stumbled upon a ravishing, black-haired babe being all naughty at her pool in the backyard. Tempted to see what she was up to, I hid behind a bush and kept watching. She took her phone and started taking kinky selfies, eventually pulling her big, round tits out to make photos even spicier. She was PERFECT and GORGEOUS! Just as things started becoming rather interesting, she spotted me through the foliage and immediately covered herself, startled. Not wanting to get into any trouble I begged for her not to tell anyone and offered to do anything to redeem myself. Lucky for me she agreed to that and, being already hot and horny, asked me to get naked. The moment I dropped my pants and showed her my massive rod she gasped in surprise. Before I realized what was going on the sexy babe was already in front of me and on her knees, taking my cock in her mouth!!! Surprised, I tried to stop her but she was already hard at slobbering me whole and it felt so good I simply let myself go and started enjoying. It was such a treat to watch that babe suck my cock. We soon ended up inside and on her couch where she was able to give me a proper blowjob. She was drooling all over my shaft, trying to swallow my whole length, choking and gagging on it, making it wet and slippery from all the spit and precum mixing. I loved looking at her big brown eyes as she maintained erotic eye contact while deepthroating me all the way. She even put my dick between her tits and started jerking it with them. She was so horny and her snatch was dripping wet and ready for me so she didn't need any foreplay. Having made sure my boner is rock hard, she lied on the couch and spread her legs wide, inviting me to enter her pussy. She didn't need to tell me twice and just a few seconds later I was going balls deep pounding her and listening to her screams of pleasure. Her tight hole felt amazing! I moaned in ecstasy as my cock stretched her pussy.

THE HOTTEST GIRLS IN THE BEST AMATEUR PORN: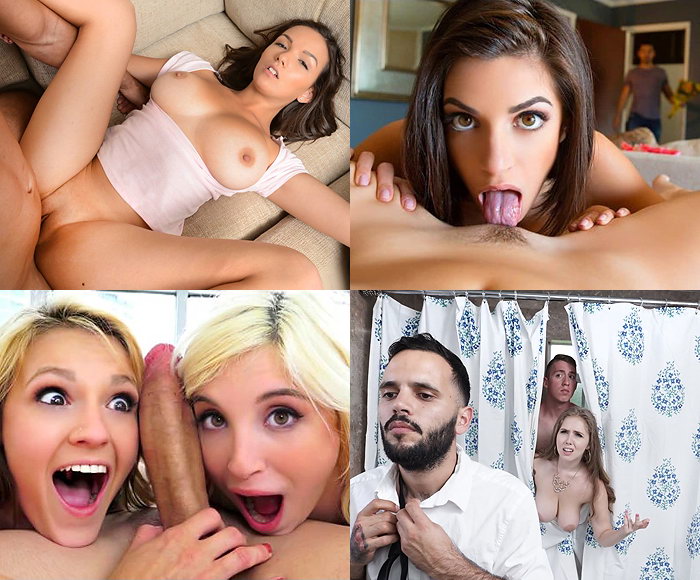 Her big, natural tits bounced around as I kept impaling her deeper and harder with every stroke yet she kept asking for more like a horny, dirty slut. From there on out we just kept picking up the pace and changing positions. I wanted to fuck her in every way possible and she wanted to feel me stretch her from every angle. The naked babe first lied on her back and let me drill her from the side before mounting me like a naughty cowgirl and impaling herself all the way down. She started to bounce up and down. I was excited by the sight of her huge tits swaying underneath her chest in rhythm with my thrusts. I put my hands on her hips and helped her take all of me in. Her big ass kept bouncing as my cock was hitting her as deep as possible and I loved squeezing her tits and pinching her nipples while fucking her. After that, I took her from behind, grabbed her by the hips and hammered her never before. I grabbed her by her buttocks and pulled her close to me, pressing her glorious breasts against me. Her breasts were large, with big areolas and small nipples. The hot naked babe was losing her mind with pleasure and screaming while having multiple earth-shattering orgasms before I finally reached my edge too where I sprayed her curvy body full of thick, hot loads of my white cum.