Innocent blonde teen was with her boyfriend at a college library where the teens were studying for an exam. The blonde was a stunning, young thing, with an adorable face, skinny body and tiny tits with perfect nipples. She was feeling a bit uncomfortable because her stepmom was also there. Her stepmom was this ravishing, slim MILF with big tits that wore glasses and had this kinky professor or secretary outfit, looking all glamorous, sexy and fuckable. At one point, blonde nubile had to go to the bathroom and had to leave the two alone. Not wanting to let this opportunity go to waste, black-haired mommy came to her stepdaughter's boyfriend asking if he needed some help. Not really waiting for an answer she reached down and started stroking his cock through his pants! Just as the situation started heating up, his girlfriend came back from the bathroom. The girl saw them from the distance and hid, watching. At first, she felt betrayed watching him passionately fondle her stepmother's big breasts, uncovering them from her shirt and bra, kissing them and sucking on the nipples while she kept squeezing his cock. After that, the teenie realized she started liking the performance and continued watching curiously as her stepmom dropped down on her knees, taking her boyfriend's rock hard dick in her mouth. She hides between the bookshelves, touching herself and looking on. Her nipples were already hard and poking through her shirt at the sight of a horny mommy going deep and rough while slobbering on a fat meat. Perverted sounds she made while slobbering on his stiff shaft, with saliva and precum dripping all over and making her face all messy, were too much for a horny teen and she rubbing her pussy and caressing her nipples, not caring if she was hidden anymore. Her stepmom noticed her, still giving a sloppy blowjob, and invited her over.

MOST BEAUTIFUL PORN WITH THE HOTTEST BABES: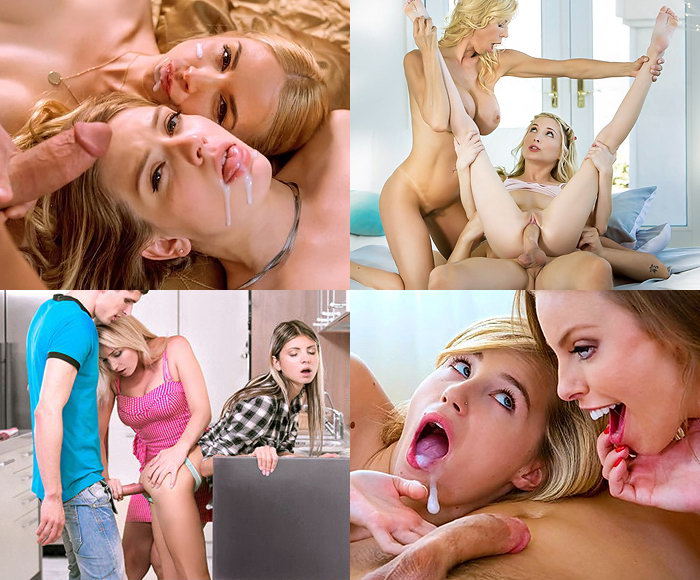 Teen blonde happily obliged to her boyfriend's surprise and satisfaction. A few moments later he had two gorgeous babes in front of him, taking turns sucking his schlong. The nubile seemed to have picked up a few tricks from her stepmom as she was deepthroating just as good, choking and gagging from his size but not stopping. After enjoying the best blowjob of his life, both girls were ready for something and he was happy to help. His young naked girlfriend was the first one to feel him stretching her pulsating pussy as she lied on the desk, spreading her legs wide, feeling him stuffing her rough. She was fingering her stepmom's pussy and squeezing her tits while the MILF rubbed her clit in return, enhancing the pleasure. Then, it was mommy's turn. The naked librarian lied in the same position and the teen girl mounted her face riding her tongue as her pussy was being hammered by a hard dick. This woman is truly a GORGEOUS MILF! From there on out, they just kept picking up the pace and trying every position available. The young naked girl gets really turned on by watching her boyfriend fuck another woman and soon starts squirting! She just keeps rubbing her clit faster as her cum squirts out of her slit. Girls came multiple times before he also reached his edge and sprayed a huge load of thick, white cum on both of their faces.