As the famous song once said – girls just want to have fun. And that's exactly what this lovely blonde chick did with her brunette friend. The girls decided to have a little fun with some painting. Unfortunately, they cover themselves in paint, and the mom told them to wash their t-shirts, leaving their cute tits exposed. Soon the young horny girls began kissing and touching each other's breasts. Unfortunately, the brother of the blonde caught them! The only way he would keep it a secret was if his stepsister and her friend played with his cock. The girls were shocked hearing but the dude just pulled down his pants and staretd swinging his penis in front of theis faces, inviting the girls to touch it. For a while now he wanted to test the blowjob skills of his stepsister and her best friend since he heard they are the best. Both girls got on their knees, opened their mouths and stuck out their tongues. His sexy blonde sister was first to take his soft prick, sucking and licking it, feeling it get bigger in her mouth. The other girl wanted to try it too. He let them suck his dick and take turns. It looked pretty nice, with one girl sucking on his dick and the other literally inhaling his balls from how hard they were sucking them. And that went on for a while, getting him all nice and sloppy. Only, they didn't know that he wanted to return the favor, which he did, by licking the blonde girl's pussy and preparing her to take his dick. Her friend watched in amazement as her step brother penetrating her pussy with his cock. He grabbed her ass cheeks and began slamming into his sister's cunt from behind. Unfortunately, he focused on the blonde girl most of the time, but there were times where the brunette chick got her chances to shine as well. Such as when she was sucking on his dick after he fucked her friend, tasting both their private parts at the same time and actually loving it. After that, he continued with the fucking, while the two young naked girls kissed, or the brunette girl kissed the guy, which was also lovely. And then he also switched the girls, putting the brunette chick on the sofa and then fucking her while she was making very sexy faces, showing them how pleased she was. It was amazing.

HORNY STEPSISTERS AND STEPMOMS IN FAMILY TABOO SEX SCENES: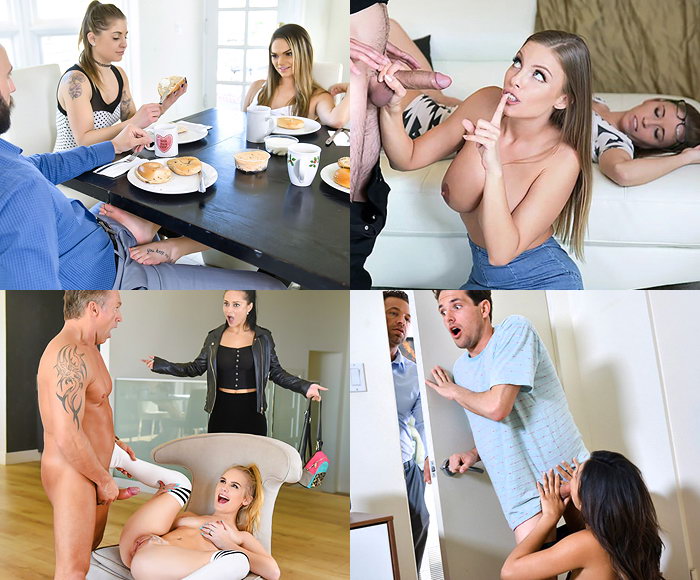 There's nothing more beautiful than seeing two girls share one cock, spitting on it, fucking it, licking it, and after that, of course – licking each other, which is precisely what happened here. A nice little touch as well was when they held hands while they fucked, showing him how much they loved the whole thing. After he was finished with the brunette chick, he put the blondie above her, and then slid his dick between the blondie's pussy and brunette girl's mouth, which was terrific. Then he simply put his dick in the blonde girl again with the brunette girl licking his dick and her friend's clit the whole time. I think it gives a woman the greatest sexual pleasure, to have the clit licked while at the same time being fucked. After that, he let one of the girls sit on his dick and ride him while he was fingering the other, and it was just so passionate. Then both naked girls rode his cock and his face together. Of course, that whole fun continued for a while. They were fucking even more wildly. Funny enough, their mom caught them in the act right after he was finished cumming all over the girls' faces. So fellas if you're going to fuck your stepsister and her best friend, you might as well find a more secluded place.