You know, as a driver, I've met lots and lots of people. But no one like this teenage girl. She was blonde, sexy, young, playful, everything. When I came to pick her up, she was literally in her swimsuit only, which was good for me. After we started talking, she told me that she wanted to get in on this party. It sounded interesting, so I listened to her describing it. You know, we're lucky we didn't crash that day! During the whole drive, I was staring at her big, round, and stunning boobs, and her gorgeous thick body. After that, I asked her how to get in on the party. She told me right away that the only two conditions were for me to have a sexy body and to have a giant cock. And trust me, I have both. That's when I let her see it, and she was immediately almost hypnotized. The sexy teen just started taking off her bra and exposing her big boobs. I couldn't help myself. I cupped her tit and gently rubbed her nipple. It hardened instantly! Then she pulled her bikini bottoms to the side so that her pussy was on display. Then she stuffed a remote vibrator in her snatch and began shaking in front of me as she came! I was so excited that I had to take her outside and let her suck me there. It was so exciting, and she didn't even mind that we were out, she just wanted to slurp on my big dick and look me in the eyes to see if I feel good. She swirled her tongue all over the head of my cock and then ran her tongue up and down my shaft. Luckily, I'm not driving a car, but a large van, so I let her get up in there and let her bounce on my dick as she was holding her hands up on the roof. The naked busty girl was just moaning and moaning while bouncing on my dick, and I knew I had to spice it up even more. And I did that by switching her up! And also bringing her gorgeous face closer to mine, actually putting her into a cowgirl pose which I genuinely love.

THE MOST CRAZIEST ORGASMS EVER CAUGHT ON CAMERA: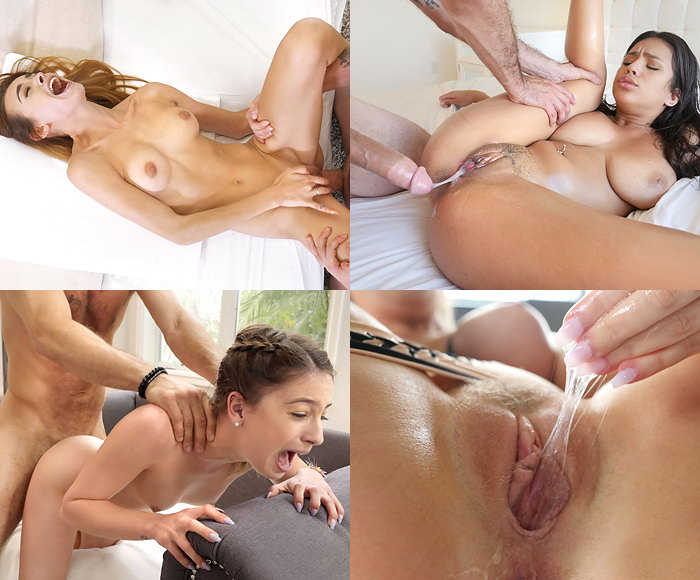 Her perfect boobs bounced perfectly in front of my face. When we were done with that, I turned her around and spread her legs to put her in a sexy spin of the missionary pose. Then I fucked her like that while her big all natural tits were bouncing all over her chest to the rhythm of my dick pounding in and out of her pussy. Her glowing green eyes looked at me, it was like she was driving me nuts with them. After some more tossing and turning, I eventually just got tired of it and put her legs behind her head to fuck her like an animal one last time, and that's when she surprised me. While I was fucking her, she was just begging for that cum, and when I actually came inside of her, instead of being all weird about it, she did the best thing ever. She literally squeezed my cum out of her pussy and watched it drip down her ass crack. And guess what? She wanted more, so we fucked doggy style some more until she actually got her chance to cum as well, making it probably the best fuck of my life so far. That's when I realized that being a driver was the best thing that ever happened to me, and since then, I've been chasing girls to fuck like a mad man. Fellas, fuck everyone who says that driving isn't lucrative.