Bombastic MILF was driving her ATV around the farm. Since the weather was too hot, she stopped for a second to strip out of her clothes and proceed naked. She continued driving with her perfect, firm breasts and her big, round butt completely exposed. At some point, the naked woman saw one of the workers fixing something nearby so, being a horny mommy that she is, she stopped right next to him and took out a bottle of water, pouring it all over her body, all over her amazing big boobs. Having given him an erotic performance and letting him enjoy her amazing body all wet and shiny, glistening in the sun, the naked woman started her ATV again and drove off. However, she didn't go too far as she wanted to give him the opportunity to catch up and was also so horny she wanted to have a bit of fun with herself. As soon as she parked and started caressing herself he came running. Not wasting a second, he spread her big buttcheeks wide. Even hornier than she is, the man started licking her exposed, tight butthole, loving the way she pushed her perfect ass towards him. Her pussy got even wetter so he started licking it too, making her moan in pleasure hungry for his meaty rod. It didn't take long before she was on her knees in front of him, slobbering all over his shaft. Hot naked woman was sucking his rock hard cock like a whore, spitting on it and making it all wet and slippery before taking it all the way down her throat and choking every time it would hit her deeply. After making his cock ready and her face all wet and messy from all the saliva and precum, they were both ready for more. The horny MILF stood up and bent over presenting him, yet again, with her perfect, big ass, loving the way he grabbed it spreading her cheeks, placing the tip of his cock near her snatch.

THE CRAZIEST HARDCORE PORN YOU'VE EVER SEEN BEFORE: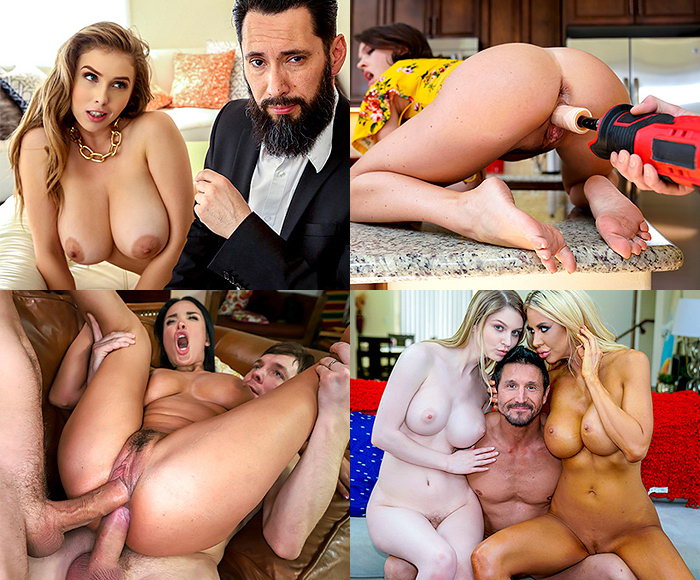 He went all the way right off the bat, impaling her tight cunt balls deep on his thick schlong, watching her squirm in pleasure as his balls kept slapping her pink clit. He kept going rougher and harder with every stroke, listening to her moaning and begging for more, squeezing and fondling her big tits and grabbing her curvy hips to force himself even deeper. She followed the rhythm, pushing her fat ass back with his every move, trying to feel every inch of his massive boner. After that, she mounted him like a wild and naughty cowgirl, twerking her butt on his dick, vigorously jumping up and down impaling herself all the way. He was too horny to let her do all the work so he kept switching and making her change positions, drilling her dripping snatch faster with every passing moment. The hot woman came screaming multiple times, enjoying continuous pounding and always asking for more before he finally reached his limit, pulled out and shot a big load of cum all over her sweaty body.