You know, when you have a sister or sisters, when they are little, they are always, like, cute and humble and quiet, and then they grow up and become such real fucking cunts, right? My sister is a girl just like that. She is a real brat. I was always searching for the perfect way to calm her down and one day I convinced her to let me experiment on her with a sex toy and a nice pair of VR glasses. Who would've known, it worked. She was all fired up and quickly accepted the idea. So I stuck a small vibrator inside her pussy, let her put the glasses on, and just started the show, only increasing in volume and intensity. She was holding on for a while, but when she couldn't take it anymore, she took off the glasses and started shaking and rolling around, and I knew, in that very moment, that it was the time to attack. So I took the toy out and started licking her pussy, which was dripping wet until she grabbed my hair and stuck her nails into my skull, that's how good my cunt-licking skills are, peasants. She cried out in pleasure as my mouth covered her clit while my tongue slid into her vagina. After that, I whipped out my cock and let her slowly, but gently suck on it, but that's not how she plays. My sister loves to choke on it, put it all the way in, and look you in the eyes like the little devil that she truly is. God, she gets on my nerves, but at that moment, I didn't mind, I just hoped that she has the same reaction and keeps up her technique when I stick it inside and stick it inside I goddamn will. She started to deepthroat me, and I knew that I was going to, but, so I needed to react quickly. I took my dick out of her mouth and finally stuck it in. Tight and warm, just the way it should be. And from then on, the show just became wild and unhinged. My thrusts were so deep and hard that the bed hit the wall continuosly. As I thrusted in and out of her, her soft ass was cushioning my thighs and groin, fucking her was absolutely incredible. Missionary pose, doggy style, dick riding, cowgirl, reverse cowgirl, whatever pose you can name, we fucking did it.

THE MOST CRAZIEST ORGASMS EVER CAUGHT ON CAMERA: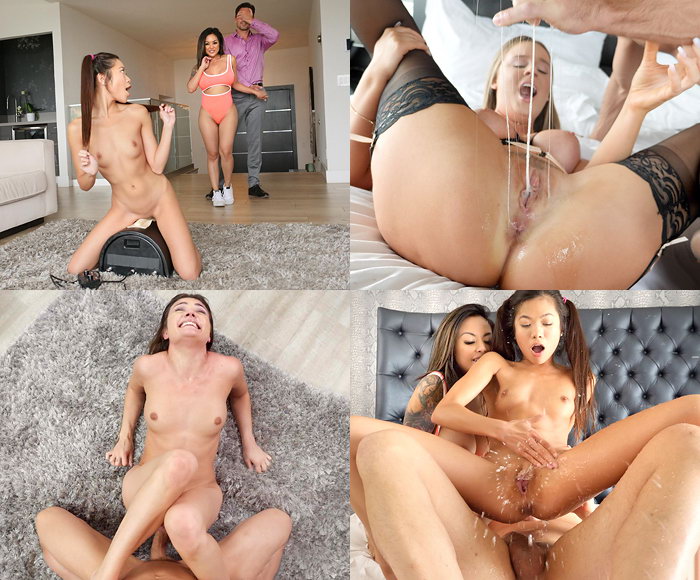 My slutty sister couldn't help but moan as I pinned her face down into the pillow. My thighs slapped against her soft, plump ass and felt amazing. In every single angle, position, and manner, my dick was inside her, and it was rocking her silly little bratty, slutty world. She had another orgasm, I grabbed her pussy roughly which made her yelp. My sister moaned and struggled against my grip while her body began to shake with orgasm after orgasm. I could see her cunt juices flowing down her thighs. Then I realized, fuck, if my stepsis can fuck like this and she is willing to fuck like this, I think I am ready to tolerate her! But I think that's not going to be necessary, after a pussy pounding like this, her ego is going to be in control for a while, and the next time she is thinking about wilding out, I know exactly how I'm going to stop it and keep her slutty fucking ass just where it belongs, always under my control.