Superfit, amateur babe with a long, brown hair is on her bed wearing the sexiest lingerie. The young sexy girl turns around and bends over for her boyfriend who can't resist squeezing her perfect butt before moving her panties to the side, uncovering her tight asshole and pink, young pussy. He gently rubs and fingers her, feeling her getting wet under his fingers before she turns around, still on her bed on all fours. She takes his already rock hard meat with her soft lips and starts slobbering all over it. Horny and willing, she sucks his cock like a pro, jerking it off with one hand, swallowing it deep, kissing and licking the tip. She even deepthroats it, choking on it and losing breath but pushing on. After making sure his dick is all wet and slippery, the sexy naked girl bends over and he grabs her from behind, gently inserting his whole length. They quickly pick up the pace and he starts ramming her balls deep as she follows the rhythm and responds by pushing her cute little ass back, impaling herself further with every thrust. Her moans of pleasure quickly turn into screams of ecstasy as he keeps going harder and rougher. He makes her stand up, still pounding from behind, and starts rubbing her clit, making her even hornier. She finally removes her bra revealing the pair of perfect, perky tits, with nipples to die for. Wanting to feel him in every way possible, the naked girl turns around and lies on the bed, giving him the full view of her godlike body. She lied down, crossed her legs and picked them up, holding them between her arms, presenting him with her soft pussy. It didn't take long before he was ramming her again, listening to her uneven breathing mixed with moans of pleasure and the look of satisfaction on her gorgeous face.

HOT GIRLFRIENDS CAUGHT FUCKING IN THE CRAZIEST AMATEUR PORN: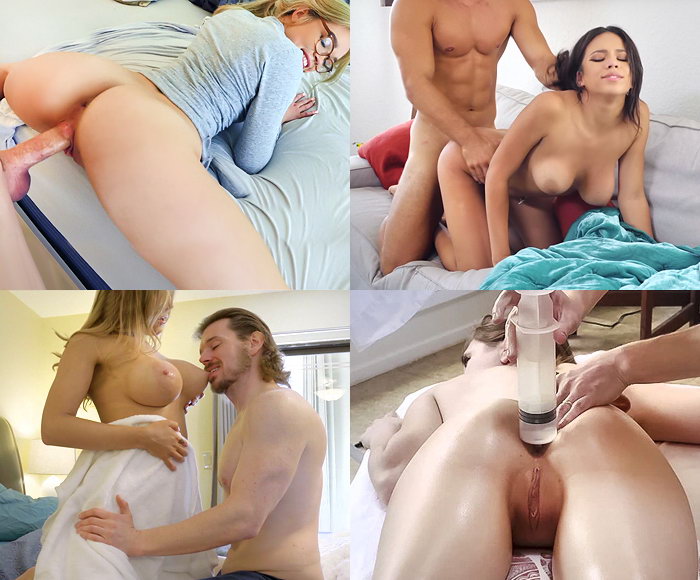 Sexy girl could feel him stretching her insides with his massive, throbbing cock, squeezing it with her pulsating pussy and they were constantly switching between sensual lovemaking and vigorous pounding. When able and not losing her mind in ecstasy, she would put her hand between her legs, rubbing her clit, following his pace as he rammed her. But then he'd speed up and she would again start screaming and grabbing covers, losing control over herself, enjoying the raw fucking. They were both slowly nearing their climax. She wasn't able to control her legs anymore as she desperately tried to hold them together and not having them spread on their own, and he was speeding up his thrusts and breathing faster and faster. Just before they both exploded he was going as hard as he could and balls deep while she kept trying to keep her sanity and not get overwhelmed with pleasure, spreading her pussy for him to rail her. They both came at the same time, with him pumping her snatch full with his huge, thick, white load and watching it drip out of her as she softly rubbed herself. What an amazing pussy creampie!