I've had the pleasure of having this wonderful, blonde babe on my massage table. She is stunning, with just perfect, big, natural tits and blue eyes to get lost in. The sexy girl was lying naked on my bed, watching and enjoying as I poured oil all over her, slowly making her horny and preparing her. She was gently moaning as I rubbed all over her body, polite and professional at first, massaging her shoulders and arms, back, hips and legs. Unable to resist, I soon succumbed to the temptation and started gently rubbing her private parts, getting naughtier by the minute. Without a word the naked girl accepted my advances, spreading her legs and making herself more available and comfortable, so I started rubbing her soft, pink clit, with one finger circling her tight ass. After I went to finger both of her holes it didn't take long before she came softly and stopped me wanting to return the favor. The hot naked blonde went down on her knees and took my already hard cock with her luscious lips. All hot and horny, she was slobbering all over my meat, taking it deep and sloppy, with my precum and her saliva dripping all over her face, making her all messy. Just watching her like that made me want to explode all over her, but it wasn't the time yet. After deepthroating me for a while longer, choking and losing breath as she tried to swallow my whole length, she spread her legs again, inviting me. First, I gave her pussy a wet licking, and caressed her tight ass with the tip of my tongue, tickling her and watching ecstasy on her beautiful face. I could've gone on like that forever but she wanted me inside so I lied down as the naked girl climbed on top in a reverse-cowgirl. My rock-hard schlong immediately slid balls deep in her dripping cunt and I started pounding her vigorously. It didn't take long before I came pumping her full of thick, white load, dripping out of her and mixing with her pussy juices. However, that did not stop me as I slowed down just a bit, only to continue pounding her harder than before.

THE BIGGEST CREAMPIES FOR THE SMALLEST PUSSIES: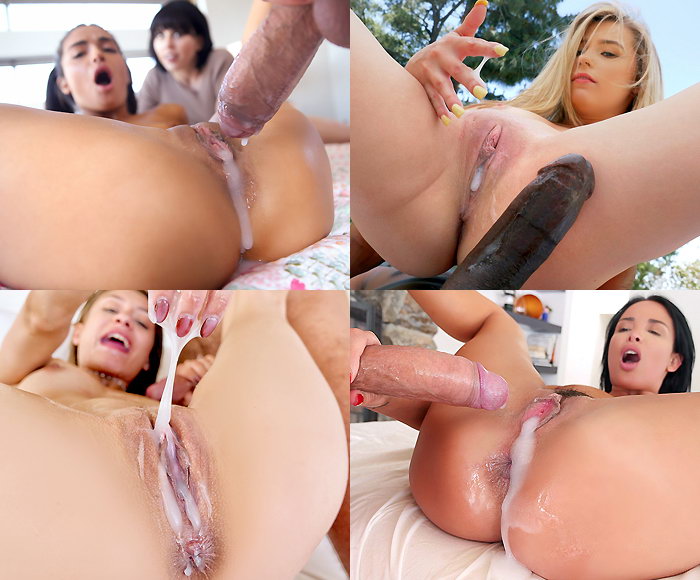 We were both wet, sticky, sweaty and slippery when she turned around, still on top of me, switching to a cowgirl position. I watched her huge breasts bounce up and down as I shot another big load inside of her and let her enjoy being filled as it started dripping out again. I have no idea how many times more had I pumped her full of semen as we both kept cumming in different positions. She kept moaning and screaming in ecstasy as I took her from behind and hammered her doggy style, railing her all the way, feeling my balls slap her clit with every thrust, cum was pouring down her legs like a river. The busty naked girl ended up on her back again, with me going balls deep inside her snatch, doing one final push where we both had a massive orgasm as I pumped her once more. One more huge messy pussy creampie! I just couldn't stop cumming in her tight cunt. This was getting me so fucking turned on, I was just plowing away at her muff, like a fucking jack hammer spurting hot jizz inside her vaginal funnel with each thrust.