Having a stepmom is the best thing that happened to him in a while, as at the same time, he also got a hot stepsister. He is always watching her as his cock becomes rock hard, but even then, he never tried to get in her panties. One time he was even caught masturbating as his sexy sister was trying a new outfit with her mom, and that didn't end up well. Since she saw his cock, the young blonde can't stop thinking about it and dreams about having it inside of her. As she is fingering her pussy under the bed sheets, her stepbrother notices what is going on. The whole situation feels wrong and weird, since their mom is only a few a feet away, not aware of what's happening. Still, both of the teens are so horny that they don't care at all. His hand is already on her bald pussy, and when the mom finally leaves, he goes down on her, licking her wet slit, sucking her pussy lips into his mouth and sucking all the nectar from her cunt. His tongue works her pussy like a mad man. His horny step sister returns the favor by taking his hard cock in her warm mouth. She would cry tears of joy as this is what she wanted for a long time! It's even better than she ever thought it would be, as his rod is so long and fat that she struggles to take it up to her throat. As their mom is around, they have a hard time to keep their activities a secret, but the moment she leaves, they continue with even more passion. This time the sexy naked girl is on top of him, riding him cowgirl style. Her moaning fills the room as her legs are stretched wide so that his throbbing cock could go balls deep inside of her. Fucking her stepbrother while she knows they could be caught makes the teen slut horny like she never was in her life. Her heavily tattooed body is already sweating from rough action as she demands more. I love girls with back thigh tattoos and shes fucking beautiful.

HORNY MOMS AND DAUGHTERS IN FAMILY TABOO SEX SCENES: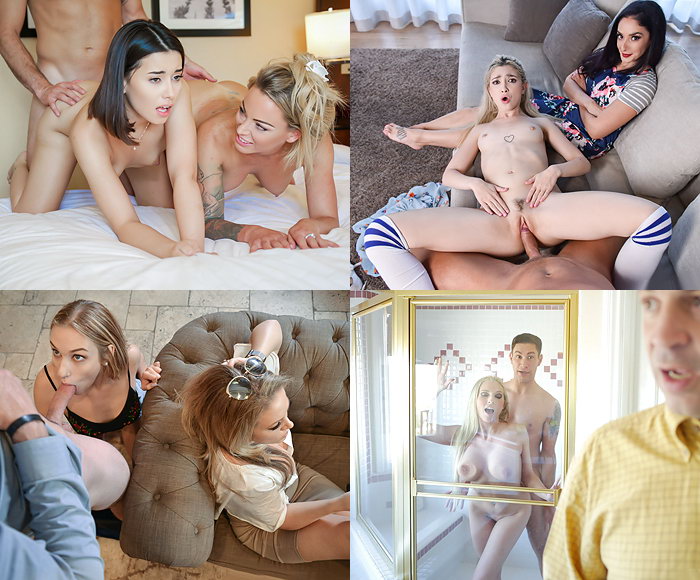 Her stepbrother manages to deliver as he can feel that she already came more than once. At the same time, he knows how to restrain himself, making small pauses. Now that his stepmother finally went away, there is no need to worry so that he can pace himself. His hot naked stepsister surprises him with her performance, as she is still a teen. He can only imagine what type of experiences she had in the past, but it looks like a lot of cocks already violated her pussy. His former girlfriends were older than her, and still, none of them was near her level when it comes to fucking. As he is trying his hardest to fill up her meat hole, she loses her mind, begging him not to stop. For the final phase, he goes inside of her missionary style until the moment when he pulls out his shaft and sprays her belly and a perfect set of tits. Family fucking is their new favorite activity, and in his dirty, he already thinks about a threesome that will include his new stepmom!