Don't miss these two cock hungry sluts with amazing tits! When award-winning actress agreed to meet with renowned director about a part in his next movie, she assumed she had the part in the bag – until she shows up and sees her arch nemesis, jerking off the director's cock upon her arrival. When he tries to explain that he can't quite decide which of them he wants for the role, a catfight ensues, leading the girls to compete for his cock like their lives depend on it. Two super busty women fight for dominance and the man's cock, awesome! The blonde is busted after a confrontation, but she doesn't seem to mind. The light-skinned beauty makes sure to grips his huge cock firmly with her hand, and she starts sucking on it. Once she's had a taste, she lets the brunette play around with it as well. While she focuses on the tip, the brunette glides her tongue across the shaft, either way, the blonde wants to become the "alpha" in this sexual encounter, so she makes sure to keep the cock inside of her mouth as much as possible. Their boss enjoys this so much he even decides to fuck with their heads while the girls suck on his meat scepter. Later on, these girls switch their places around a little bit. One of the girls focuses on sucking the nuts, and the other girl sucks on the shaft. Two crazy sluts are sucking on your cock and balls, this must feel amazing, but the man maintains his composure no matter what! Later on, he decides that it is time for him to compare their cunts. The naked girls line up with their asses in the air and he shoves his big dick inside of one of the cunts, without a doubt. Who wins the cock lottery and who gets to eat pussy? The brunette gets to take dick first, and she gets to eat pussy as well. The blonde makes sure to position herself properly while she gets eaten out. However, the naked girls will soon switch their positions up a little bit as the brunette wants her pussy eaten out as well.

THE HOTTEST PORNSTARS WILL TEACH YOU HOW HARDCORE FUCKIN IS DONE: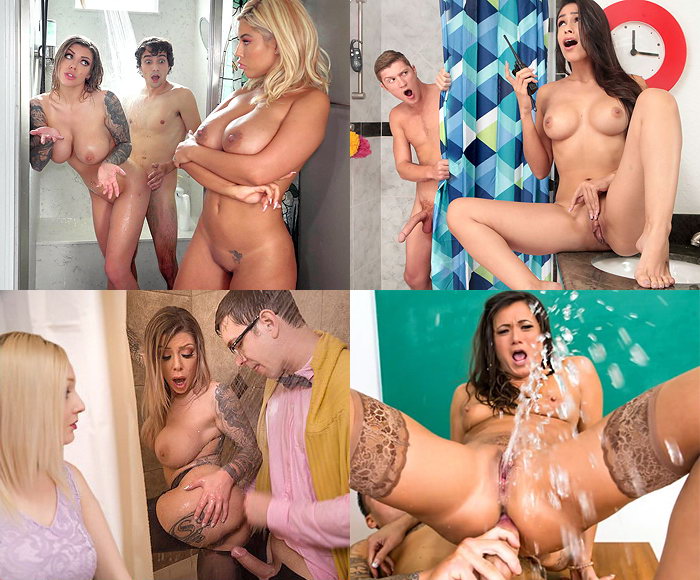 The blonde bimbo takes the dick just as well as the other girl and she moans with every single stroke that plows through her tight little pussy. She puts her pussy on the other chick's face this time and lets her eat it while the man drills her from the back. He decides to switch holes, so he puts it inside of the brunette's throat for a little while. She only had to settle with the dude's balls, so why not reward her a little bit? He loves the blonde chick's pussy so much he doesn't even feel like pulling it out of her. The hot naked blonde moves her hips up and down on the dude's dick while the brunette rubs her little pussy while sitting right in front of this hung stud. Apparently, she is very much interested in what he has to offer. She pushes the blonde out and starts bouncing hard on the dick herself. Both girls are moaning and enjoying his huge cock. Later, the brunette switches her positions up a bit and starts riding the dick in cowgirl while the blonde helps her out, watching her cunt being pounded, licking her asshole and playing with his balls. She even grabs the brunette's cheeks and helps her by slamming her ass hard onto his huge cock. Two hot naked girls just can't get enough of him, they keep riding his dick and his face, shoving their big tits into his face, moaning and playing with each other. At the end both girls have to learn how to share his cumshot.