I was walking around the house when I stumbled upon my college roommate, studying on the floor, outside her room. She was this gorgeous little nerdy brunette with sexy glasses and a perfect body, wearing nothing but panties and shirt. But she was also a lesbian. I had recently broken up with my girlfriend and was looking for some fun so we started talking. Dam this girl looks amazing. Nice perky tits and a sexy booty. At first, she mocked me for not being able to find a girl but soon enough, the conversation has gotten a lot more spicy, with her saying she had always liked girls and admitting she had never had a cock before. Being the good man that I am, I pulled mine out to let her see it. The teen lesbian had never seen a cock that big before and it didn't take long before she was on her knees in front of me, asking me to have a taste. She took it shyly in her mouth but quickly picked up the pace and started sucking it. She was slobbering all over it swallowing it whole making it dripping wet, choking as I'd grab the back of her head and fuck her throat. It looked like the lesbo loved doing it. My suspicions were confirmed when she lied on her back and removed her clothes. She got so horny from sucking my cock that her nipples got rock hard and her pussy was already wet. I squeezed her perfect, young, perky tits and rubbed her nipples a bit, making her ask for more before I went on to rub her pussy with the tip of my cock. It didn't take long before I was inside of her. My college roommate was so naughty, telling me how she loved having my cock inside of her and asking me to stretch her tight pussy more, moaning as I'd pick up the pace and fuck her harder or enter her with my whole length.

HUGE COCKS DESTROYING TIGHT TINY TWATS: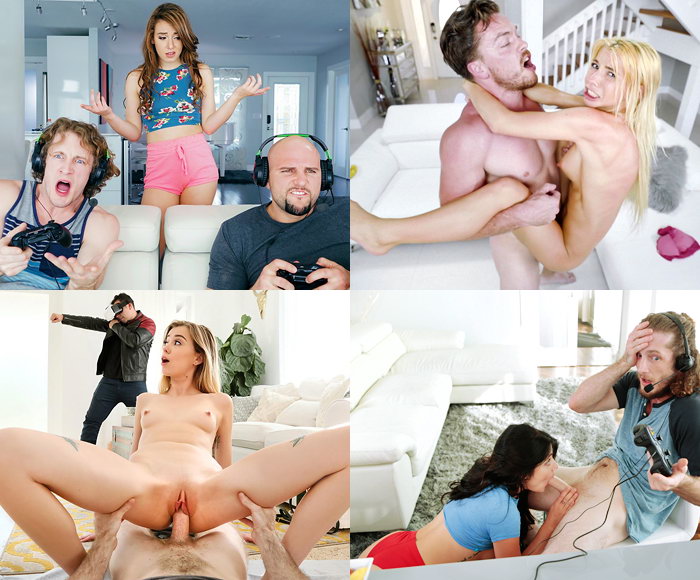 Being pounded like that wasn't enough for the slut so she turned around on her back and let me fuck her face instead, all the while rubbing her pussy and making her moan with my shaft in her mouth, being licked and sucked. Then we stood up, and I took her from behind. She was dripping wet and my cock was so slippery I immediately went all the way in and started railing her fast and balls deep. The sexy naked girl was moaning and screaming while leaning on a mirror, so I was able to see both her tight pussy swallowing my dick, and her cute tits jiggling and her pretty face moaning. It was the sexiest ass in the world! After that I took her to the bed and kept hammering her from behind, harder and harder, pushing her into the ground with every thrust before she decided to change things up a bit. She climbed on top of me and started riding me cowgirl, turning around, feeling my hard cock from every angle possible, cumming many times until I finally reached my edge and sprayed her full of hot cum. I was the first guy that came in her mouth.