I'm working out at the gym when I spot this sexy girl who is a regular at the gym skipping rope and one of her boobs slipped under her top while bouncing up and down! When she realizes this, she flushes and runs to the ladies' restroom, totally embarrassed. I can tell she's the shy type, and since there's nobody else around, I sneak into the female bathroom to comfort her. I don't see her around but I hear the shower running so I take a look and to my surprise she is totally naked and masturbating under the running hot water! Looks like her unwanted exhibitionist episode got her horny as fuck! The naked girl is quite surprised when she sees me there, but her hand remains on her snatch, rubbing it. I ask if she's cum yet and she tells me she hasn't, with a very dirty look on her face. She already noticed the huge hard-on under my trunks, and I pull them down so she can get a good look at my huge hard cock. The naked girl gets down on her knees, looks up at me and my hard cock is right in her face. I close my eyes in pleasure feeling her sucking my cock into her sweet mouth. She lowers her lips down me, sucking hard on me. She takes the whole of my cock inside her mouth, then slips her lips back up my cock. I hold her chin while the naked girl begins giving me head with a flustered look in her beautiful eyes. She chokes as she tries to deep throat my massive erection and I hope nobody walks into the bathroom and interrupts us. As shy and awkward as she seemed out in the gym , she's pretty uninhibited sucking my dick in the shower! Thick ropes of saliva drip from the sides of her lips and down her chin as she eats my member and she cups her bib tits with piercings on her nipples in her hands and I reach out and play with them too, they are so soft and firm! She warps her big tits around my cock and I fuck them hard, she loves it! She jerks my cock with her boobs vigorously while sucking my rod. It seems like my huge cock in her mouth saved her from shyness because after a titjob she runs to the gym fully naked and begins playing with the jump rope! She begins skipping rope, her breasts bouncing up and down, slapping against her body.

HUGE COCKS DESTROYING TIGHT TINY TWATS: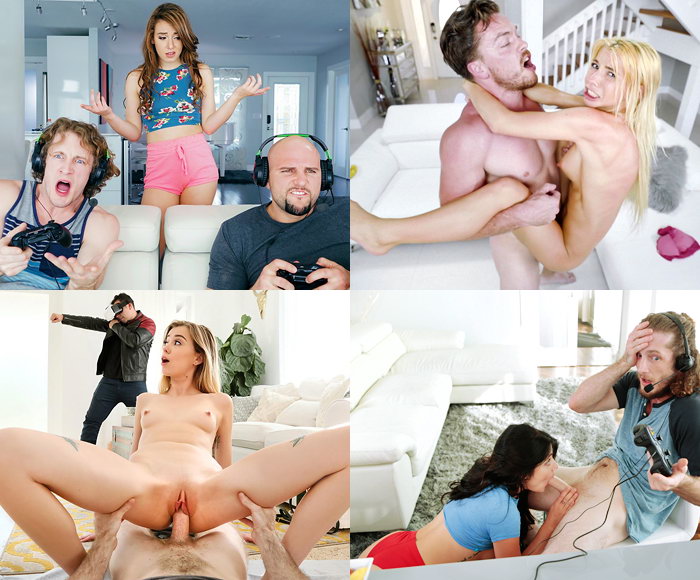 Back in the female bathroom she turns around and bends over, pushing her juicy bubble butt back up against my cock and impaling her tight cunt on it and I plow her from behind while she looks at me over her shoulder, filled with joy and arousal. I lie down on the floor and naked girl crawls all over me, sucking on my boner and sitting on my lap, pushing it back inside her cunt as I rub and massage her clit and she rides me in cowgirl position. Her big saggy tits drop to the sides of her hot body as she straddles me. I grab her tits, and squeeze them, those two soft boobies. "Oh yes, ride my dick!" I keep squeezing her tits and pinching her nipples, rolling them between my fingers. The girl flips over, ready for some reverse cowgirl action. She begins to slam her big bubble ass down on my throbbing dick, taking every inch of my long cock up her cunt. I garb her big ass and push back and forth against my dick until I'm ready to cover it with cum!