This Russian dude seems to be confused as to how Americans shop. He has a very thick accent and he has a hard time communicating with the locals. However, this MILF is about to make something else insanely thick. This curvy MILF goddess has been spotted browsing for groceries and she offers some help. She's wearing a leopard dress that clings to every part of her body, and the slut does not miss the opportunity to lift up her dress and show off her ass. The Russian can't believe his ass, he has never seen such an amazing ass in his damn life. The MILF even pulls out one of the cucumbers and starts sucking on it. Maybe she could help him tell the difference between a cucumber and zucchini? Which one fits better in-between her luscious thighs? Are they better than the real deal – a throbbing cock? She lifts her dress up and starts lubing the cucumber up and we all know what comes after she lubes that thing up with her saliva. That's right, she puts it up her pussy and starts sliding it back and forth and toying with her wet pussy right in the middle of the grocery shop. The hot woman obviously won't stop with the cucumber though as that's not her intention. Instead, she gets down on her knees and unbuckles the guy's belt. It's not like he's going to say no so he just stands there and anticipates what she's about to do. The sexy babe pulls his cock out and starts sucking on it like it's a lollipop. She seems to really be enjoying it and she obviously can't be stopped so she just keeps on going harder and harder. She then takes him by the cock and starts giving him a tour of the supermarket. They go aisle by aisle and have fun wherever they want. First, this crazy bitch sucks him off and then he licks her cunt from behind. She loves how he buries his face between her plush ass cheeks and shoves a tongue in between them when he parts them. They end up fucking in an aisle not worrying that they can be seen. And then, after all of that fun in the main part of the store, they decide to take things to the back room where they can have a little bit more privacy. They end up having some of the wildest and most exciting sex of their lives there.

HOT YOUNG GIRLS CAUGHT FUCKING IN SNEAKY, RISKY AND CHEATING SCENES: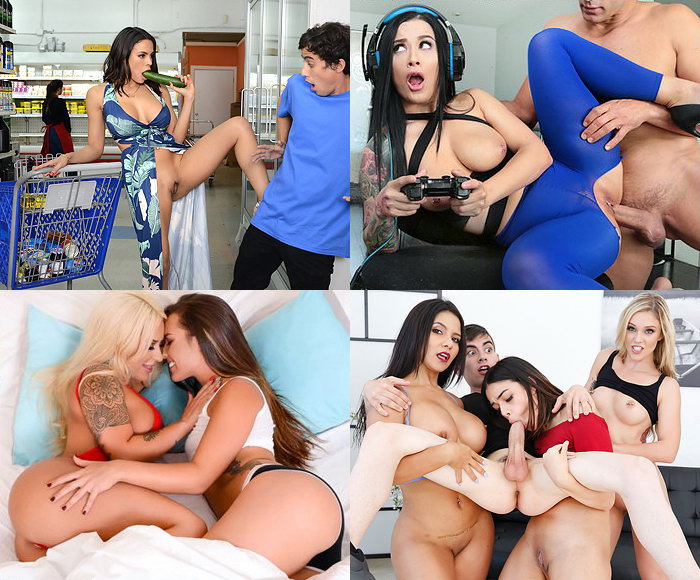 The beautiful naked babe keeps on sucking on his cock first, and then he takes his dick and sticks it between her big tits. She loves that she is being used up like this and she wants it even harder so he ends up giving her the cock up her pussy one more time. The naked babe gets on top of him and we can watch as these amazing hips and ass move up and down on him. She starts bouncing as he meets her strokes. Then she pushes her cunt into his face and rides him, pressing his head into her snatch. He starts finger fucking her cunt, making her squirt! She gets some of the best orgasms of her life. She has to pay him back for all the pleasure he has given her so the hot naked woman goes bends over and lets him fuck her from behind. Her cunt is puffy, her outer labia is engorged and sticky and glistening with her obvious arousal. He grabs her boobs with both hands and keeps slamming hard into her cunt from behind. "YESSSSS… AHHHHH!! OOOOOOOH FUUUUUCK!!" she is moaning as she sharply pushes her ass back to meet his hard thrusts into her snatch.