This dude lives a pretty boring existence, he works in a fast food restaurant flipping burgers, hoping something will change. He has no idea that a one night stand is about to change his boring life forever because Beverly Hills is full of rich, horny women who crave fuss-free sex… He has his chance once beautiful brunette asks him to join her, but instead, he replies that he can't leave his shift, as he has four more hours to go. Luckily, at the last moment, he realizes that this is the chance he was waiting for, so he jumps over the counter and comes with her. The sexy teen babe is a gorgeous, wealthy girl that's into him, so what else he needs? What's in better, she wants to fuck him immediately once they arrive at her spacious home. This girl wastes no time as she starts sucking his big black dick with a passion that he never saw in his life! It all feels like a dream, but her moaning as he eats her white pussy help him realize this is happening! As he continues licking her unshaven pussy, he has no idea they are not home alone! As he enters the bathroom to take a pee, he is surprised to find out that in the bathtub is a beautiful MILF. Ignoring her giant juggs and massive ass is hard. Sure, she looks older, but so many of young men have MILF fantasies. The naked woman said that she is Eliza's mom and that she needs to see if his cock is good enough for her daughter. He can't do much but accept that, even though he knows how crazy is this. Mommy is a great sucker, so no wonder her daughter is also such a talented whore. He fucks her huge tits enjoying every second, but when the teen girl calls him to come back to the bedroom, he must do so. He is back again and starts pounding her pussy immediately, doggy style. The dude tries to concentrate on her young pussy, but it's not easy to forget the hot MILF and her massive melons. Still, a younger brunette is not too bad either. The sexy naked girl rides his black dick with a passion he never felt before, but things get even more complicated!

SEX CRAZED GIRLS IN THE BEST FULL HD FEATURE PORN FILMS: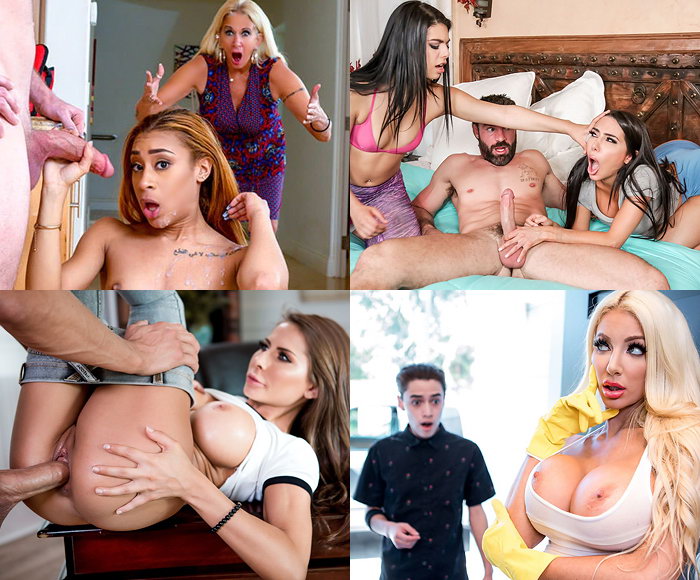 Her horny mom gave him a sign to make another pause and join her, so he has to come up with something. "I'm gonna get a condom," he said making another excuse to join a busty MILF already waiting for him in the bedroom. It's not an easy job satisfying two sex-starved women, but he is up for a challenge. If someone asked him to rate them, he would say that they are both equal. Mom is a priority now, so he keeps drilling her pussy doggy style before she decides to ride him. She might do it slower than her daughter, but she has her charms, taking his rod even deeper. Her heavy boobs are bouncing back and fort and up and down. Her wish is for him to pull out his giant dick and cum in her mouth and on her tits before she sucks what's left of his semen. This was an unforgettable experience as he's pretty sure he'll be fucking rich white woman for loads of cash. Don't miss all the episodes of this series!