Nerdy teen Kimmy is a great student, she is sprawled out on the living room floor, surrounded by textbooks as she crams for her college exams. But she completely forgets about studying when her new stepbrother comes home from soccer practice and goes to take a shower. The curious teen decides to follow him to the bathroom. There she sees her step brother stroking his cock with both hands. She has never seen or heard a guy jerking off before. The girl is surprised, but not disgusted, as her dirty mind tells her this is the chance she needs to use. "I can help you with that," she says while giggling. He is not so sure about it as she is his stepsister, so that would be wrong on so many levels. He is surprised that she even suggests something like this as he would never guess that she is such a horny bitch. As she continues insisting, he finally gives his cock craving sister a chance to suck his dick, hoping he didn't make a mistake. As his shaft enters her warm mouth, he is sure that he made the right decision. The sexy girl is doing fantastic, and even though she is barely legal, it feels like she had a lot of experience. God knows how many guys his step sister already fucked on college. Still, their wild session is in danger, as his mom goes upstairs. He decides to pretend like nothing is happening, telling her he has no idea where Kimmy might be. The whole situation is unreal, since his teen stepsister is still on her knees, sucking him. The sneaky sex makes the teens even hornier, as they move to her bedroom. Her next mission is to suck his rod balls deep, and she is dedicated to that goal. He returns the favor by digging deep with his tongue in her young pussy, but even at that moment, she still holds his shaft in her hands. She is obsessed with it as it's finally time it goes deep in her snatch. Her stepbrother fucks her rough while chocking her, as this little bitch likes it that way. She is now in a doggy style position as he goes even deeper while slapping her behind. The young naked girl bounces her gorgeous ass up and down, twerking her cheeks. I've never seen a girl hotter than this little slut. God, her ass is heaven! The way she works her ass, twerking, grinding on the hard cock, pushing back onto him harder and harder, is something unreal. More he fucks her, more he realizes his sister is a nympho who needs a dick all the time.

THE HOTTEST MILFS SHARE THEIR SEXUAL EXPERIENCE WITH YOUNG TEENS: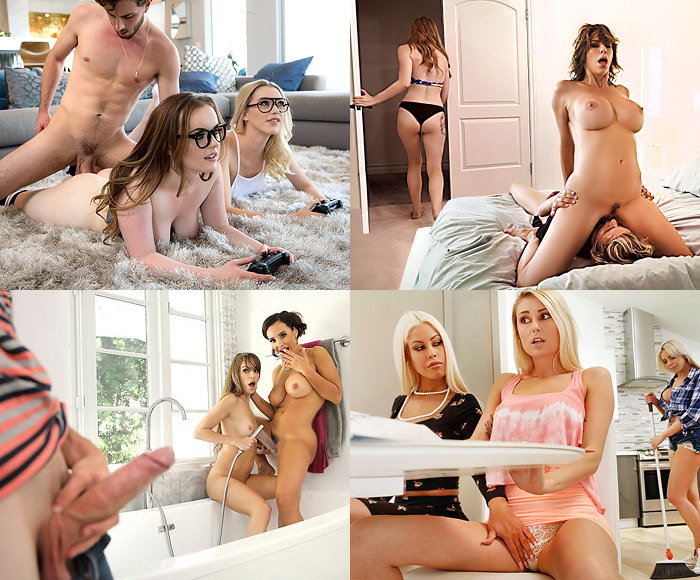 Hot naked girl decides to go on top of him, riding him reverse cowgirl style. It's her favorite position, and she proves that by coming three times while begging him to drill her even faster. She's squirming in orgasm and shaking and thrusting with all of her might and her moaning is incredible. She has a beautiful ass and tits and watching her luscious, beautiful naked body as he nails her slutty cunt is the hottest fucking thing. The young naked girl wants more, she makes her brother pound her even harder. He jackhammers into her with all his might. He feels her pussy contracts around him, hard, and he realizes his step sister is cumming! He keeps plowing into her pussy even harder and the smacking sounds get even louder. What he needs to do is empty his balls on her pretty face, but when his mom comes home looking for Kimmy to clean up the living room, can these two teens sneakily finish their fucking session?