Nothing better than a shower with two beautiful naked girls. Beautiful blonde and her redhead girlfriend are together for a while now, but the passion they feel towards each other only gets bigger as the time goes by. "Do you mind if we shower together?" As the girls become butt naked, they enter the cabin. The sexy redhead enters first, followed by her girlfriend, who starts staring at her friend's gorgeous bottom. Hot water covers their perfect tits and round asses, as huge smiles are on their faces. The naked redhead decides to drop her soap on the floor, and turns her ass toward her friend as she bent over to pick it up. She can't help noticing how magnificent her body is, her cute little ass and her freshly shaven pussy. She is on her knees and starts licking redhead's pussy. She tastes so good as her juices began flowing into her mouth. She is always horny and loves to feel her lover's tongue inside of her. This is not her first lesbian relationship, but no other girl has made her feel so special. Young blonde knows how to play with her snatch, so she can relax and let her do all the work. Her tight pussy lips are in her mouth as she also gently uses her fingers, caressing the entrance. The sexy naked girl uses her fingers to spread her open, exposing the tender, pink flesh to her tongue. Feeling her pussy grab at her tongue, as it thrusts into the heat, she realizes she has started to come around. She knows that keeping her tongue focused on her sensitive clit, is driving her wild. She keeps sucking her engorged clit between her lips and flicking at it with her tongue. The blonde feels her pussy nearly drip cum in response. Now it's time for a switch, so the redheaded chick is on her knees as her fingers are already in other lesbian's wet pussy. She can handle two of them without problems, and in combination with her tongue, she already came for the first time. It's a sight to be seen as the naked girls play with each other's round breast, before they are on the floor, rubbing their pussy. They are perfectly synchronized as they come together at the same time. It's incredible how well the girls understand each other! Redhead is the one giving pleasure now.

YOUNG NAKED GIRLS IN THEIR FIRST LESBIAN EXPERIENCE: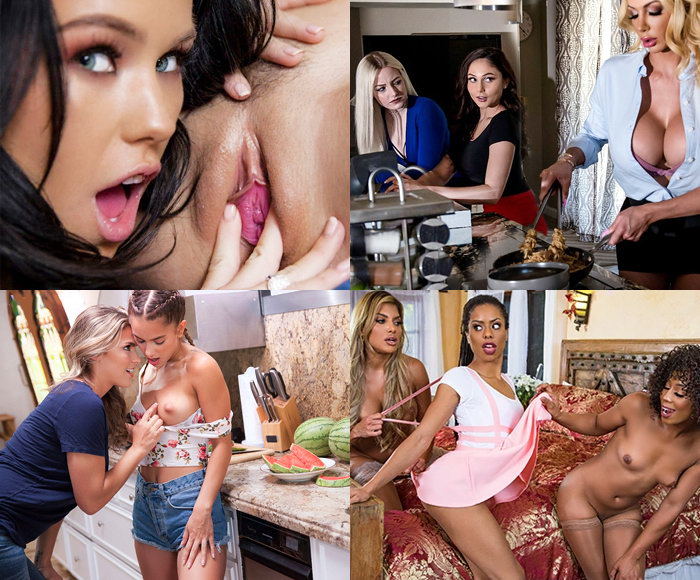 As the lesbians kiss, her fingers are back inside of her lover's tiny snatch. She already came a few times, but she is always ready for more. Look on her face is telling you how good it must feel as she enjoys the view. Sixty-nine is their favorite position, and there is just enough room for that in the showers. The naked blonde is on top, as her nice ass is in the hands of her girlfriend who is already shoving tongue in her pussy. It feels like the girls could stay like this and cum time and time again until they are exhausted to the point they can barely move. Their moaning only gets louder as the steamy action continues, before the redhead takes things up a notch and eats her pussy. She told her lover that her pussy juices are so tasty, and every single morning she wakes her up licking it. Not that she minds, as she is a little nympho who always begs for more. Now the lesbian girlfriends are both wet, but not from the showers but their body fluids. They are using the last of their strength to come again together once more. Finally, they are satisfied, but a couple of hours later they'll be back for more!