Brunette teen invited her boyfriend to come over at her house for steamy fucking. It's their usual thing whenever she is home alone. While she was busy sucking his long shaft under the shower, her stepmom ran into the bathroom! Luckily, she never saw them, but a few minutes later she was back. It seems like they didn't care anymore, as of course, slutty cougar figured out what's happening! The third time she entered the room, she only had a pink towel on herself, before dropping it down. She is a stunning MILF with a hairy meat hole and perfect pair of massive tits no one could resist. This busty whore can't help but want to jump right in and teach the teens a lesson! As a good stepmom, she knows this is the perfect time to bond with her stepdaughter. Also, as an old hoe, she had her share of massive dicks, so her experience is of value. That's why she needs to display her blowjob skills as good as she can. MILF is not the one to succumb under pressure, as his cock fills up her throat, while a teen watches her in amazement. She couldn't take it as deep, but now she will gain the courage to test her limits, knowing that her stepmom is here to support her. The lucky guy can't believe this is happening, two hot naked girls are in the shower with him, but he doesn't mind at all playing the role of their sex toy. He needs to concentrate and make this session last as long as possible. The young girl is not only looking at the stunning MILF but also joins the action, kissing his enormous shaft. Her contribution is valuable, as the man feels his cock was never this hard. It's understandable since this is not an everyday thing. Now it's the time for the daughter to suck his manhood and already, she is performing better than before! Finally, she can deep throat, surprising her boyfriend and making her stepmom proud. She is on offense now, as she is back at riding her man. Now that her stepparent is here to support her, everything is better. He is already balls deep in her young tight cunt.

NAKED GIRLS CAUGHT FUCKING IN SNEAKY, RISKY AND CHEATING SCENES: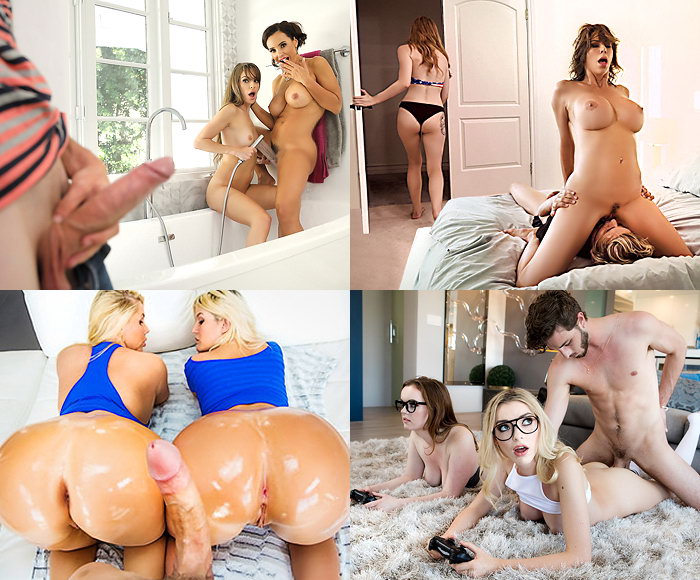 The hot young naked girl starts twerking her perfect ass onto his cock. The way this girl rides his dick, the way she uses her ass… amazing. The teen slut is only happy to show off her cock-riding skills! The young naked girl keeps riding his dick while she uses her tongue to lick cougar's unshaven pussy. The MILF is wet down there and tastes so well. She couldn't wait for her snatch to be pounded, and finally, it's happening. Having such a young dick in her while is she is diving in young teen's pussy is a dream come true! The sex becomes more intensive as the steamy threesome with two naked girls continues in the bathroom. Their man is trying his best to satisfy the girls both, as these nymphos always ask for more. Maybe they are not blood-related, but while the girls are riding his dick, they look like twins. That's why it's essential for him to reward them both. He cums in buckets, as his semen covers their beautiful faces, and they smile like the nasty whores they are. This is what they needed and what needs to continue!