It was just another boring night when the kids played Nintendo, but suddenly the electricity went out! The dude asked his cute stepsister if she has paid the bills, but it turned out that she didn't. Their heating system also lost power, so the two of them were freezing. They decide to squeeze under a blanket to warm themselves. Sweet babe took off her tight jeans so she can feel more comfortable. The teens already felt warmer, so the guy fell asleep, but not her, she was feeling super hot. The moment she laid down, she could feel her brother's dick touching her tight booty. The girl couldn't resist so she took his cock out of his pants and penetrated her wet vagina with it. Lustful chick spread her butt cheeks and started fucking herself with his dick under a blanket while her stepbro was almost sleeping behind her. Wanting to feel his brother's cock grow in her mouth, she kneeled near that sofa and lowered her mouth to the cockhead. She enjoyed the full hard feeling of his throbbing member in her mouth. While giving a blowjob, she woke the dude up. He was a bit confused about what the hell was going on, but then he rushed to take off his pants. Slutty chick sat on his dick and started moving her heart-shaped butt up and down slowly. Big-dicked dude drilled that tight juicy vagina deep and fast. These two wild teenagers were on fire! Her bombastic butt was bouncing like crazy while she was reaching the climax! The dude wanted to taste her pussy juices, so he turned her around to lick her love hole. While he was drowning in her cunt lustful babe was licking and sucking his balls and man muscle. Youngster touched that vagina with his tongue like some sleazy snake while his stepsister was deepthroating him. It was time to fuck again, so this charming cutie sat on that cum gun again but this time in a reversed position. It was her favorite position. The sultry bombshell was moving and twitching her body while her boyfriend squeezed her small natural breasts.

HOT SISTERS AND HORNY BROTHERS IN FAMILY TABOO SEX SCENES: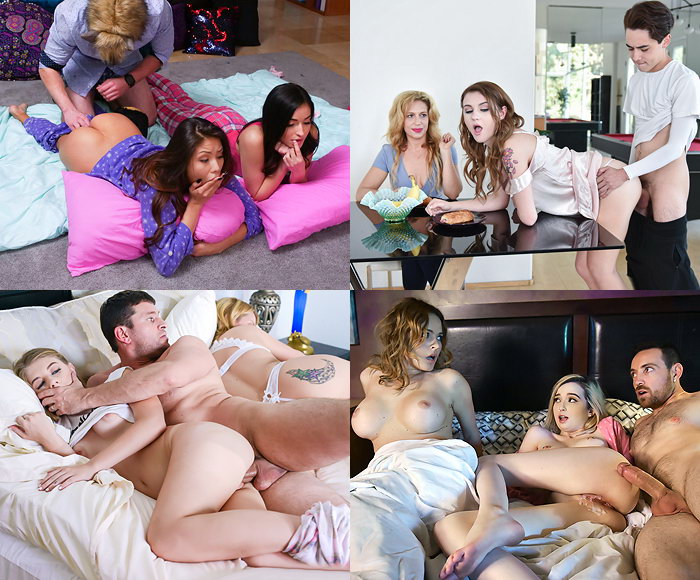 She rubbed her clitty while her brother was jamming her shaved twat. They decided to change the position, and it was time for some doggystyle action. These teens were sweating like crazy, and they couldn't care less about the fact that they have no electricity and no heating in their apartment. The dude was burning so he took off his shirt while fucking his cumstarving sister. The girl was enjoying his dick so much, and he was glad that his Johnson was in a warm place. Hot honey was spreading and her tight round ass while having multiple orgasms. Her head was about to explode, so she squeezed her booty even harder. They again switched so now she was up again riding that big hard beef. That bitch was on seventh heaven again reaching the climax so after that her step brother was eager to ejaculate. The dude turned his horny naked sister around and slammed her fanny like some crazy rabbit! He was occupying that Vagistan for another hour before he stopped. He didn't want to make a mess, so he stuffed his sister's mouth with his sausage and made her swallow his steaming cum.