Scott and his soon-to-be wife are moving to another town. They both got jobs in Los Angeles, so they need to find a house to call their own. Today, they are visiting another potential home in the suburbs as they both have a good feeling about it. Their sales agent is here to help them, a hot babe with gorgeous ass and tits. But Scott notices something weird about her. She looks like she is need of dick, but maybe that's just his dirty imagination. As his future Mrs. checks the house, the sexy brunette shows him that she's not even wearing panties! She must be out of her mind, he thinks, but he plays her game. She gets a tour of the house and behind her back, their horny real estate agent keeps teasing her groom with her tempting titties and big beautiful butt. While his future wife is checking the kitchen, she spreads her beautiful ass cheeks and his tongue is deep in her pussy. It feels like both of them are exhibitionists and the whole idea that they could be caught any second only makes them hornier. As they are finally left alone, he grabs her massive melons and strips her down as she moans like she had no sex for months. The hot babe is down on her knees as she takes his throbbing cock out of his pants and starts sucking it. Her blowjob skills are top notch as she is trying her hardest to fill her mouth and throat with his man meat. Looking him in the eyes, it feels like she is very proud of herself. You can tell that this is not her first rodeo, as Scott is not the first man she fucked this way. Still, she never had such a fat dick, as she struggles to swallow it all. Her big boobs are a perfect fit for his long shaft as it only grows bigger. Her mission is to make him rock hard before he enters her tight snatch. He is returning the favor by playing with her pussy using his tongue.

THE HOTTEST GIRLS IN THE CRAZIEST SNEAKY PORN SCENES: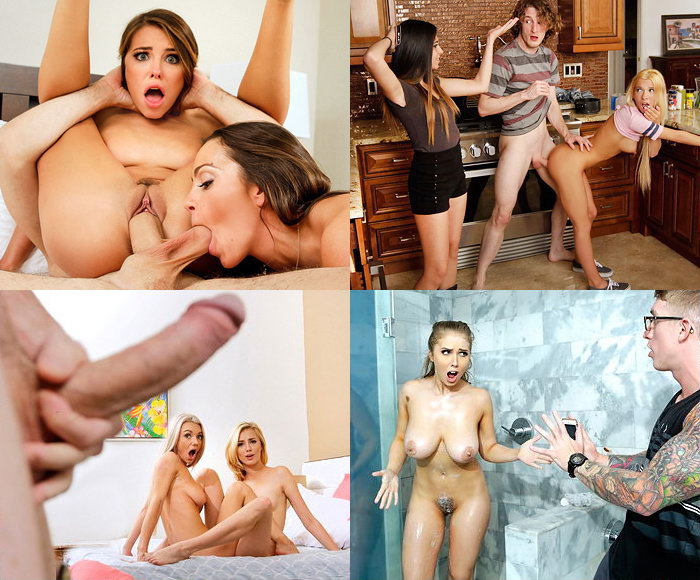 She was already wet, so his cock easily slides as he starts pounding her in the dining room. Will Scott get caught putting the down payment all over her big boobies? His future wife won't be back for some time, so they can enjoy wild sex session in peace. The hot Brunette moans as no one fucked her as hard before, as she loses the count of how many times she already came. This is a special occasion for her as they switch positions. Now they are on the couch as she rides him cowgirl style. Scott enjoys the view as he can see his dick pounding this slut. It's still not enough for her, so the bitch asks him to nail her stronger while she plays with pussy. They both can't believe their luck as it feels like they are a perfect match. Scott never had such an experience with his future wife, as she can't compare with this woman. The hot brunette is a gorgeous woman full of self-confidence who deserves only the best. That's why he keeps fucking her as long as he can before he finally cums all over her massive tits. He will buy this house, but only if the agent visits them regularly!