After a gym session this dude packed his things in a bag, but when he picked it up, it was heavy as hell! Well, maybe he is just tired? Once he opened it at his house, he couldn't believe his eyes – that little slut Athena packed herself in the bag! "I had such a good time in the gym, I'm so horny," she said. Well, OK, his gym friend is a bit of sex freak and obsessed with him, but that's not the main problem. The thing is, the dude already has a hot girlfriend, Chloe and she is at home too. She also needs his dick, so she takes him to their bedroom. He can't do much but hope that Athena will come to her senses and leave, because his Chloe would kill her! Still, she can't resist the temptation. While hot blonde is already sucking his massive boner, kinky gym girl is at the door and undressing. He tries to scare her away, but then he starts enjoying the whole thing. While his girlfriend is moaning when her pussy is impaled deep, he is all over Athena and her tight little butt! His girlfriend has no idea that he cheats on her, so can he keep her from finding out about Athena? Or will these two cock craving teens learn to share sucking and fucking his big dick? His happiness won't last long though! When Chloe figures what's up, she becomes so angry, and she wrestles her on the bed. Still, even she can't resist Athena. What was a fight now becomes a lesbian love affair and he is the biggest winner here. What these sluts need to learn is how to share, as there is enough cock for everyone. When the dude is inside Athena, his girlfriend gently rubs her muff and enjoys the view, preparing for the next position.

HOT TEENS CAUGHT FUCKING IN SNEAKY AND CHEATING SEX SCENES: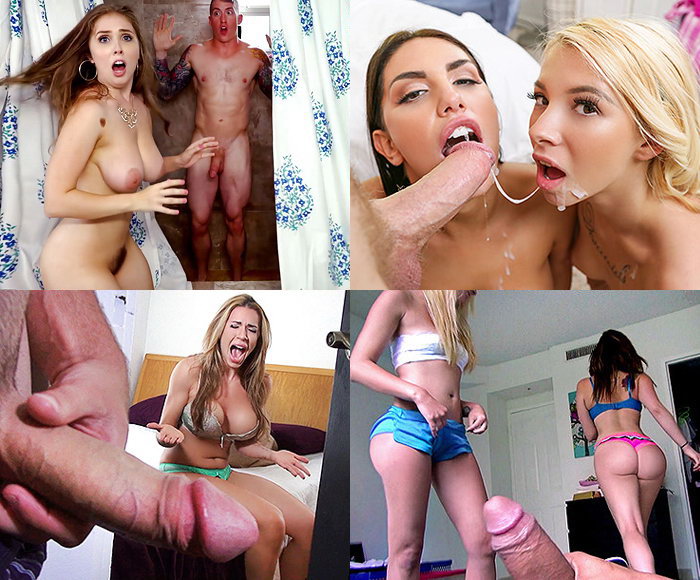 Both of the girls are horny like never before! They've been in a threesome before, but this is something different. Chloe knows that she is being cheated, but at the same time, she can finally be a slut that she always was. Now that her boyfriend feels guilty is the best time to show her true colors. All of them feel liberated now! OK, Athena was already a free spirit, and they have to thank her in a way. They are doing just that as Chloe is french kissing her and plays with her tits, while her boyfriend is pounding her hard. Little slut dripping wet so he knows he can take his manhood balls deep. He continues pounding the young naked girls both before they start another blowjob session. Alex is now on a real test because, at this rate, he'll already cum. That's why he suggests that these bitches start riding him. While the brunette is on top of him, the blonde is kissing her tits like she is encouraging her to go deeper. But now he really needs to cum! Both sluts are on their knees with mouths open wide as they receive the same amount of load as they deserve. It would be a crime not to do this again!