Well, something crazy happened today when this chick came into my massage parlor. She wanted an oily massaged, and I was immediately in since the chick looks like an absolute bombshell. Anyway, the blondie came into the massage room and immediately I noticed that she's up to no good. She started smiling at me and being all seductive, and when I asked her if she wanted me to leave the room while she took off all her clothes and lied down, she actually asked me to stay. I immediately knew something was up and this was about to be the best day of my career as a masseur. The sexy blonde started taking off all her clothes and revealed a body so hot that every guy would fall in love with her just by looking at her. After that she let me do whatever the hell I wanted with her. At first, I tried to keep my cool and just oiled her up and spread that oil all around her back area and her ass. But this just made me horny. The blonde slut noticed it and smiled. I kept rubbing her inner thighs, intentionally touching her most intimate place. I moved slightly further, my fingers now beginning to directly massage her ass crack, hot, inner folds of her dripping cunt. I moved my fingers firmly in circles on her soaked cunt. The blonde then pulled out her vibrator and started fucking herself with that thing. I couldn't take it anymore and showed her my hard dick. The hot slut grabbed it with both hands and started sucking me off. The swollen head of my cock slipped between her lips and I felt her tongue all over it. She did this part perfectly and I could definitely tell that she has had prior experience of blowing cocks to this. She was so good at it that I could feel her tight lips wrapped around every inch of my cock as she proceeded to suck me off harder and harder. There was only so much sucking that I could take and at that point, I decided to fuck her.

BE PART OF THE ACTION WITH AMAZING POV AMATEUR SEX VIDEOS: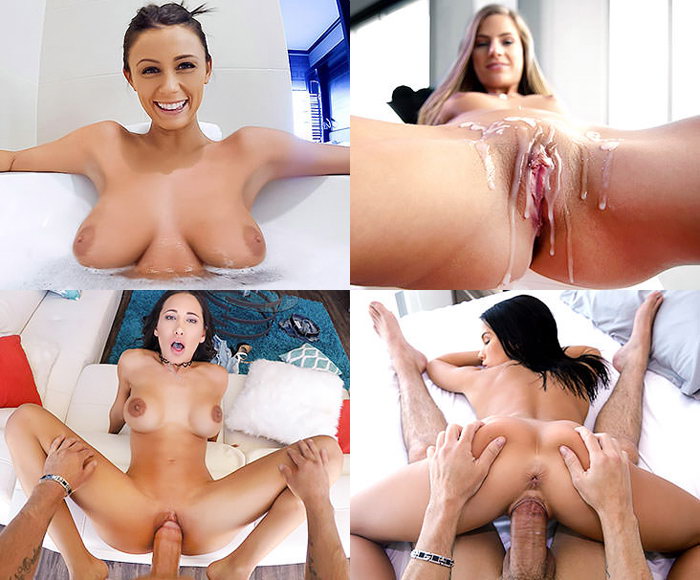 I placed the naked girl on the massage bed, moved forward to rub the head of my cock against her open wet cunt then slammed it balls deep into the hole. The sensation was enough to make me cum right then and there. But I steeled myself. I started fucking her from the front, going deep into her perfect, clean shaven pussy. She was enjoying herself like the little slut that she was, and I only went harder as time went on. I fiercely attacked her pussy, stretching her out with my huge cock. I laid on the massage table and let her ride me with her amazing ass right into my face. The view of her bubble butt sliding along the length of my cock and it disappearing again and again into her cunt was amazing! Two round buttocks were slamming down onto my dick! After that, I decided to fuck her from behind as well. I continued burying my pole deeply into her sopping snatch, making her moan with pleasure. I was already nearing the end of what I could take. I managed to endure for a few more position changes but after that, I was done, and I ended up cumming all over her ass. She loved it and I can see that she's definitely going to be a returning satisfied customer.